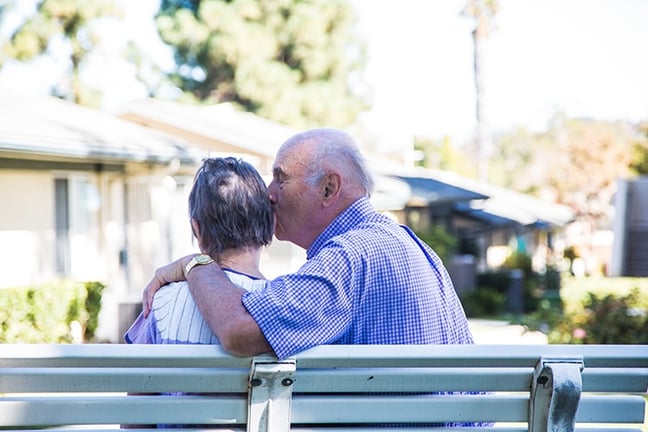 If you're living with a spouse or partner who has a medical condition or cognitive decline that makes it more difficult to live together, it can feel like you don't have any other option than to slide from the role of partner into that of caregiver. However, caring for a spouse can be stressful on your relationship as well as your physical and emotional health.
Fortunately, there's another solution that allows you to lay down your primary caregiver roles and lets both of you focus on your wellness. A Life Plan Community (also known as a continuing care retirement community or CCRC) can provide the extended assistance and support couples need to remain side by side, even though their health situations are different.
The Toll Caregiving Can Take
When it comes to caregiving roles in the home, spouses or partners carry the brunt of the workload. While family members and neighbors can certainly pitch in and offer support, spouses are the ones who are there doing most of the daily caregiving tasks.
The Family Caregiver Alliance reports that caregivers who are caring for their spouse put in an average of 44.6 hours per week on caregiving tasks, which can include everything from bathing, dressing and transferring assistance to meal preparation and more. It's a lot for anyone to take on, but the risk of caregiver fatigue in spouses is much higher than in any other group.
Caregiver fatigue, sometimes called caregiver burnout, is a very real phenomenon that leaves informal caregivers, such as spouses, at a higher risk for depression, anxiety, sleep disturbances and heart disease. Further, caregiver stress can end up negatively affecting the caregiver's immune system, leaving them vulnerable to getting sick more often and for far longer.
However, moving one spouse to assisted living while the other stays at home is not always the best solution. While this option might allow for the caregiving role to be passed on to the senior living community, spouses can feel depressed or anxious when they are no longer together.
Senior Living for Couples: The Life Plan Community Solution
This is where a Life Plan Community can step in as a senior living solution that suits the needs of both people in the partnership. Because Life Plan Communities offer a variety of care solutions right on one campus—from independent living and assisted living to skilled nursing and memory support—spouses can get the personalized assistance that they need to feel their best, while still visiting daily and spending as much time together as they want. They can attend meals together, go to community events together and entertain family together — all while allowing space for a relationship that is no longer built on caregiving tasks.
Life Plan Community Care Options
Life Plan Communities offer multiple choices when it comes to health care services. Each living option is located on the same campus and is available to residents if the need ever arises. Life Plan Communities offer independent living, assisted living, skilled nursing and memory support.
Independent living, sometimes called residential living, is for adults who live independently at home without any additional assistance. Independent living is ideal for the active adult who is seeking fewer household responsibilities and a vibrant social environment. At a Life Plan Community, it means access to wellness amenities, social opportunities and more.
Assisted living features easy access to wellness and social opportunities as well as help with activities of daily living from friendly caregivers. These caregivers offer personalized assistance and are available around the clock.
Skilled nursing offers on-site therapy services and complex condition management while still providing personalized touches that make residents feel right at home. Both short-term rehabilitation and long-term care are available at skilled nursing communities.
Finally, memory support features a homelike and person-centered environment created to emphasize abilities. These specialized neighborhoods are designed especially for those living with a diagnosis of Alzheimer's disease or another type of dementia.
Life Plan Communities are an excellent alternative for couples who may be living with different needs. Leave the role of primary caregiver and become partners once again.
Learn more about senior living for couples, including costs and what to expect by downloading our free resource, "The Complete Guide to Life Plan Communities."