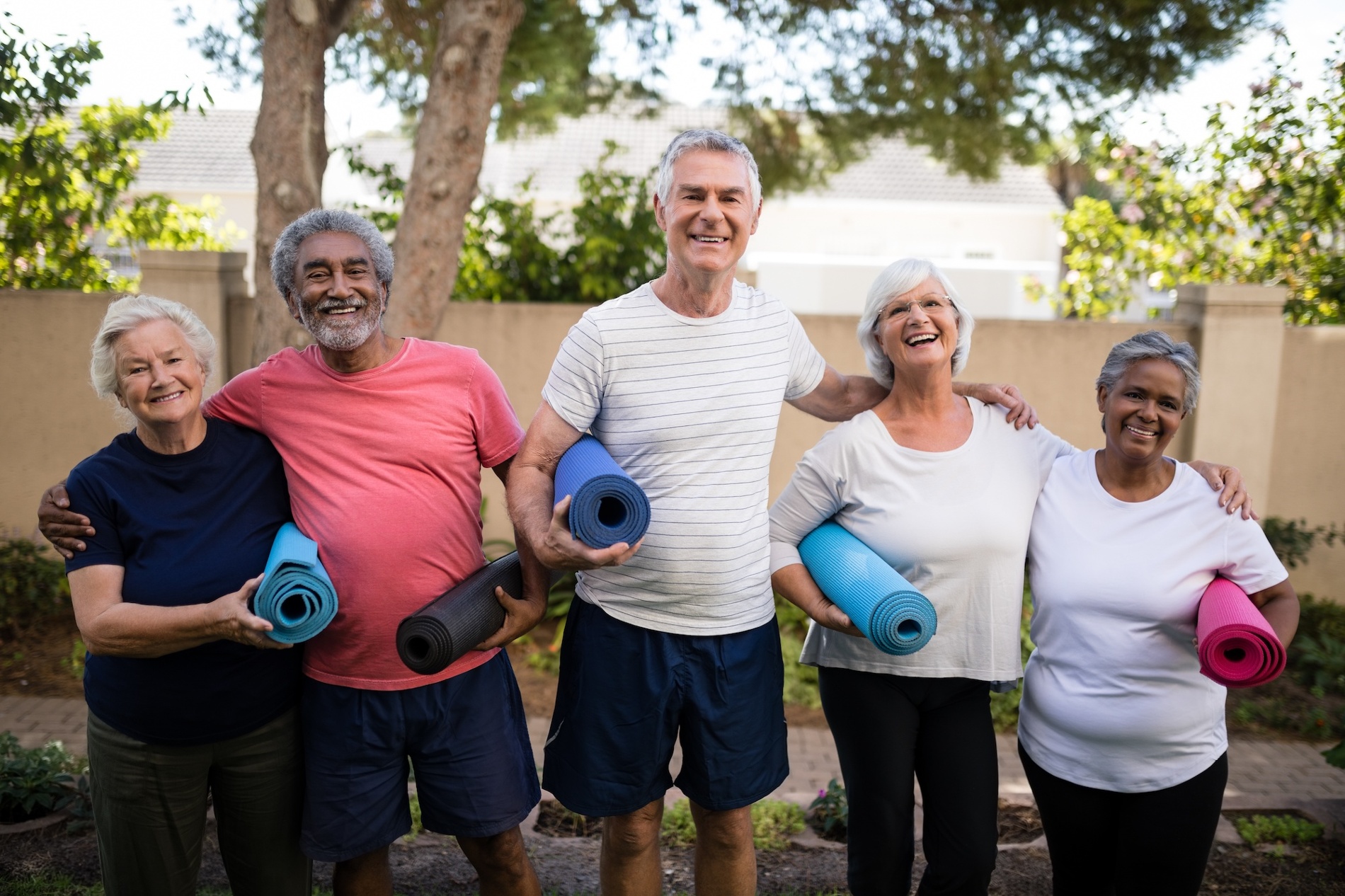 Your health is your wealth. It's the most important asset you have — the one asset that enables you to do everything else in life. Healthy living for seniors means more time to do what matters most and more opportunities to enjoy life.
In a survey administered by the Centers for Disease Control and Prevention, 82% of 65- to 74-year-olds rated their health as good or excellent. Whether you're among them or are struggling with some health issues you would like to get a better handle on, the right environment is key. Life Plan Communities (also known as continuing care retirement communities or CCRCs) help you attain and maintain good health for the next 10 years, 20 years and beyond.
As you have aged, you may have gained a stronger appreciation for good health and perhaps a deeper commitment to remaining healthy. Your definition of health might also have evolved from having a muscled physique or quick running time to something more holistic. The data show that older adults view social relationships, vitality, emotional well-being and an active lifestyle as core components of good health — and they're right. A happy and balanced life is a potent tool for reducing the risk of chronic illness.
Life Plan Communities are welcoming spaces to launch whatever comes next. They offer warm friendship, exceptional food, a safe and supportive environment, and a commitment to healthy living for seniors.
Here's how the right LPC can help you achieve your healthy living goals.
More Time To Do What You Love
Vacuuming, meal preparation, deep cleaning and other recurring chores are basic aspects of life. They're also not very much fun. And as you age, they can become a significant source of stress. For some adults, home maintenance may also become increasingly risky. Cleaning the gutters, vacuuming the stairs and other necessary tasks increase the risk of falls.
Even if you're as limber as you ever were, do you really want to spend the next chapter of your life working your way down a never-ending to-do list?
Life Plan Communities help with home maintenance, landscaping and other daily tasks. They offer exceptional meals, so you only have to go to the grocery store and cook when you want to. That means more time to do what you love. More pleasure and joy can motivate you to stay as healthy as possible. And reducing stress can also improve health. Chronic stress plays a role in a wide range of health conditions, from anxiety and depression to cancer and dementia.
With more time and less stress, integrating wellness into your day may feel easier. Fun and good health can coexist, especially when you have fewer worries.
An Environment That Prioritizes Health
Healthy living is a habit, whether you're trying to get out for more regular walks or just hoping to spend more time immersed in meaningful conversation with those you love. The right environment makes good habits easier to form and stick with. Consider how much easier it is to go for a daily jog in a beautiful, walkable neighborhood and how difficult healthy eating can be when you don't have time to cook or grocery shop.
Life Plan Communities boast a wide range of amenities and benefits designed to make healthy living for seniors easy and fun:
Walkable greenspaces encourage you to get moving and spend time outside.

An inviting fitness center makes working out safe and accessible.

Friendly neighbors ensure there's always someone to do something with.

A range of classes focus on wellness of body, mind and spirit.

A well-designed environment reduces the risk of falls and ensures that, should you ever need additional help, it's there for you.

Various dining venues that offer nourishing and delicious meals that make healthy eating a breeze.
Fitness classes, meal preparation, outings with friends and similar events and tasks can be a logistical challenge that require lots of planning, the right transportation and, often, quite a bit of money. Life Plan Communities bring it all to your front door.
Exceptional Food
A healthy diet can help you live longer and healthier by reducing your risk of type 2 diabetes, heart disease, dementia and some types of cancer. But healthy eating requires planning and commitment. This makes it easy to get discouraged and overwhelmed, losing momentum on your healthy eating journey.
In a Life Plan Community, you don't have to devote hours every week to meal planning and preparation, grocery shopping and cleaning out the fridge. LPCs offer meals that cater to a range of palates and nutritional needs, whether you're vegetarian, watching your blood pressure, or hoping to eat more fruits and vegetables. Because food is chef-prepared and delicious, it's easy to stick with your healthy eating goals long term.
An Active Community
When everyone around you is having fun and staying active, it's easier for you to stay active too. Life Plan Communities boast energetic, vibrant cultures that encourage healthy living for seniors. Seeing others live life on their own terms may inspire you to do the same, whether it's starting a new business or finally learning to play that instrument you've always loved.
Each community develops programming with the needs of its residents in mind, and often, residents spearhead their own programming initiatives. You'll enjoy dances, live music, game nights, stimulating intellectual discussions, yoga classes and more. This approach integrates physical activity into daily life rather than divorcing it from the things you enjoy most.
Plenty of Opportunities for Friendship
About a quarter of older adults are socially isolated. It can be difficult to maintain connections across time and distance — especially if you no longer drive or your friends live far away. Yet friendship makes life meaningful and can also preserve your health. Research shows that loneliness is as bad for your health as smoking 15 cigarettes a day.
Life Plan Communities make friendship effortless, offering opportunities for new connections just outside of your door. And if you struggle to break the ice with new folks, don't worry. Welcoming community activities ensure you can meaningfully connect with others, even if you're shy.
The right community can also help you nurture the relationships you already have. You'll no longer have to worry about maintaining your home for visitors, cooking a meal or cleaning for guests, so spontaneous drop-ins feel easier. Warm, inviting spaces and fun activities can also entice loved ones to visit more frequently.
Less Stress
Stress feels awful. It's also terrible for your health, increasing your risk of a host of chronic diseases. There's no escaping some of life's tragedies and traumas. But there's a lot you can do to mitigate daily stressors such as household chores, making time for a healthy meal, maintaining your home and dealing with financial uncertainty.
Life Plan Communities help reduce these common stressors by:
Lending significant stability to your monthly budget with community pricing that includes most expenses.

Taking care of meal preparation and planning for you.

Reducing your daily chore load with a well-maintained property and housekeeping services.

Infusing your life with more joy and social support so that you feel better equipped to enhance the next chapter of your life.
If you're worried about leaving your current home, know that many residents once shared this anxiety. Many Life Plan Community residents are surprised at how seamless the transition is and only wish that they had moved sooner. If you're considering a move to a community that promotes healthy living for seniors, learn why you should consider a Life Plan Community.