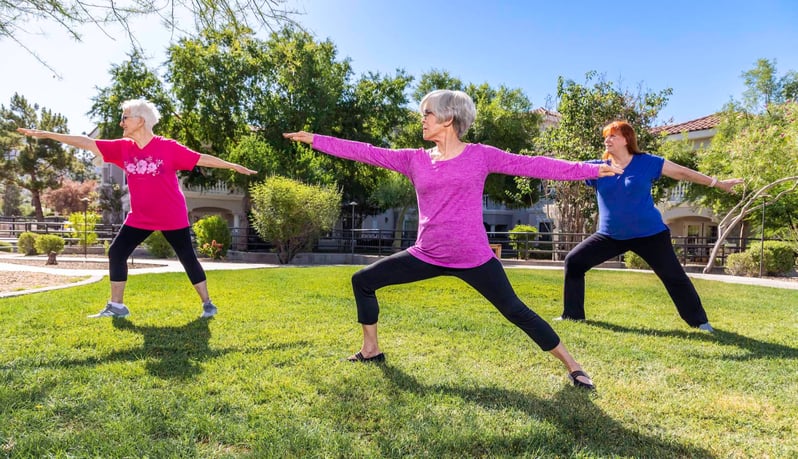 Over years spent fighting traffic, wrangling kids, volunteering or all of the above, you might have fantasized about more freedom and less stress in the second half of your life. Especially if you're newly retired, you might be surprised if your stress hasn't plummeted. But retirement consistently ranks among one of life's most stressful events. As you enter the next chapter of your life, you're likely to encounter a number of stressors: a change in your sense of identity, a shift in your routine, reduced income and, perhaps, concerns about the future.
Stress doesn't just feel bad — it's bad for you. Chronic stress increases the risk of a host of maladies, from depression to heart disease. For many, stress becomes so familiar that they may not even notice they're in a chronic state of fight or flight. But it doesn't have to be this way.
A Life Plan Community (also known as a continuing care retirement community or CCRC) offers a rapid antidote to many of the stressors adults face in the second half of life. Many residents initially wonder why they should consider leaving their current homes. After a move, though, most wonder why they took so long! Here's how a move might help relieve stress.
No More Home Maintenance Hassles
Gardening, painting a bedroom and other home maintenance tasks can feel fun and rewarding — and you can keep doing them in your new community. But home maintenance can also be a major source of stress, whether it's the ivy slowly overtaking your yard or the roof you know should have already been fixed. Daily cleaning can eat into your time for yourself.
In a community setting, you'll never have to worry about these tasks again. That means more time for you to do what you love — and more time to enjoy a beautiful, maintenance-free home.
Peace of Mind About Your Safety
Every year, about 36 million adults fall. Some need to be hospitalized, and others suffer long-term health consequences because of these falls. No matter how healthy you are, age can affect your bones and strength, increasing the risk of a fall. And if you live alone, you may also worry about what would happen if you ever needed additional help, whether temporarily when you're sick or on a longer-term basis as your needs change.
Life Plan Communities are safe, supportive environments that deliberately reduce fall risk with thoughtfully constructed homes. You'll always have help if you need it. Trained emergency response professionals are on hand 24/7. Residents feel safer and more secure. This empowers them to travel, pursue new hobbies and remain as independent as they hope.
Help if You Need It — And Privacy When You Don't
Moving to a new community may feel a little scary, but rest assured, Life Plan Communities focus on residents' needs and goals while helping them preserve their independence. Get help only when you want it. Whether you're enjoying freshly prepared meals, spending the weekend doing activities with friends, or getting a little help with daily tasks, you'll find support.
Fewer Family Conflicts
Your family loves you. But families can be complicated, too. Your kids might think they should get to be in the driver's seat of your life now. Or maybe your family has very specific — and very conflicted — ideas about how you should spend your retirement.
A Life Plan Community keeps you in the driver's seat. It offers the help you need in a stable and supportive environment. If you do need help with activities of daily living, you may especially enjoy getting help from a Life Plan Community. You'll no longer have to rely on loved ones, and you may find this restores balance and peace to your relationships.
A More Predictable Budget
It's amazing how quickly the costs of homeownership can add up. That drip in the roof suddenly becomes a crisis. There's lawn care and landscaping that weird area in the backyard. And what about the chipping paint? Even if you rent, skyrocketing inflation and a fixed income are not good friends. Rent increases, unpredictable utility bills, the often-stunning costs of groceries and the little incidental expenses of daily life quickly add up.
In a Life Plan Community, all of your basic needs — a home, meals, utilities, housekeeping, maintenance, entertainment and more — are available under a single consistent monthly price tag with moderate adjustments from year to year. No more big surprises and no more sudden and dramatic shifts in your cost of living.
This gives you a more predictable budget that can make saving, traveling and carving out some money to fund new and emerging hobbies possible.
Fewer Daily Stressors
For a lot of people, the small daily stresses of life — waiting in line at the bank, cleaning the sink day after day, running back to the grocery store to get the single ingredient you forgot, endless cooking — really add up. How much more time could you have each day if you didn't have to worry about these things? And what could you do with it?
Whether it's building a community garden, volunteering at the local food bank, going back to school, starting a business, or just finally sitting down and catching your breath, more time can dramatically improve your quality of life.
In a Life Plan Community, no one takes over. Instead, staff take care of the things you would rather not deal with: cooking, housekeeping and home maintenance. Whether that means preparing every meal for you or just letting you take an occasional night off from cooking, you're covered.
Social Connections Right Outside Your Door
What are you doing next weekend? Next month? What do you want to do? Staying connected with others — from lighthearted fun to deep, meaningful friendship — is a major stress reducer. But this can also become harder if you age in a traditional home. The risk of social isolation is real. Life Plan Communities are an antidote. Friendship is easily accessible as you wish. In your new community, you're adding to the connections you already have.
More Meaning
The second half of your life is a time to reflect on what you have already done and consider what you might like to do next. For many residents, this means giving back by volunteering, learning new skills or spending time with family. It's also important to take care of yourself with exercise and exceptional food so that you can fully enjoy your life. The right community takes care of all the details so you can focus on the big picture, building a life enriched with a sense of purpose and joy.
Life Plan Communities are vibrant spaces where adults start their next act, master new skills and live life on their own terms. Want to learn more? Check out "Why Should I Leave My Home?" to explore our top 10 reasons for moving to a Life Plan Community.