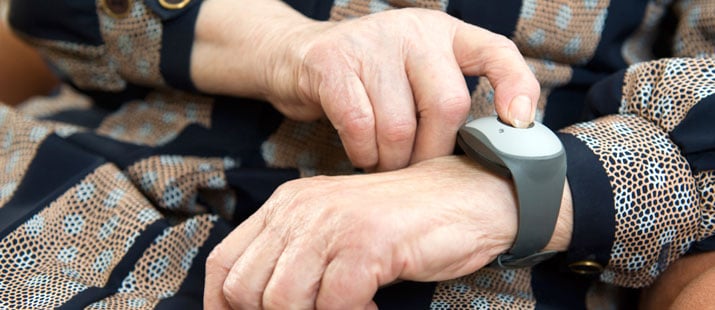 Your parents built that tall bookcase, picked out those rugs and installed that tile floor. With so many cherished memories and personal touches, it can be difficult to look at your parents' house with a critical eye. But with fall prevention top of mind, it may be time to make some adjustments to turn that beloved space into a safe haven for the long term. It may also be time to consider an environment built to meet the needs of aging parents who are at risk for falls.
Download our Guide: How Senior Living Can Decrease Falls
See how safety concerns and solutions in private homes stack up to those available in senior living communities.
The bathroom
Private homes: Each year, 1 in 3 adults ages 65 or older will fall, according to the Centers for Disease Control and Prevention. Bathrooms can contribute to this statistic, as they often contain slippery surfaces, says Jeff Salter, founder and CEO of Caring Senior Service, a Texas-based company that provides non-medical, in-home care for older adults. To make the home safer, retrofit your bathroom with safety bars next to the bathtub and chairs in the shower.
Senior living communities: Many communities incorporate safety features like non-skid bathtub surfaces, built-in grab bars by the shower and storage placed at mid-level, says Maribeth Bersani, senior vice president of public policy for the Assisted Living Federation of America.
The kitchen
Private homes: Sharp utensils, hot surfaces and storage placed at varying heights often require someone to reach or bend and can make the kitchen a hazardous place. Grab bars, ergonomically designed utensils and slip-proof floors can help keep seniors safe. Salter also recommends swapping everyday glassware and ceramic or glass dishes for heavy-duty plastic dishes that won't shatter if dropped. Pricier renovations include raising the height of the dishwasher, sink and countertops to make them more accessible.
Senior living communities: While many senior living communities offer residences with kitchens designed with them in mind, they also have communal dining venues and meal plan programs. If there are concerns about using a stove or bending over to wash dishes, you can leave the cooking and cleaning to the staff.
Accessible hallways and stairs
Private homes: "It's not uncommon to hear tales of seniors who end up living only on the ground floor of their home because they didn't want to navigate the stairs," Bersani says. If your loved one walks up and down the stairs, be sure handrails run the length of the stairs on both sides and are bolted securely to the walls. Custom chair lifts are an increasingly common, but expensive, option.
To reduce the risk of tripping, make sure the home is well-lit or remove furniture that has wheels. Remove area rugs from foyers, hallways and other pass-through areas. Pricier renovations include widening hallways and doorframes to make areas accessible for walkers or wheelchairs.
Senior living communities: Senior living communities often offer wide hallways, well-lit areas and floor coverings that don't impede walking. Elevators are usually available around the community, and railings are prevalent. "The railings look more like wainscoting or architectural features, but they're there in case somebody needs to lean on them or grab them," Bersani says.
Security
Private homes: Home security has come a long way in the past few years, says Kristi Roze, a former police detective who now works for Seattle-based Absolute Security Alarms. Cellular systems can include senior-friendly devices, such as "panic pendants," or buttons worn around the neck or wrist that can be pushed in the case of a fall or emergency. The system can then notify medics, send a text or email to family members, or both. If a new security system isn't feasible, have a mobile phone on hand or phone extensions installed on every level of the house so loved ones can call 911 in an emergency.
Senior living communities: Most senior living communities have some type of pull cord or emergency button that residents wear around their necks, Bersani says. "If something did happen, somebody would come quickly."
But one of the biggest safety features in a senior living community is the community itself. "It's about being in a congregate setting, around people who know you and recognize if you're not around," Bersani says. "Residents watch out for each other. If you and I are friends and we play bridge every day and I don't see you for a while, I'm going to go knock on your door to make sure everything's OK. That's the benefit of a senior living community."