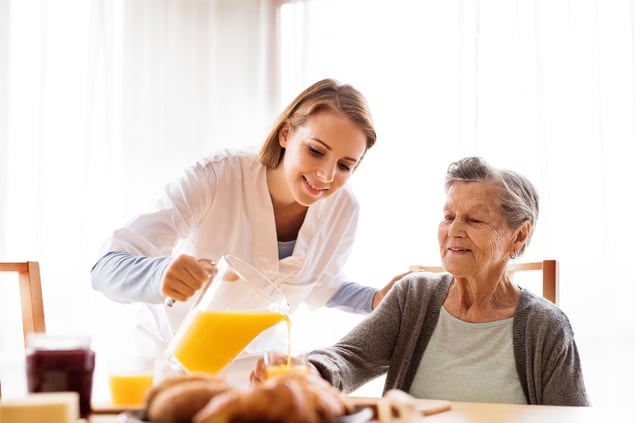 Exploring your senior living options can feel overwhelming. You may feel a wash of emotions: excitement, anxiety, uncertainty about your future. If you don't know much about senior living communities, you might think they're all the same or that assisted living is just a glorified nursing home. But assisted living offers key benefits compared to nursing homes and is an exceptionally good option for older adults who desire maximum independence, quality programming and exceptional nutrition alongside a sense of community and support with activities of daily living.
Knowing the difference between assisted living and a nursing home, as well as when each is appropriate, can help you find a community you'll love that caters to your needs without compromising your lifestyle.
Assisted living vs. nursing home: What's the difference?
Assisted living communities encourage and foster independence for people with a range of abilities. Nursing homes, by contrast, cater to people with complex and highly demanding health needs. In many cases, these health needs include conditions such as dementia or severe mobility impairments that mean independence is simply not possible. The focus is on meeting medical needs by administering medication, monitoring chronic conditions and, in many cases, supporting people who are bedridden.
But what about aging adults who have sharp minds and a strong desire to live life on their own terms? Assisted living can be a great fit. Assisted living communities promote more independence in their residents by offering help with activities of daily living such as bathing, dressing and grooming. The focus extends well beyond health and safety to include meaningful activities and quality relationships. And if you feel anxious about living alone or worry about what might happen if you ever need additional help, assisted living communities can offer immense peace of mind.
Why choose assisted living?
Living at home when you need extra support can be stressful, requiring you to explore care options and potentially depend on family members. For many aging adults, a transition to a vibrant community offers a happier, more engaged, more independent lifestyle.
Some other benefits of assisted living include:
Daily Support with Activities Such as Bathing, Dressing and Medication Management
This assistance helps you to feel safer, less alone and more independent. It may reduce family friction if your children are concerned about you living alone. It can also help reduce your risk of falls and other health challenges by offering you the support you need rather than leaving you to struggle on your own.
Meaningful Programming to Keep Your Body and Mind Active and Healthy
One of the greatest gifts you can give yourself as you age is a physically active lifestyle. Walking, visiting friends and attending programs in your chosen community can all help you meet your exercise goals. Physical activity can help you live longer and healthier. It also reduces your risk of chronic health issues such as type 2 diabetes and heart disease, and it can help you sleep better while reducing anxiety and depression.
A More Active Mind
Daily socialization with the neighbors who become like family and attending engaging programming in your community can help you stay sharper and happier. Exercising your mind can help delay age-related declines and may even help prevent dementia.
More Socialization
When you live in a community of active seniors, it's easy to make new friendships. Just walk down the hall and invite your neighbor to coffee. The isolation many seniors feel living at home doesn't just feel bad. It's potentially deadly, increasing the risk of cognitive issues and heart disease. In assisted living, you can form lasting friendships that help you feel more deeply connected.
Privacy and Independence
Moving to assisted living doesn't mean sacrificing your space or independence. In fact, many seniors find that the right community actually fosters greater independence by removing the need to rely on children and family. The right community offers only the support you need — nothing more — while respecting your need for privacy and desire to chart your own course.
Caregiver Support
Loved ones supporting an aging adult may struggle with burnout, family conflict over support decisions and fatigue. The right community offers them support too and can help restore a sense of balance to family relationships.
Is assisted living a good fit for you?
Think the benefits of assisted living might be a good fit for your needs? Seniors who choose this option often say that:
They need daily support but wish they didn't.
They have a chronic or progressive illness but want to optimize independence.
They prefer a vibrant and active lifestyle even when their health interferes with their lifestyle preferences.
They don't want to be treated like they're old, sick or incapable of making their own decisions.
Our senior living quiz can help you decide what type of community is right for your needs.
If you're trying to decide between assisted living and a nursing home, try asking yourself the following questions. If you answer yes to most, then assisted living could be a great fit:
Do I hope to be as independent as possible?
Do my support needs center around help with daily activities rather than complex medical management?
Are my loved ones pressuring me to accept more help? Do I worry I'm relying too much on family for support?
Do I sometimes feel lonely or isolated at home?
Do I crave more social connection and a meaningful sense of community?
Do I want to spend my days doing things I love, learning new skills and nurturing new relationships?
Does my spouse need additional care and support that I cannot provide?
Have I had a hard time finding fun activities to fill my time?
Why is assisted living not just a euphemism for nursing home?
You've spent a lifetime mastering new skills, growing in wisdom and helping others. So it can be frustrating to find that, at a time in your life when you have more experience and wisdom than ever before, people talk down to you with euphemisms and elderspeak. So it may be tempting to assume that assisted living is just a euphemism for a nursing home.
Nothing could be further from the truth. Assisted living is actually an alternative to the nursing homes of the past, which frequently prioritized medical care without considering the importance of agency, independence and emotional well-being. Assisted living communities understand that physical and mental well-being are inextricably linked and strongly emphasize both.
Some of the many benefits you'll enjoy include:
High-quality programming to keep your body and mind active, support deeper social connections and ensure the next chapter of your life is highly fulfilling.
Exceptional meal options, including gourmet dining that can be tailored to a variety of nutritional needs and preferences — no more all-day meal preparation or boring recipes!
Numerous living options. Choose from a range of apartment homes that cater to your unique needs.
Staying with your spouse. If you and your spouse have different needs, assisted living is an ideal choice that can meet you both where you are, then adapt as your needs evolve.
Assisted living can immediately improve your quality of life, helping you feel safer, happier and better about the future. Want to learn more? Check out "The Complete Guide to Senior Living Options."