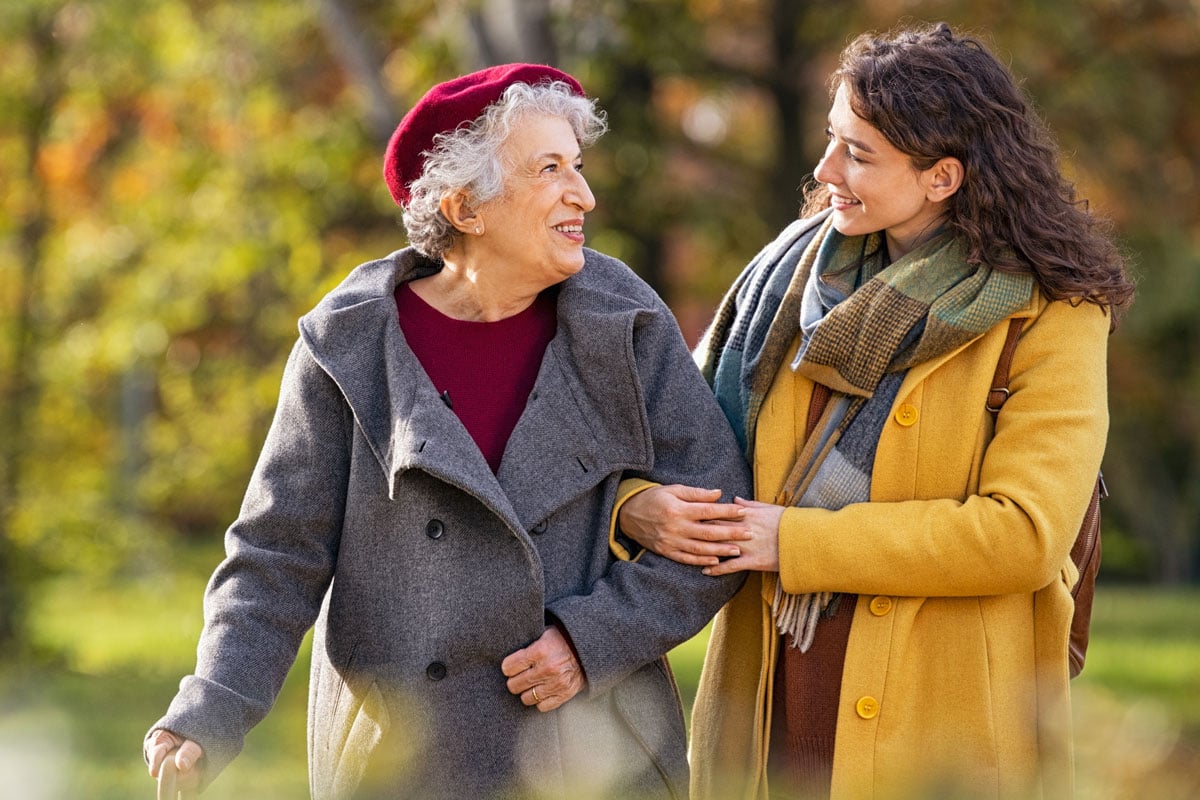 Caring for a loved one is an act of love that can be very rewarding. But it can also be quite challenging, especially without the right support. Outsiders may not see how difficult caregiving is, and family member caregivers may struggle to meet their loved one's needs, especially as those needs evolve.
You don't have to be a full-time caregiver to experience caregiver burnout. Even part-time care obligations can leave you feeling drained, with little time for anything else. They're also emotionally taxing, especially when you feel anxious about a loved one's health or your ability to support them.
It's normal for family member caregivers to feel anxiety, guilt and frustration alongside their sense of deep commitment and love. A Life Plan Community, which you might also have heard called a continuing care retirement community (CCRC), can dramatically improve the quality of life for you both.
What Is a Life Plan Community (LPC)?
A Life Plan Community offers a continuum of care options on one campus, including assisted living and independent living. Social connections are a natural part of living in a community and integral to well-being. LPCs nurture these connections and offer security, peace of mind and a lifestyle that can help your loved one live their best life.
As your loved one's needs change, they can move to different levels of care and support, beginning with a fully independent lifestyle in independent living and graduating to assisted living if they need additional support with activities of daily living.
A Life Plan Community offers transparent, all-inclusive pricing and various care options, including:
Independent Living: Independent living caters to older adults in good health who do not need daily support. It can prolong independence by reducing your loved one's daily workload and eliminating home maintenance.

Assisted Living: For those who need extra support but still want to enjoy their independence, assisted living offers apartment-style floor plans, complete with a friendly, dedicated caregiver. Your loved one gets only the support they need while still enjoying privacy.

Memory Support: Memory support caters to the unique needs of people living with Alzheimer's or other forms of dementia, featuring trained team members and targeted environments for coping with the symptoms of cognitive decline.

Skilled Nursing: Those recovering from a procedure or recent hospitalization receive on-site rehabilitation services and complex condition management through skilled nursing to restore their routine. Skilled nursing is also an excellent option for anyone who needs 24-hour nursing support for complex or chronic illnesses.
An LPC gives residents more opportunities to thrive than most traditional senior living options. They facilitate a holistic approach to wellness that caters to a wider range of needs.
This living option also offers amenities and events that are difficult to access at home, so residents can keep doing what they love or take up a new hobby. An LPC gives every resident the freedom to age in a way that best works for their lifestyle.
Advantages of an LPC for Family Member Caregivers
A Life Plan Community offers benefits to both residents and their families. Here are some reasons to consider an LPC for your loved one:
Ease Caregiver Guilt
Caregivers face a range of competing demands, such as spending time with young children, meeting deadlines at work, keeping up with exercise routines and continuing to support their loved ones.
It's easy to feel like everything you do takes time away from something else and become stressed and overwhelmed.
An LPC eases these worries, taking over the daily care and support needs of your loved one. Residents enjoy an exceptional quality of life, with more socialization, pleasure, safety and support than is usually possible with a single caregiver. Choosing an LPC is a life-affirming decision that usually means more freedom, more opportunities for meaningful relationships and less stress for everyone involved.
Restore Family Balance
Supporting an aging loved one can be challenging, potentially causing family conflicts. An LPC can restore a sense of balance, allowing you to get back to being your loved one's family member instead of their caregiver. Relieving the tension of being stretched between roles often reduces family conflict.
Increase Enjoyment for Everyone
Sometimes, devoting substantial time to caregiving may cause feelings of resentment. Care needs tend to increase with time, challenging you to do more. It's no wonder so many family members struggle with health issues of their own. Caregivers are also more vulnerable to depression.
An Life Plan Community can reduce these feelings, promoting a better quality of life for the entire family. Reducing your caregiving duties also increases your availability, including more time to spend on meaningful activities with your loved one.
Additionally, the right LPC nurtures your loved one's unique gifts and interests while offering maintenance-free living. This frees their time so they can focus on what matters most to them, whether it's spending time with friends and family, mastering new skills or traveling the globe.
Recognizing Caregiver Burnout
You may experience burnout when you don't have enough resources to balance everything in your life. Burnout prevention requires proactively recognizing the signs and maintaining appropriate boundaries.
Signs of Burnout in Caregivers
The symptoms of caregiver burnout vary from person to person. Someone experiencing caregiver burnout may exhibit any of the following behaviors:
Withdrawal from friends and family

Decreased immune response or frequent illness

Drastic weight loss or gain

Uncharacteristic anger, frustration or irritability

Disrupted sleeping patterns

Increased or sudden substance use
Is It Time for an LPC?
Your well-being matters, and you can't care for another person if you don't first care for yourself. The right LPC supports your loved one and frees your time so you can lead a balanced and healthy lifestyle.
Understanding and addressing the importance of your own well-being is crucial to providing the best possible care for your loved one. As a leader in supportive community living, HumanGood understands the need for extra guidance when determining what's best for an aging family member.
Your loved one's needs are important, but your needs don't come second. As family dynamics shift, aim to make the right decisions for everyone involved, including your children, spouse and other family members.
The comprehensive, continuous care that Life Plan Communities offer supports aging adults and those who love them. By leveraging the support from your family and establishing a healthy life balance, you can prevent caregiver burnout while providing the best care for your loved one as they age.

Are you ready to embrace all the benefits of the right LPC? Begin your community search here.