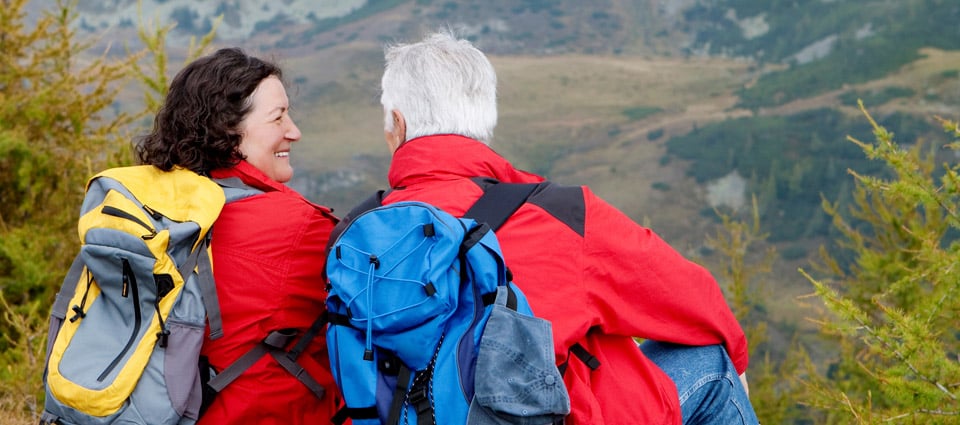 In 2012, Rita and Ken Lossett packed up their home in Pasadena and moved into independent living at Westminster Gardens, a HumanGood Life Plan Community located in Duarte, California. Rita said she was looking for an environment that was peaceful and meant she wouldn't have to move again, even if her health needs changed.
"My husband is nine years older than me, and I wanted to be in a place where there would be services available for health care, exercise and well-being," said Rita. "At Westminster Gardens, there are patios everywhere, as well as a swimming pool and tennis court—and if I don't feel like cooking, we can go to the dining room."
Rita also maintains an active lifestyle outside the community, working part time as a teacher, docent and lecturer at the Los Angeles Zoo.
If you're considering moving to a Life Plan Community (also known as a continuing care retirement community or CCRC) or another senior living option, it's important to understand the pros and cons of the lifestyle and when it might be ideal to make the move.
Independent living, also called residential living, is a great place to engage with the world around you, make new friends and focus on the activities you love. With activities for the mind, body and spirit, complimentary home maintenance and access to advanced levels of care should the need arise, it's a great option for those who are ready to spend more time focusing on their passions.
Is senior living better than staying in my current home?
Independent living gives older adults a place where they can go about their day as they please or take advantage of the community's activities. Think of a senior living community as a place with a built-in network of neighbors where you can nurture existing friendships and foster new ones.
Residential living communities also offer added conveniences such as:
Delicious, chef-prepared meals.
Activities for the mind, body and spirit.
Housekeeping and laundry services.
Home and lawn maintenance.
Transportation services.
Security services.
Download the Benefits of Senior Living Guide >>
"Often when seniors remain in their current homes, they don't get out as much to visit their friends," said Pat Guerrero, senior activities director and move-in coordinator at White Sands La Jolla, a HumanGood senior living community in La Jolla, California. "Sometimes it's because they don't want to drive at night, or maybe they're not motivated to go to their bridge club because they're not feeling 100 percent."
Additionally, Guerrero said, seniors often lead longer and happier lives when they're in a community.
"In senior living, you're being fed emotionally as well as physically," she said.
Some communities also offer travel programs in which residents can go on day trips or extended vacations together. For example, HumanGood residents have traveled everywhere from California's Wine Country to far-flung locations including New England, Ireland, Tahiti and Bora Bora. In fact, Guerrero said, she leads White Sands residents on 10 to 12 trips each month.
"We offer many nearby activities like trips to the opera or the theater so no one has to drive on their own," Guerrero said. "But we also take longer trips. I had two residents who went hiking in Utah today."
When is the right time to move?
To move into a residential senior living community, you must be physically independent, which means you're able to get around without assistance, manage your own medications and go about your day without supervision.
In other words, the time to take advantage of everything independent living has to offer is when you're healthy and able to enjoy it—or now! Rita says one of the biggest mistakes people make is moving to a community after health issues have become overwhelming.
"That's not to say that you can't participate in senior living activities as you move into higher levels of care," she said, "but obviously you'll be more restricted."
The other advantage of moving into a community as an independent living resident is that you'll be part of a family of neighbors and staff who will be there for you if and when a health need arises.
"We have many residents who have moved up through the various levels of care, and by the time they need 24-hour skilled nursing, they already have a whole group of friends who are able to visit and support them," Guerrero said. "It's wonderful to have family, but family cannot always be there when you need them. But here, you have your community family."