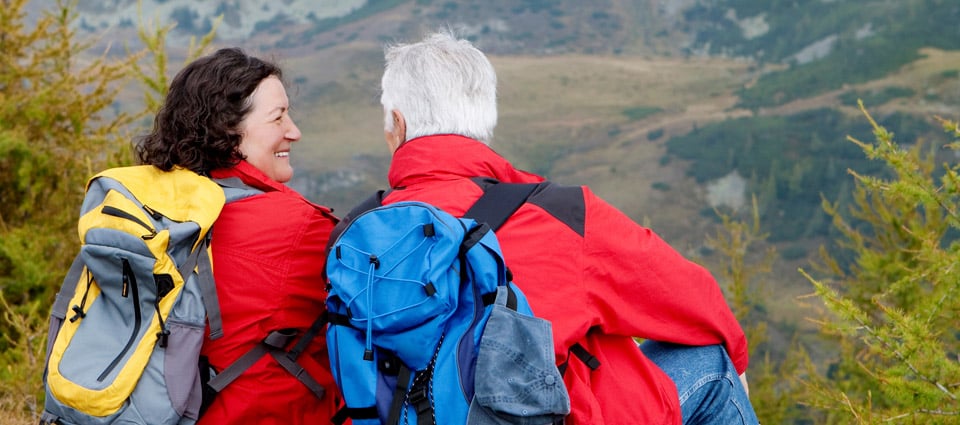 Have you ever been curious about independent senior living, wondering what life is like on those beautiful campuses? For HumanGood residents, senior independent living means opportunities to further enhance their friendships, connections and well-being.
When asked about their recent move to senior living, HumanGood residents shared their stories with documentary filmmakers in late 2020. One resident recounted how she has already noticed a positive difference. She said, "Here, I am making friends and they are so much more accessible. It just feels like my life is enriched by having that access."
Another resident said, "The reason I moved here was for community, and I certainly have found it."
Whether it's the community experience you are searching for or the luxury amenities, senior independent living is an excellent option to research during your future planning efforts. If you're considering moving to a Life Plan Community (also known as a continuing care retirement community or CCRC) or another senior living option, it's important to understand the pros and cons of the lifestyle and when it might be ideal to make the move.
What is senior independent living?
Senior independent living, sometimes called residential living, is a great place to engage with the world around you, make new friends and focus on the activities you love. With activities for the mind, body, and spirit; complimentary home maintenance; and access to advanced levels of care should the need arise, it's a great option for those who are ready to spend more time focusing on their passions.
There are many benefits of community life.
Perhaps the biggest perk of living in a residential community is the opportunity to share life with neighbors who become friends. Community life offers adults a place where they can go about their day as they please or take advantage of the events, amenities and opportunities offered around campus. Think of it as a place with a built-in network of neighbors where you can nurture existing friendships and foster new ones.
Why all of this talk about connecting with neighbors and building relationships with peers? Because recent research has reported how crucial connection is for adults and their health.
The Centers for Disease Control and Prevention reports that nearly one-fourth of adults over the age of 65 are considered to be socially isolated. This social isolation leads to feeling disconnected from peers and increases feelings of perceived loneliness. Adults who feel lonely are at a significantly higher risk for serious health complications including depression, anxiety and even dementia.
Living in a community setting with close friends and neighbors means you are more likely to feel connected and experience the positive health outcomes that come along with meaningful relationships.
Enjoy more amenities and services.
The heart of senior independent living is the opportunity to engage with community life, but there is so much more to enjoy as well. Communities offer a variety of amenities, services and resources to enhance wellness, provide opportunities for socialization and contribute positively to your preferred lifestyle such as:
Delicious, chef-prepared meals
Activities for the mind, body and spirit
Housekeeping and laundry services
Home and lawn maintenance
Transportation services
Security services
"Often, when seniors remain in their current homes, they don't get out as much to visit their friends," said Pat Guerrero, senior activities director and move-in coordinator at White Sands La Jolla, a HumanGood senior living community in Southern California. "Sometimes it's because they don't want to drive at night, or maybe they're not motivated to go to their bridge club because they're not feeling 100%"
Additionally, Guerrero said, seniors often lead longer and happier lives when they're in a community.
"In senior living, you're being supported emotionally as well as physically," she said.
Some communities also offer travel programs in which residents can go on day trips or extended vacations together. For example, HumanGood residents have traveled everywhere from California's Wine Country to far-flung locations including New England, Ireland, Tahiti and Bora Bora. In fact, Guerrero said, she leads White Sands residents on 10-12 trips each month.
"We offer many nearby activities, like trips to the opera or the theater, so no one has to drive on their own," Guerrero said. "But we also take longer trips. I had two residents who went hiking in Utah today."
When is the right time to move?
To move into a residential senior living community, you must be physically independent, which means you're able to get around without assistance, manage your own medications and go about your day without supervision.
In other words, the time to take advantage of everything independent living has to offer is when you're healthy and able to enjoy it—or now! One of the biggest mistakes people make is moving to a community after health issues have become overwhelming.
The other advantage of moving into a community as an independent living resident is that you'll be part of a family of neighbors and staff who will be there for you if and when a health need arises.
"We have many residents who have moved up through the various levels of care, and by the time they need 24-hour skilled nursing, they already have a whole group of friends who are able to visit and support them," Guerrero said. "It's wonderful to have family, but family cannot always be there when you need them. But here, you have your community family."
When Senior Independent Living May Not Be a Good Fit
While senior living comes with plenty of benefits and perks, it is not always a good fit for everyone. Here are a few considerations to keep in mind:
Downsizing
Senior living communities feature maintenance-free living, typically in a smaller apartment or cottage than the home you might be currently living in. If having a large yard and large home is important to you, senior living may not be your best fit.
Proximity to Neighbors
Senior living communities offer privacy and the opportunity to choose whether or not you become an active part of the life offered there. However, the reality is that you will be living in a community setting with closer proximity to neighbors than you might be used to.
Living with Adult Children
If your adult child currently lives with you or may need to in the future, be aware than communities have various restrictions on long-term guests or roommates. These restrictions would likely prohibit your adult child or grandchild from living with you.
Health and Safety Precautions
During a public health crisis, senior living communities might have tighter precautions or restrictions than the general public. Senior living communities follow mandates and recommendations from public health officials in order to protect their older, more at-risk population.
Discover more about the benefits of senior living by downloading our free guide, The Benefits of Senior Living.