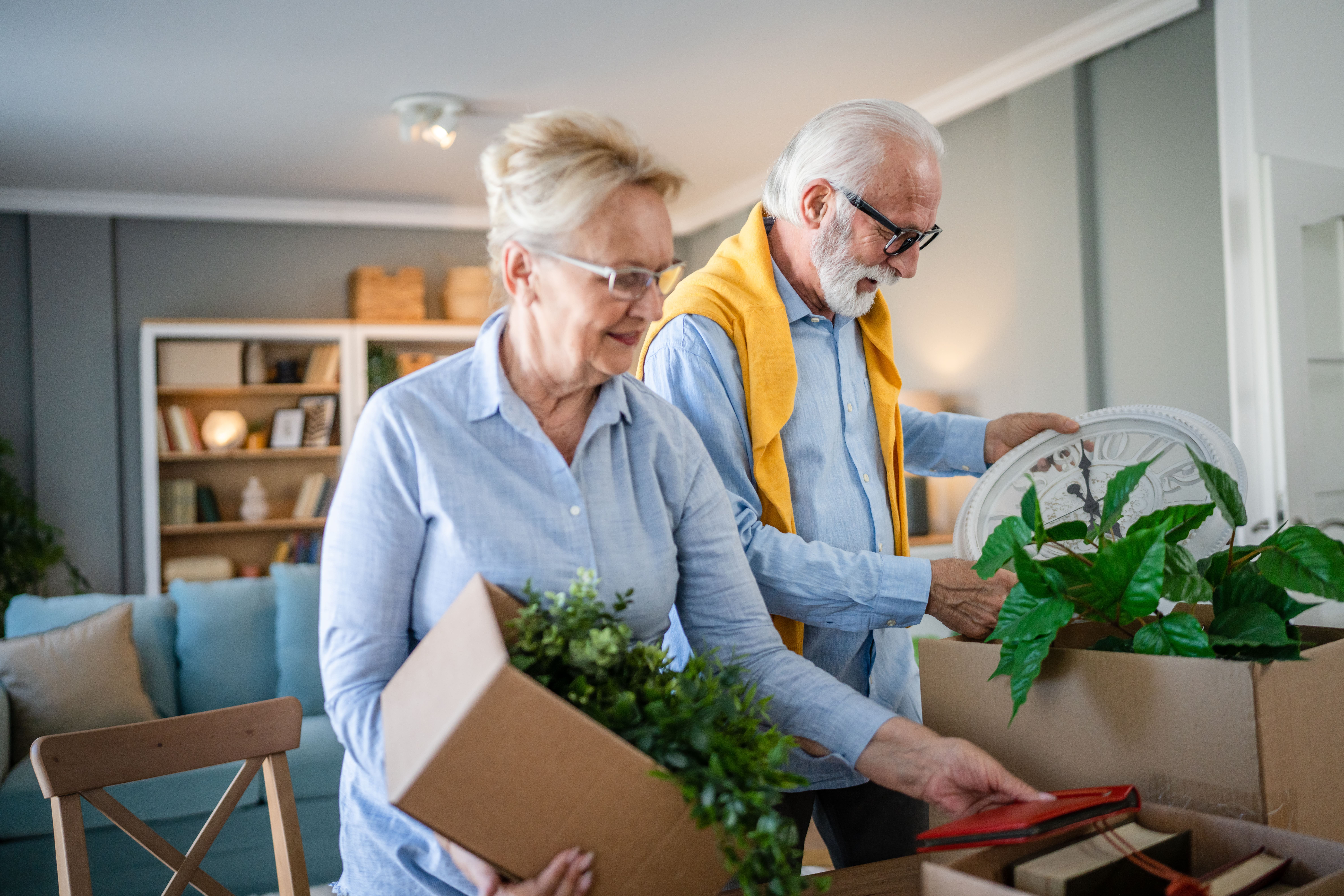 Fifty-four percent of Americans report being overwhelmed by clutter, but 78% say they have no idea what to do with their stuff, according to one survey. Are you among them?
Sometimes the problem is that you have too much space and too much stuff. The right downsizing tips can help you rein in the chaos and enjoy your home once again. But downsizing doesn't tell the full story and can make you feel like you're giving something up. That's why we like to focus on the concept of rightsizing. Rightsizing is the process of transforming your space into the perfect home for your needs, your dreams and your future.
One of the challenges of a cluttered house is the vicious cycle it can initiate: With too much clutter, it's difficult to clean up, and there often isn't a place for everything. So you delay organizing, only to see things become more cluttered and overwhelming.
It's time to start fresh. You deserve a space that is uniquely you and a life that feels inspiring, not exhausting or stressful. Getting control of the clutter may even help you more effectively show and sell your home, yielding a higher sale price and more money to fund your next act.
Clutter: More Than Just an Annoyance
Committing time and effort to get rid of clutter can feel a bit daunting, but it's well worth the effort. That's because clutter is more than just an annoyance. It can actually undermine your health.
Some of the risks of clutter include:
The Benefits of Rightsizing
If you're planning to move, you've probably already given a lot of thought to downsizing. Even if you're not, you may have considered scaling back your possessions for a more efficient home. It's time to reframe your thinking. Downsizing emphasizes what you're giving up. Rightsizing centers on the real goal, which is ensuring your home, your possessions and your lifestyle meet your needs and help you attain your goals for the future.
Some of the many benefits of rightsizing include:
Believe it or not, the process of rightsizing can actually be fun and meaningful, especially if you take your time. Walk down memory lane while looking at old photos. Laugh at your adolescent diary entries. Model the fashions of a bygone era to grandkids who might think they're cool yet again. Approaching rightsizing with an inquisitive, adventurous spirit can help transform it from a looming chore to an opportunity to reflect on your life's joys and triumphs.
Getting Started: Planning and Preparation
If you've been accumulating clutter for several years, you're probably not going to eliminate it all in a couple of hours. Getting the process right — and reducing the stress it causes — begins with a comprehensive plan.
Begin by listing your big goals. For example, you might want to completely clear out an old closet or reduce your possessions so that they'll fit into a two-bedroom apartment. Be as specific as possible. "Reduce clutter" is too amorphous and doesn't help guide your next steps.
Next, consider how much time you have. If the pressure's on to move, decluttering might need to become your full-time job for a bit. Reflect on your timeline, then break your goals down into actionable monthly, weekly and daily steps. For example, you might clear out two cabinets in your bathroom on Monday, clear out a closet on Tuesday, and then make a Goodwill run on Wednesday.
Be sure to include family and friends in your plans. Decluttering really can be a fun family event, especially if you're going to give away family heirlooms or sort through photos. Try inviting everyone over for a family decluttering party, complete with movies and music. Or ask loved ones if they can commit an hour here or there to support you through the process.
Downsizing Tips for Seniors
As you begin the process of downsizing, find ways to make the process fun. Binge-watch a show or listen to a podcast. Put on your favorite high-energy music to motivate you. And set reasonable goals. Most people can't spend all day, every day decluttering. Try these strategies to maximize the efficiency of the process:
Decluttering can prove emotionally challenging. Remember that objects are not memories or a legacy. If you don't have space for beloved heirlooms, consider giving them to someone you love or renting a storage space. Some people also find it helpful to put their most beloved sentimental goods in a trunk or keepsake box, so they can easily revisit the past when they desire.
Selling or Donating Unwanted Items
Once you've cleared out the clutter, it's time to revisit the items in your donate and give away piles. High-quality items can help pad your budget if you have the time or inclination to sell them. Vintage items often sell well on Etsy, while collector's items and unopened new products can fetch a high price on eBay.
If you just want the stuff gone, your local Goodwill is a great option. Some domestic violence shelters also accept donations. Many churches also support the community with donations or have a shop where people in need can get the goods they can't afford for free or for a small fee.
HumanGood: Your Partner for the Next Chapter
You've worked hard. You deserve a life of joy and purpose. Rightsizing is one ingredient in the recipe for this life because it frees time and space to focus on what's most important to you in this season of your life.
HumanGood is committed to supporting older adults to live the lives they desire, rich with deep social connections, plenty of fun, a chance to give back to the community and quality homes. We're also here to support you as you navigate the rightsizing process.
HumanGood's Life Plan Communities offer beautiful, stylish homes complete with housekeeping and maintenance, so you can turn your attention to writing the next chapter of your life.
Our quiz can help you decide if now is the right time to begin the rightsizing process.