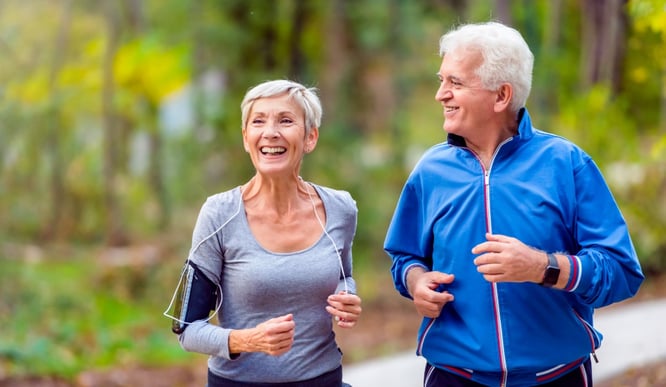 Moving to a senior living community could open the curtain to your best act yet. Myths about senior living continue to color perceptions, though, and many adults don't understand the extraordinary quality of life they can enjoy in the right community.
A Life Plan Community boasts maintenance-free living, a chance to spend time doing the things you love (without the stress of meal planning or tending to a broken pipe), and access to a welcoming community of other people who, like you, want to make the most of life. It's never the wrong time, or too early, to make the move to senior living. In fact, many of our residents say they wish they had moved sooner.
Ultimately, those who make the decision to move because they want more out of life than they're getting in their current home. Maybe you've just retired and crave more social opportunities. Perhaps you live alone and are beginning to feel isolated. Or maybe you're just tired of shopping for groceries and planning meals day after day. Think it might be time to take the plunge? Here are some signs that moving to a senior community could be right for you.
When is the Right Time to Move to a Senior Living Community?
Stereotypes about senior living have caused many people to romanticize living at home forever. Many adults think that senior living isn't for them if they're healthy and active, but that's exactly who these communities cater to! Life Plan Communities are nothing like nursing homes, though, and living at home isn't always everything it's cracked up to be.
Home maintenance can be an expensive and time-consuming task. Unexpected bills are common. And staying active when you live at home demands that you commit time to planning and money to transportation and activities. Finding time in your schedule when you and your friends are both available for an activity can begin feeling like a thankless part-time job.
Senior living complements what you already enjoy about your lifestyle–your independence, your commitment to living life on your own terms. You'll enjoy healthy meals without sacrificing flavor, have more time to do what you love thanks to your maintenance-free home, and gain the chance to deepen the relationships you have while forging new friendships.
It might be time to consider senior living if:
You've recently had a major change in your lifestyle and are considering a reset. For example, maybe you just started living alone and want to find new ways to make friends.
You're tired of the stress and annoyances of living at home, and would rather spend the next chapter of your life doing what you want, and only what you want.
Your independence is very important to you, and you don't want to worry about your kids or your family interfering in your lifestyle or fretting about your well-being.
You'd prefer to have a more predictable budget, with standardized monthly expenses.
You want to eat nourishing, healthy food without having to spend all your time shopping and preparing meals.
You relish the idea of meaningful, intentional community and would like to get to know your neighbors and build supportive relationships with one another.
You worry about being bored in retirement, and you want the chance to try new things.
A Life Plan Community caters to every lifestyle, and can offer additional support and help if you ever need it. Should you need this extra support, you'll still enjoy an independent lifestyle, but you'll also get the assistance you need.
Tips for Making the Transition to a Senior Living Community
Moving to a senior community is a major transition that requires some planning. And just like buying your first home or moving away to college, that transition will go more smoothly if you take your time and enlist some help. Consider these strategies:
Find the right community
You have more options than you realize, so begin your search early so you can find a community that complements your needs. Try making a list of the amenities and services that are most important to you. Then explore communities online and make a priority list of your top options.
The decision begins with a community tour. Schedule a visit during a community event or meal, when people are likely to be milling about. This gives you the chance to meet your potential neighbors, ask questions, and get to know the community culture. Make a list of questions beforehand, and don't shy away from ensuring the staff answers each one. The best communities are excited to showcase all they have to offer, and happy to answer your questions.
If you need to sell your home to move, it's a good idea to consult with a real estate agent after you've found the right community.
Commit to downsizing
Unless you live in a very small place, you'll probably need to downsize before moving to a senior community. For many people, this is the most difficult part of the move. These steps can make it easier:
Begin with clearing out the clutter–the things you know you don't need and don't want–to give you space to assess what to keep.
Make a pile of items to donate. If you have valuable items you don't want or need anymore, such as designer clothes, consider selling them to a local consignment store or listing them on ebay or Mercari.
Decide what to do about family heirlooms and sentimental items. If you have some possessions you had planned to leave to loved ones when you're gone, consider gifting them now. Your loved ones get their inheritance early, and you get to watch them enjoy your gift.
If you have some things you just can't part with but may not have space for, consider renting a storage space. Then, once you've unpacked and put everything away, you can reassess whether these items fit into your new space.
Look forward to the future
Remember the first day of school or at a new job? You probably felt a little anxious, no matter how confident you were in your decision. Moving to a senior community can feel a bit like this. Make the move easier by planning out your first couple of weeks. Review the community's calendar and highlight special events. Schedule some visits with your family. Invest in a new piece of furniture or an indoor garden that you can feel excited about setting up.
Move In
A slow transition can make moving easier, help prevent exhaustion, and ensure you're not overwhelmed by boxes. You might move a few small items each day, then move your bed last, so you can begin sleeping in your new home only after everything else is ready. Many Life Plan Communities offer help with downsizing and move management services, so ask how they can make your transition easier.
Moving to a Life Plan Community is a chance to shape your future. Get started finding the right Life Plan Community for you.