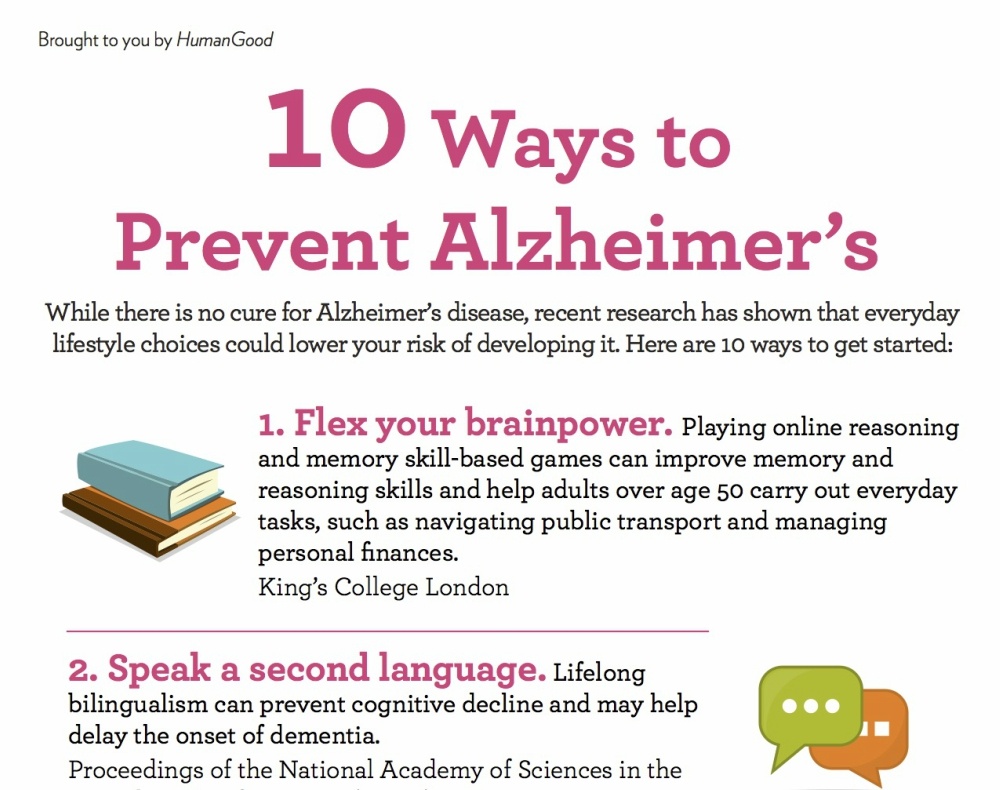 Each year, nearly 10 million people are newly diagnosed with dementia around the globe. While there is currently no cure for the condition, scientists have been researching the disease for decades to find out why it happens and what the body goes through as the condition progresses. The Alzheimer's Association reports that current research is focused on risk factors ranging from high blood pressure to lack of exercise and how good brain health can prevent or delay the onset of disease.
When it comes to the latest dementia research from across the globe, scientists seem to agree on one thing: prevention. A few lifestyle changes, from the foods you eat to the way you deal with stress, could help you reduce your risk factors.
Here are the top ways to prevent Alzheimer's disease by adjusting your lifestyle or habits. It's never too early, or too late, to begin to bolster your cognitive health.
1. Flex your brainpower.
You've heard the saying "use it or lose it" before, and when it comes to cognitive activity, the saying certainly rings true. The more you challenge yourself and your cognitive skills, the more likely you are to reduce the onset of dementia.
Here's the good news: You don't have to develop your own brain healthy curriculum because there is an app for that. Research published in the Journal of Post-Acute and Long-Term Care Medicine points to cognitive training as a way for anyone to maintain cognitive function and improve some aspects of memory. Their research found that playing online reasoning and memory skill-based games can improve memory and reasoning skills, as well as help adults over the age of 50 carry out everyday tasks such as navigating public transportation and meaning personal finances.
2. Speak a second language.
Learning a second language can help you out during your next international trip and help you feel empowered because you are learning something new. But learning a new language can also help improve your cognitive skills, helping to keep dementia at bay. The Proceedings of the National Academy of Sciences of the United States of America reports that lifelong bilingualism can prevent cognitive decline and may help delay the onset of dementia.
If you haven't been speaking a second language for your lifetime, don't despair. You can still reap significant benefits from learning a new language in your senior years. The Glasgow Memory Clinic states that people who learn a new language tend to have lower rates of dementia and memory issues later. While direct reasoning is not yet determined, it appears that learning a new language can cause resiliency in the brain, helping to reduce the chance of dementia or even delay its onset.
3. Eat like a Mediterranean.
Over the past decades, research has formed a strong connection between dementia and diet. The Alzheimer's Association reports that heart-healthy eating may also end up protecting the brain just as much as the heart.
Currently, there are two diets that might be the most beneficial to lowering the risk of dementia: the DASH diet and the Mediterranean diet. The DASH diet, or Dietary Approaches to Stop Hypertension diet, focuses on eating more vegetables, whole grains, fish, poultry, beans and vegetable oils. Similarly, the Mediterranean diet discourages red meat, instead encouraging more grains, fruits, vegetables, fish and olive oil.
Which one should you choose? The National Institutes of Health reports that eating a Mediterranean diet can decrease risk of age-related dementia, but the DASH diet is also showing promising results in research studies as well. Talk to your physician about which might be best for you.
4. Wear a seat belt.
Head trauma at any stage in life can significantly increase your risk of developing dementia later on. Research has demonstrated that adults with a history of moderate brain trauma were at double the risk of developing Alzheimer's later in life compared to their peers without a history of trauma. For those who had a history of severe traumatic brain injury, the risk of developing dementia more than quadrupled.
How can you keep your brain safe? The Alzheimer's Association recommends wearing a seat belt as an excellent first step. You can also focus on reducing your fall risk through practicing balance exercises and creating a safer environment at home. Since falls are the cause of head injury in many older adults, making adjustments to the home to decrease the risk of taking a tumble is a wise decision for your body and your mind.
5. Schedule dinner with a friend
Recent research has given us all another reason to reach out and connect with a friend or make new relationships with neighbors. For example, the Centers for Disease Control and Prevention reports that social isolation was connected to a 50% increased risk of dementia in addition to other serious medical conditions.
Further, research published in PLOS Medicine followed adults for 28 years to see how lifestyle could affect aging, including cognitive skills. They found that those who had frequent social contact had a positive effect on the brain, creating a "cognitive reserve," reducing stress and promoting other healthy behaviors.
Take this as your sign to call your friend and set up a time to grab coffee or dinner.
6. Get moving.
Alzheimer's disease and other types of dementia have been linked to other health conditions, such as high blood pressure. The best way to decrease your blood pressure, reducing your risk of Alzheimer's, vascular dementia and other complications? Exercise.
You don't have to develop a rigorous exercise program to begin to see the benefits. In fact, just lacing up your shoes and hitting the neighborhood for a brisk walk daily can be enough to increase blood and oxygen flow to the brain. Learn more about low-impact exercises here.
7. Sap your stress.
Any type of prolonged stress has the potential to cause damage to our physical and emotional health. This extends to our cognitive health as well.
Fortunately, good stress prevention practices and coping mechanisms can help you manage daily stress so that it doesn't become chronic and damaging. Try deep breathing, prayer or journaling daily to reduce stress. You can also add meditation to your regular schedule. The Journal of Alzheimer's Disease reports that using the Kirtan Kriya meditation technique can help enhance memory and reduce the risk of Alzheimer's disease.
8. Don't smoke.
Smoking has long been linked to serious physical health complications ranging from high blood pressure to increased cancer risk. However, smoking can also significantly increase your risk for developing Alzheimer's disease or vascular dementia. Nearly 14% of Alzheimer's disease cases worldwide are potentially attributed to smoking, according to the World Health Organization.
Talk to your physician about smoking cessation techniques that could work for you, and find someone to hold you accountable.
9. Watch your blood pressure.
Healthcare professionals agree that a healthy heart often leads to a healthy brain. Be sure you and your physician are keeping an eye on your blood pressure and are doing your best to keep it at a healthy level. Take any prescribed medications, eat well and add daily exercise to your regular routine.
10. Consider a senior living community.
Senior living communities make keeping up with your cognitive health — and overall wellness — much easier than if you lived at home alone. Exceptional communities offer more than just socialization opportunities, fitness classes and healthy nutrition at every turn. They are hubs of activity for other adults who want to make wellness the focal point of their retirement.
Learn more about Life Plan Communities, including their benefits and features, by downloading our free resource, "The Complete Guide to Life Plan Communities."