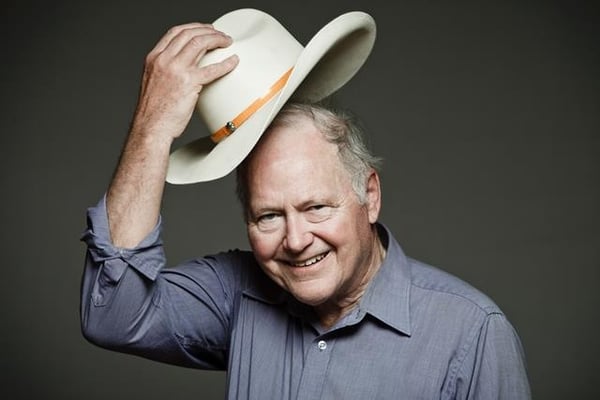 HumanGood residents pursue the written word in their free time.
A number of residents in senior living communities use their time and talents to pursue post-retirement careers as professional writers. Others are just beginning to discover their talent while living in a community.
Meet four of our resident authors who gladly share some of their poems, prose and musings.
John Meyer
Residents of White Sands La Jolla can always count on their neighbor John Meyer to share a rhyme and a song.
"I like having fun with words," says Meyer, who has lived at White Sands since 2008. "So I don't necessarily consider myself a poet, but a half-poet." Or as Meyer wrote in his poem "John L. Meyer, the Half-Poet of Doggerel, Limericks and Nonsense Verse":
Folks say I'm a poet, who really doesn't know it!
And when it comes to rhythm and rhyme,
I usually take little time in composing a poetic line.
A former professor of communications and oral interpretation, Meyer didn't truly explore his inner poet until he retired in 1999.
Now he has the time to try new styles and approaches with a turn of a phrase and his quick wit. "I get a certain enjoyment out of composing, then I quickly have to read it as soon as I finish writing," he says. Meyer also organizes White Sands' biannual poetry festival.
Carolyn Shadle, Meyer's wife—who is often the subject of his love poems—serves as his editor, critic and biggest fan. "She's my inspiration and support," he says.
Anne Heineman
Anne Heineman has lived at Regents Point since 2005. In an issue of the community's monthly newsletter, The Pointer, Heineman wrote of her philosophy on aging in the form of a poem. It's a piece she first featured in her memoir, "My Nine Lives," published in 2007, which told her story of surviving the Holocaust and making her way to the United States.
Today, dear Lord, I'm 80 and
There's so much I haven't done.
I hope, dear Lord, you'll let me live until I'm 81.
But then, if I haven't finished all I want to do,
Would you let me stay awhile—until I'm 82?
So many places I want to go,
So very much to see—
Do you think that you could manage to make it to 83?
The world is changing very fast;
There's so much more in store.
I'd like it very much to live until I'm 84.
And by then I'm still alive
I'd like to stay 'til 85.
More planes will be up in the air,
So I'd really like to stick
And see what happens to the world, when I'm 86.
I know, dear Lord, it's much to ask
(and it must be nice in Heaven)
But I really would like to stay until I'm 87.
I know by then, I won't be fast
And sometimes will be late.
But it would be pleasant to be around at 88.
I will have seen so many things,
And had a wonderful time…
So I'm sure that I'll be
Willing to leave at 89.
I'm 90, Lord, my mind is sound.
I like it here—I can still get around.
My time is limited, I know, and some day I'll have to go.
I'm not greedy or guided by fears…
I just want to see what happens in the next few years.
I'm sure you've heard this plea before.
But my bags will be packed at 104.
Fran Syverson
Westminster Gardens resident Fran Syverson has spent decades as a journalist and columnist for local weekly newspapers like the Sierra Madre News and Beacon Media Inc. In her first book, "InnerViews," published in 2010, she shares what she calls her "memories, meanderings and musings."
In a 1999 column, Syverson wrote about one of the greatest lessons she gleaned from her aunt about the so-called mysteries around growing older. The column was titled, "On Not Knowing How to Grow Old":
We were visiting our octogenarian aunt one afternoon. She vacillated from feeling blue and cranky over her failing eyesight and her other infirmities, to laughing as she reminisced with favorite stories still clear in her memory … Suddenly, she looked at my sis and me, laughed, and said, "I don't know how to grow old; I've never done it before."
Such marvelous insight! No matter who has trod the path before us, none of them can really tell us how it is. We each have to do it on our own, and we have but one time to do it.
… I'm not sure if anyone can teach us how to do it. I'm glad we three laughed at the wry, insightful humor of it when my aunt said, "I don't know how to grow old: I've never done it before." For neither do I.
William Rider
A poet emerged within Royal Oaks resident William Rider in the middle of the night. In May 2013, Rider woke up at 2 a.m. with many stories and thoughts to share through poetry. He went to his desk and began to write.
"The words just began to flow," says Rider, who crafted more than 80 poems. "I would just put down what was in my heart. For me, it all comes from God, and I would cry tears of joy after every poem I liked because I knew I had done something right."
He published the poems in his first poetry collection, "Love and Live: God's Words Written in Poetic Form," in 2014. Throughout the collection, he explores the importance of faith, as well as the gift of giving and learning new things.
"Mr. Rider has blossomed into a totally different person through writing," says Khandice Morente, resident services coordinator at the community's assisted living residence. "Through poetry, he has really opened up in a different way."