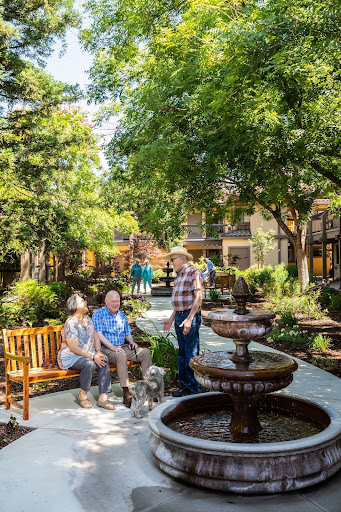 What does your ideal retirement look like? Are quality friendships, nourishing meals, a beautiful home and plenty to do a part of it? What about maintenance-free living, low-effort dining and a chance to do something fun each day without a lot of planning? Fresno's original nonprofit Life Plan Community, The Terraces at San Joaquin Gardens, can help you meet your retirement goals, no matter what they are.
Many seniors join our community seeking independent living and a more adventurous lifestyle. But we can cater to a wide range of needs and desires. We offer memory support, assisted living, residential living and skilled nursing. We can even support couples who have different needs and priorities. Many of our residents report that they've always longed for a sense of community and have now found it in our community. There's something here for everyone and a meaningful sense of community at every level of care. Here's what sets us apart.
Our Unique Senior Living Community
Situated in Fresno, California, The Terraces at San Joaquin Gardens offers access to nearby attractions such as the Fresno Chaffee Zoo, Fresno Art Museum and Chukchansi Park.
Our walkable gardens, cozy green spaces and abundant indoor areas for entertaining, reading or just chatting with a good friend provide the perfect backdrop for an engaged retirement.
"When we first visited The Terraces, we were amazed at the beauty of the community and the friendly atmosphere," Bev Smith, a resident, said.
This reaction is common. People often visit our community with some preconceived notions about senior living only to find beautiful Mediterranean architecture and first- class amenities and people from all walks of life enjoying a vast range of hobbies and lifestyles.
New friendships grow naturally in this welcoming environment. "I value my friendships here very much. There are so many new people to meet [and] new stories to hear. I really enjoy being a part of what's going on here. It gives you a sense of belonging and a sense of family," another resident, Cathy S., said.
With numerous floor plans, our residential living community caters to a variety of tastes and price points.
Health and Wellness
Access to the right amenities can keep you physically and mentally active, promoting a long and healthy life.
Our Life Plan community boasts the following:
Four gourmet dining venues.
A fitness center and spa so you can stay active and healthy.
A performing arts center hosting a range of performances.
A swimming pool so you can take a dip, learn a new stroke or race your friends.
Gardens and stunning courtyards for leisurely strolls.
A fully stocked library to stimulate your mind.
A charming gift shop.
A full-service barbershop and salon to ensure you always look your best.
A stimulating hobby room where you can pursue your most beloved hobbies — or master a new one.
Multipurpose common areas for meeting with visitors, making new friends or just curling up with a good book.
Safe and secure underground parking.
Lasting Connections
Relationships give our lives a sense of meaning. At The Terraces at San Joaquin Gardens, we make it easy to nurture the relationships you already have. Invite the kids over to eat at one of our fine dining spaces, or enjoy a sleepover with the grandkids in your new home. Family comes first here, and we're excited to welcome those you love the most.
We also know that there's always room for more friendship, more joy and more human connection. Our rich variety of activities ensures you can meet like-minded residents. The deep sense of community here fosters the sense that we're all in this together and that everyone matters.
"My wife and I keep very busy here. We're in the band and serve on multiple resident councils. It's the greatest place on Earth to live. The people are friendly, the lifestyle is carefree and the amenities are wonderful. It's like living in a resort, but it's our home. We love it!" resident Harvey Zimmerman said.
Remaining socially active is good for your mental and physical health. Loneliness is as bad for you as smoking and correlates with a higher risk of heart disease and stroke. Our warm, inviting community is the antidote.
Security
The Terraces at San Joaquin Gardens is a Life Plan Community designed to meet your needs even as they change and evolve. This offers peace of mind, consistency and the freedom to focus on the things that matter to you most since your long- and short-term needs are already taken care of.
You don't have to worry about what would happen if you were injured or if you needed a higher level of support. We're here for you now and over the long term. Should your needs shift, you'll have priority access to the continuum of support our Life Plan Community promises.
Learn More
Many people contemplating a move struggle to know which type of community is right for their needs. Our quiz can help you decide.
We don't believe in one-size-fits-all retirements. Instead, we work with you and your family to address your desires; plan for the next chapter of your life; and ensure you're happy, healthy and whole.
The transition to a Life Plan Community is an important one that can help you remain as healthy and active as possible no matter who you are or what your hopes are for the future.
Choosing the right community for your needs is important. You deserve the best and should take your time making the decision. Yet many older adults feel overwhelmed by their options or uncertain where or how to begin. Our "Guide to Touring a Senior Living Community" can help you ask the right questions to ensure you've chosen the perfect community. And if you have other questions, we're here for you. Reach out today.