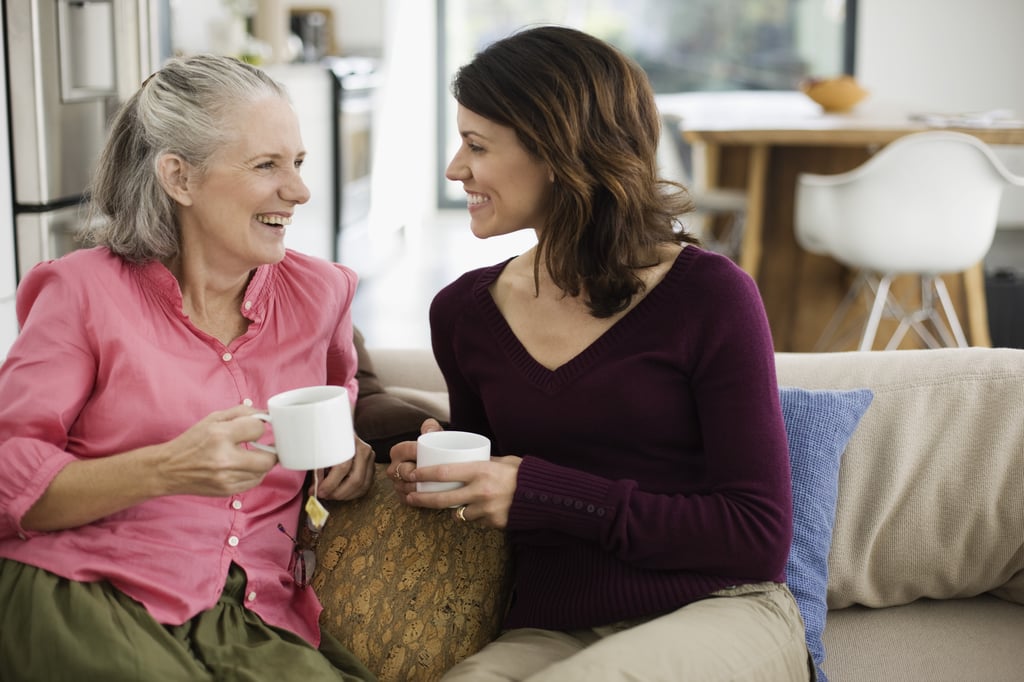 Many families avoid having tough talks about what will happen as their parents age. When the topic does come up, you may find that there's an unspoken assumption that you'll move Mom or Dad in with you at some point.
But when the time comes to make decisions about your parents' care, reality hits and the questions begin:
Do I have enough space?
Can I afford it?
Do I have the time?
Will I be a good caregiver?
How will our relationship change?
How will I manage caring for a parent while also caring for my children or grandchildren?
These are big questions, and your parents likely have concerns of their own, such s:
Will I be a burden?
Will I be safe?
Will I lose my independence?
Will I have enough to do?
Will I be expected to be an on-call babysitter?
It is important to bring these concerns and questions out in the open before a health event forces a hasty decision. By considering the financial and emotional costs ahead of time, both you and your parent will be in a better position to make an informed—rather than purely emotional—decision. Here are tips to keep in mind.
The Hidden Costs of Caring for a Parent
According to the AARP's Family Caregiving and Out-of-Pocket Costs report, family caregivers spend nearly $7,400 of their own money per year, which doesn't include money spent caring for children or grandchildren.
Walt Mozdzer, an experienced senior financial advisor, is used to advising clients about housing and financial decisions. But a few years ago, he found himself in his clients' position: His mother was struggling with medical problems. It was complicated by a "souring relationship" with his sister-in-law, with whom his mother lived in the small town of Shady Valley, Tennessee.
Walt and his wife opted to move his mother into their home in Altoona, Iowa. But, his mother couldn't manage the stairs in their two-story home, so Walt spent hundreds of dollars modifying the space.
"Our preparation costs included tearing up our dining room to put in a hospital bed and a modular shower downstairs," Walt said.
Walt's mother paid him rent every month, but because she liked the house to be much warmer than he was used to, the family's utility bills grew. With an additional person at the table, the family's grocery bills grew too. To give his wife some alone time, Walt also took his mother to an adult care program two days a week, which he says cost several hundred dollars per month.
"There are other hidden costs in caregiving, such as time spent transporting your parent to doctor appointments and to the local big box store for greeting cards, yarn, postage stamps and so on," he said.
To estimate added expenses, start by learning about all of the costs involved with having a parent move in with you, including:
Modifications to the home.
Utilities.
Food.
Transportation.
In-home care, for when you can't be there or need a break from caregiving.
It's also important to think about how much a parent can contribute to the paying for these costs, as well as how long they'll be living with you and how long the situation will be financially feasible.
Consider consulting with a financial counselor who can help you weigh your options, make accurate calculations and identify available resources.
Sandwich Generation Considerations
Moving a parent into your home isn't just a financial decision—there are a number of emotions involved. On the positive side, grandparents who live with their adult children have a chance to bond with their own children and their grandchildren.
"My own maternal grandmother and paternal grandfather lived with us for years while I was growing up," Walt said, adding that he enjoyed having a closer relationship with them than he would have otherwise.
Isolation
However, even though sharing a home can be one way for aging parents to stay engaged, but a move can also create isolation. They may miss their neighbors and friends. And, caregivers may see their own social connections diminish as they spend more time each day caring for an aging parent.
According to one study, loneliness and social isolation have been linked to around a 30 percent increased risk of a person having a stroke or developing coronary artery disease. A growing body of research also names isolation as a contributing factor to memory loss, depression and more. For some caregivers—and parents—the loss of established social circles or habits may be too high a cost.
Safety
Walt's own concerns about his family's living arrangement became about safety.
"I realized that if my mother were to fall when I wasn't home, my wife wouldn't have been able to pick her back up," he said.
After four months of sharing his home with his mother, Walt and his family regrouped. Together, the family discussed options and his mother decided to move into senior living community just five minutes away, where she lived happily until she died.
When they calculated all of their costs, senior housing became a more affordable and enjoyable choice than the Mozdzers had expected.
"There was an adjustment period, but she loved it and made some great friends," he said.