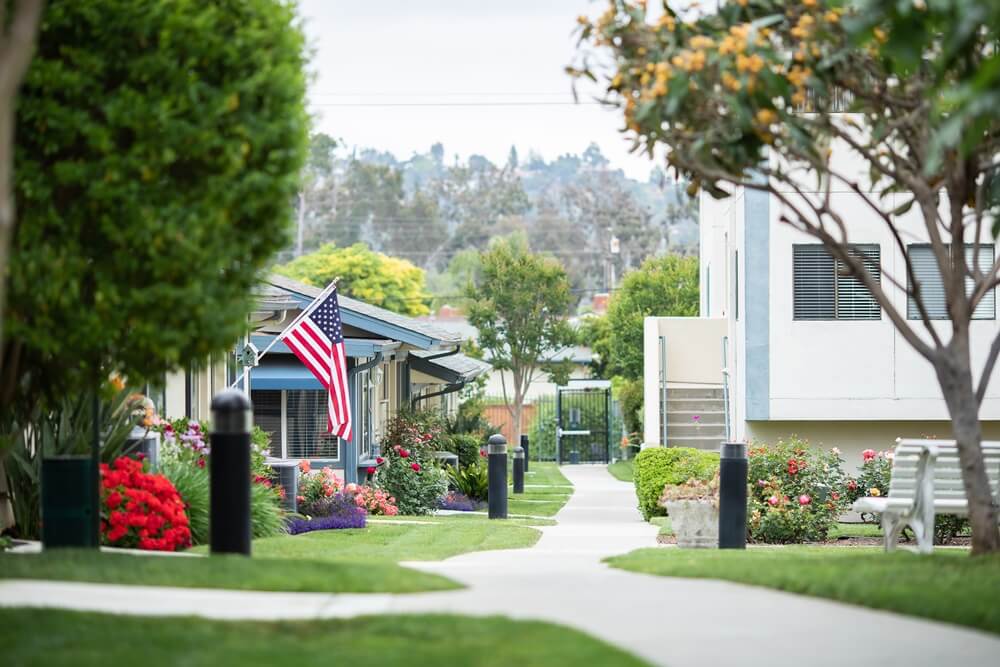 Have you made the decision to start touring independent living communities in Escondido, California? Making the move to a senior living community means you'll be able to build and nurture more meaningful relationships, which can boost your health and longevity.
Independent living at a Life Plan Community (also known as a continuing care retirement community or CCRC) offers a low-stress, maintenance-free lifestyle for active seniors who want to spend more time doing what they love every day. The community takes care of home maintenance, landscaping, housekeeping and more so you have more time for your hobbies, visiting with family and whatever else is important to you.
In fact, according to The Age Well Study, a collaboration between the Mather LifeWays Institute on Aging and Northwestern University, seniors living in a Life Plan Community reported that their social, intellectual and physical wellness improved after making the move to a Life Plan Community. The study even found that Life Plan Community residents report feeling 14 percent younger than their chronological age.
Ready for your tour? With these three tips, you'll get the most out of your tour.
1. Talk to Friends, Family and Neighbors
In a world of online reviews and digital decision-making, word of mouth is still king. In fact, according to a Nielsen Global Trust in Advertising study, 83 percent of people said they trust their friends and family for recommendations. A similar, earlier study by Nielsen found that 92 percent of people trust recommendations from others—even from strangers. Ultimately, McKinsey & Company found, 20 percent to 50 percent of purchases have been influenced by word-of-mouth recommendations.
Chances are you've got friends, family or neighbors who've already made the move to the senior living communities you're considering. Talk to them about their experiences, what they think of the people, what they like and don't, and then keep those things in mind as you head on your own tour of a community. The feedback from these important people in your life can prompt some important questions that you can ask during your tour.
2. Read Reviews
Yes, word-of-mouth recommendations are the primary way we make decisions, but online reviews are a great place to research communities, too. Just be sure to look beyond the amenities to what people are saying about the residents, the doctors and the staff members. Here are some popular online review sites to consider:
It's important to keep in mind, however, that many websites get a referral fee when someone using their site makes the move to a senior living community. Also, many online reviews are written by people who have either extremely positive or extremely negative experiences, so take everything you read with a grain of salt.
Also, look for reviews that explore how the community promotes engagement, connection and happiness, and use the information you gather to come up with questions to ask on your tour.
3. Ask the Right Questions
Once you've scheduled your tour, it's time to get answers to any questions that you couldn't answer by speaking to others or by reading reviews online—including questions that aren't easily answered through observation while on your tour (e.g., are there independent living cottages or just apartment homes?).
For example, consider asking if you can have a meal at the community. Why? The dining room is where people gather, and it's a great way to get a feel for the community's character. Or, ask if you can sit in on an art or fitness class. You'll not only get to see what some of the opportunities are like, but you'll also get to engage with other residents and see how well you fit in.
You'll have some questions that are specific to your needs and independent living goals, but here are some additional questions that you may want to ask on your tour:
Is the community clean, and does it smell nice?
Are staff members happy and eager to assist residents?
Can the community accommodate my dietary preferences and needs?
What are the dining options?
What kind of health, wellness and fitness opportunities are there?
Are there classes and other activities for the mind and spirit?
Does the community offer exciting outings and travel opportunities?
Are the residents friendly, happy and genuine?
Do the community's residents share my values?
What are the costs associated with community living (e.g., entrance and monthly fees)?
Are there additional fees (e.g., do they charge to take a resident to the grocery store or wash their clothes)?
Are home maintenance and housekeeping included?
Independent Living in Escondido
If you're ready to make the move to independent living in Escondido, there is no better time than now. Located in the heart of Escondido, Redwood Terrace is a Life Plan Community with an intimate size, neighborhood feel and friendly, family-oriented atmosphere. We offer plenty of life-enriching opportunities, so you can join an aqua aerobics class, gather with friends at wine night or stay in and enjoy live music—but you'll also be close to the historic downtown, arts and theater opportunities and delicious dining opportunities.
Our North County community features maintenance-free independent living cottages and apartments, as well as off-campus single-family homes. And, with the benefit of a Life Plan Community, if your health needs ever change, you'll have access to assisted living, memory care and skilled nursing—all on one campus. You can live the independent life you love with a social calendar as full as you'd like it to be as well as peace of mind and security about your future.
Contact us today to set up a personalized tour of our maintenance-free independent living cottages, apartments and off-campus single-family homes.