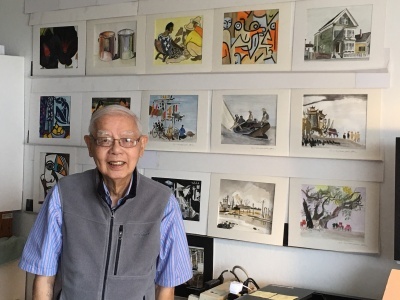 James Chuck, a resident at Piedmont Gardens in Oakland, California, was born in Oakland and has spent his entire life in northern California. In 1934, as a child, Chuck became heavily involved in the First Chinese Baptist Church (FCBC) in San Francisco. In his later years, Chuck took up studies at the American Baptist Seminary of the West (ABSW); Chuck was simultaneously invited to serve as youth director at FCBC, and he would later go on to graduate from the Master of Divinity Program in 1953.
In 1951, Chuck became senior pastor for the FCBC. He was the first-ever English-speaking pastor of the church. For 40 years, Chuck taught topics ranging from world religions to constructive theology. He completed his service at FCBC in 1991 and accepted a position as the professor of Theology and Church Ministries at ABSW.
Chuck has always believed in continued education, and throughout his professional career has served as an adjunct professor for over five different schools from the Hong Kong Baptist Seminary to the Pacific School of Religion, spreading his theological knowledge to help educate the youth of the world.
In June 2013, Chuck announced his retirement from the rigors of teaching. However, even post-career, Chuck continues to find ways to challenge himself and keep his mind active. He especially delights in discovering new forms of expression, which led him to take up painting at Piedmont Gardens. At Piedmont Gardens, residents have the ability to create their own community groups with activities, such as "Monday Resident Lectures" and "Gear Up Circles," where residents can lead lectures and group discussions centered around topics of their interest. Chuck saw this as an opportunity to further develop his water coloring skills and create an exhibition centered around resident-driven art.
In March 2016, Chuck debuted his latest exhibit at Piedmont Gardens featuring a collection of Chinese-style paintings replicated from Lucy Wang's book titled Chinese Brush Painting. Through May, residents had the opportunity to attend and witness Chuck's art. After its conclusion, Chuck gifted 25 of his paintings to residents and team members at Piedmont Gardens, further showing his dedication to inspiring others through his work. Just as Chuck found joy in informing and educating youth, he continues to find satisfaction in creating art as well as sharing art and culture with others.
Chuck's next exhibit will premier in April 2017 and will feature faithful reproductions of famous pieces of modern art from the likes of Henri Matisse, Georgia O'Keeffe and Pablo Picasso. The enjoyment in completing these replicas, according to Chuck, comes from the challenges that they bring. "It takes a number of attempts to get it right," Chuck says, "These are painting styles of master artists and the subtleties and differences in style vary greatly; even the matting and framing requires a careful eye."
Once his exhibitions are over, however, the act of giving away these pieces of art brings Chuck an immense feeling of gratitude and happiness, making the dedication and time expenditure more than worth it.
"It's important to immerse oneself in culture and art," Chuck says, "and this is one way that I can help share them with others."