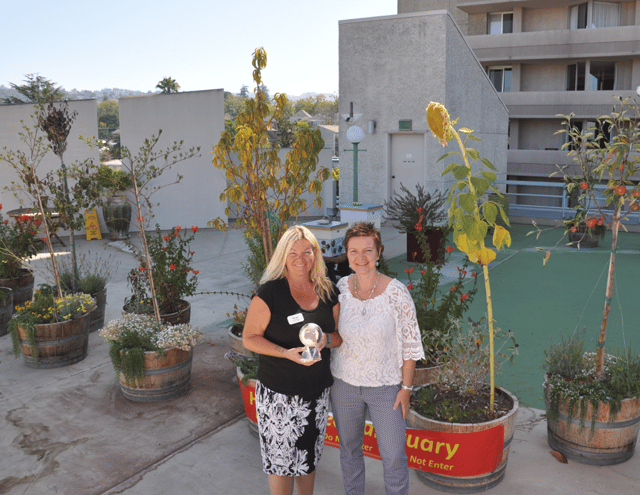 With the goal in mind to repurpose an expansive rooftop, a team at Piedmont Gardens searched for ways to create a garden that was environmentally friendly and a beautiful space for residents to enjoy. After months of planning, they hatched an unconventional idea that included fruit trees, vegetables, flowers—and yes, honey bees.
"We had a large empty space with a lot of potential," said Jana Gesinger, social services manager at Piedmont Gardens who also cares for the bees. "The goal was bettering the city we live in, the Piedmont Gardens community and contributing to the local bee population."
The creation of the garden and honeybee hives, located on the rooftop of the Village our skilled nursing center, caught the attention of the International Council on Active Aging. In October, Piedmont Gardens received the 2017 ICAA Innovators Green Award—a competition that's open to organizations that share ICAA's goals of changing society's perceptions of aging and improving the quality of life for older adults.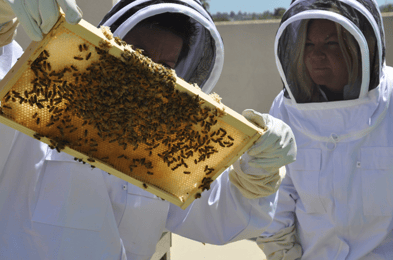 An ICAA committee chose the winner of the Innovators Green Award for excellence in bettering the lives of older adults in a sustainable, environmentally-friendly way.
Residents in the Village planned the layout for the rooftop garden which now houses a vegetable garden, a seating area and the Honeybee sanctuary with apple trees, strawberries and other plants surrounding it. "Residents also planted the gardens, sharing life experiences and expertise," said Tanya McGinness, recreation therapist in the community who also cares for the bees.
Working closely with BioFuel Oasis in Berkeley, residents and team members prepared a home for the two hives which began thriving shortly after arriving in April. The hives have yielded 30 pounds of honey so far.
Residents in the Village have used some of the harvested honey to make aromatherapy lotions scented with essentials oils like jasmine, bergamot and lavender. Those lotions are used during hand massages and sensory stimulation programs for residents at the Village.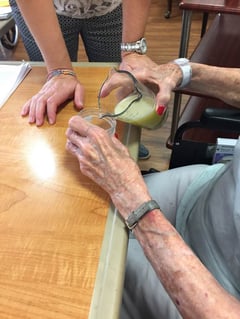 The community also has set up a "BeeCasts" live stream for residents to view activity in and around the hives; and they started a lecture series about honeybees and the benefits they bring to the environment.
"The project has allowed opportunities for education about the role bees play in the health of our environment," said McGinness. "Our rooftop garden has become a centerpiece for our community."