Laughter, clapping and cheering are some of the sounds emanating from the activity room at The Terraces of Phoenix. Every Friday morning starting at 10 a.m., dozens of residents—from all levels of living—meet with children from the program and their families to make music. This activity is part of "Music Together," an international music and movement program for children from birth to age seven.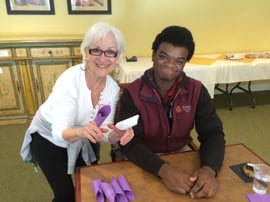 The "Music Together" curriculum was coauthored in 1987 by founder and director Kenneth K. Guilmartin and Dr. Lili M. Levinowitz from Roman University's music education department. This program is offered to family and school communities, at-risk populations and special needs children in over 200 neighborhoods and more than 40 countries. Today, in an effort to expand their lifestyle and activities initiatives, "Music Together" has now become an integral program at The Terraces of Phoenix.
In September 2016, Kathy Rowe, director of "Music Together" in Phoenix, reached out to The Terraces of Phoenix. This came at a time when lifestyle director Aneil Koerper wanted to expand The Terraces of Phoenix's multigenerational programs. "We wanted a new way to bring our residents together with the youth of the community to create a memorable experience for everyone," says Koerper. The "Music Together" program quickly became a success with residents and children of all ages. From singing to dancing, residents enjoy themselves while teaching children the joy of music, watching them grow right in front of their eyes.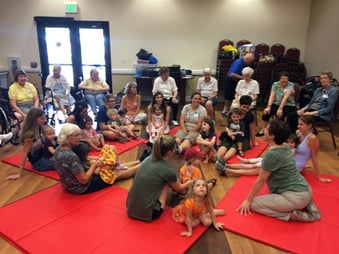 Resident Gerry Silver and his wife Marian make it to every "Music Together" class and find they always walk away with a sense of joy and accomplishment. "The children bring more life to our community," says Gerry. "I have never seen anything bring my wife more happiness and put a smile on her face than the hour she spends with the kids each week." The experiences from "Music Together" are invaluable for the residents at The Terraces of Phoenix and it's just one of many multigenerational programs offered to the community.
Another similar program that shares the goal of helping both residents and local youth, is the brainchild of Lead Activities Coordinator Dani Lomas and Activity Coordinator Sarah Cloward. They partnered with Desiderata Alternative Program, a high school based in Phoenix that helps troubled students facing challenges, such as behavioral and homelessness issues. The group meets every Tuesday at The Terraces of Phoenix community with a handful of students. Together, residents help the students with English writing and speaking, and creative composition.
Resident Magda Willinger has been part of the Desiderata Alternative Program group since it was created in February 2015. "We're doing much more than just helping them with education exercises," says Magda. "We want to give them self-confidence and the ability to advance in their pursuit of a higher education; we share life lessons, too."
According to Lomas, "The Terraces of Phoenix is a special place that provides opportunities for children to interact and learn from seniors as well as for older adults. It's great to see the meaningful experiences and relationships formed with children."