Residents at the Terraces enjoy so many amenities that there's never a dull moment. The fitness center is the go-to place for exercise. When it's time to relax, they have numerous options including the gardens, walking trails, courtyards or the community's library. Residents also have just as many choices when it's time for a meal.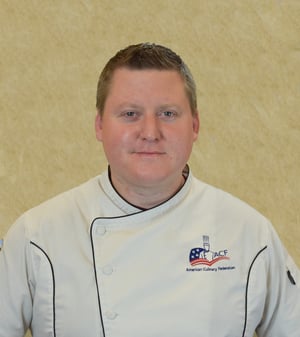 With so many activities to partake in, who wants to cook when a pro can do it better? The Terraces' menus have something for everyone—and changing tastes are anticipated and appreciated. Where to dine is nearly as important to satisfying diverse appetites. A casual dining bistro is open for lighter fare. Fancier entrees worthy of special occasions are offered in formal or even private dining settings.
Regardless of where and what residents choose to eat, they know the food will be unparalleled. Chef Dana Brenchley always makes sure of that.
Meet Chef Dana Brenchley
Chef Dana has been running the kitchen at the Terraces for almost a year. He's been a chef for 14 years and has worked in the culinary industry for more than 20 years. Chef Dana says he started cooking for the love of it.
"I really enjoy cooking and being creative with food," he says. How did he get started? Becoming a chef "seemed like a great way to make a living doing something I'm passionate about."
Like diners faced with those tough decisions about what to eat, he says that identifying his favorite dish to make is difficult. Amid rotating menus and seasonal ingredients, though, one dinner item stands out: Roasted Tenderloin Diane.
"It's a fun take on the classic Steak Diane," he says, referring to the beef entree popularized in renowned restaurants of the 1950s. Often flambéed tableside, this show-stopper might feature beef cuts from flank steak to tenderloin. Chef Dana swaps a whole, savory tenderloin roast for the traditional single steak cut, resulting in a moist and flavorful presentation, topped off with mushroom sauce. "I like putting a spin of classic dishes, and it just turns out so well."
New Flavors Available Daily
While Chef Dana makes his favorite dish on occasion, the Terraces' bill of fare is ever-changing, always offering more than one main entree daily. Diners can select from menu pairings, such as:
Tuna steak or chicken parmesan
Kale Caesar salad or Cuban mojo pork
Fajitas or beef short ribs
Sides typically range from mashed potatoes and steamed carrots to sautéed mushrooms and baked potatoes with all the fixings.
Which entree do residents love the most? "Trout Almandine is always a big hit," Chef Dana says proudly.
A passion for food doesn't end with menu planning, kitchen management, and meal preparation, though. Chef Dana currently serves as vice president of Idaho's chapter of the American Culinary Federation. Great food, however, is only as meaningful as those who enjoy it.
Serving up fresh food and memorable friendships
Over the course of many months at the Terraces, Chef Dana has come to appreciate one thing even more than top ingredients and recipes: the people. "The people are great, both the residents and the team," he says. "It's nice to work for a company that invests so much in its staff."
And it's nice for diners to know that the staff, led by Chef Dana, invest so much in their work.