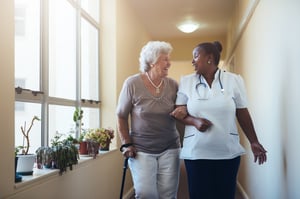 Some may assume assisted living and skilled nursing are interchangeable terms, but in many senior living communities, these represent separate and distinct levels of care.
The major difference between them is the amount of time per day resident-patients are assisted by nursing staff. Skilled nursing is hands-on, full-time care by certified medical staff, either as a long-term resident or for a short rehabilitation stay. Assisted living is oriented toward resident independence, with nursing help scheduled for fewer daily tasks, such as medication management.
If you or a loved one is considering either skilled nursing or assisted living in Boise, consider the Terraces of Boise. Located north of the Boise River, we offer top-tier care on both of these levels, alongside beautiful gardens and walking trails and 24-hour concierge services.
Skilled nursing: It takes a village
At the Terraces of Boise skilled nursing care is provided in three small "villages," each with 16 patient suites arranged around a central open kitchen and comfortable living space. In addition to long-term residents, skilled nursing services at the Terraces may also be a solution for patients undergoing treatment or therapy following a temporary decline in health or after major surgery. Residents are carefully tended to by certified nurses and nursing assistants who help to ensure a comfortable balance between safety (for personal, mobility and medical needs) and engagement with the village community at all times.
Clinical specialties, performed in the Terraces private rehabilitation suites include:
Physical, speech and occupational therapies

Neurologic and orthopedic rehabilitation

IV therapy

Cognitive retraining and strategies
Assisted living is independent living, with help from your friends
Residents who choose assisted living accommodations at the Terraces maintain their independence with spacious private apartments and a range of community amenities, like gorgeous walking trails and an on-site salon and barbershop. Nursing staff cater to each resident's needs as specified in individualized care plans. Levels of assistance can include transportation to parks, arts, or dining in Boise, or help with prescribed physical therapies.
The goal of assisted living is to support each person as they pursue independent interests and a rich social life on their own schedule. Popular activities include meeting friends and family for chef-prepared meals in the Terraces restaurant-style dining room and attending dynamic discussions and lectures on topics like world travel. And, while our community supports an active and independent lifestyle, we also provide medical staff and emergency assistance—24 hours a day.
Benefits of assisted living include:
Active family involvement in service planning

Medication administration and monitoring

Well-appointed common areas, including a dining room, library, lounge areas and media room

Housekeeping and flat-linen services

A dedicated lifestyle staff

Nursing, security and emergency services available 24 hours a day
Choosing a level of care
Deciding how much help is needed isn't always easy—that's why our community actively involves residents and their family in care planning. It begins with a simple quality of life quiz to get a feel for what a person wants and needs to stay active and engaged. This useful tool helps focus your search, whether you're a prospective resident or a caregiver describing a loved one. Take a minute to get started today, and learn whether assisted living, skilled nursing, or another option along the continuum of life care could be best for you.
If you're ready to take a tour, we'd love to see you. Call or email the Terraces of Boise today.