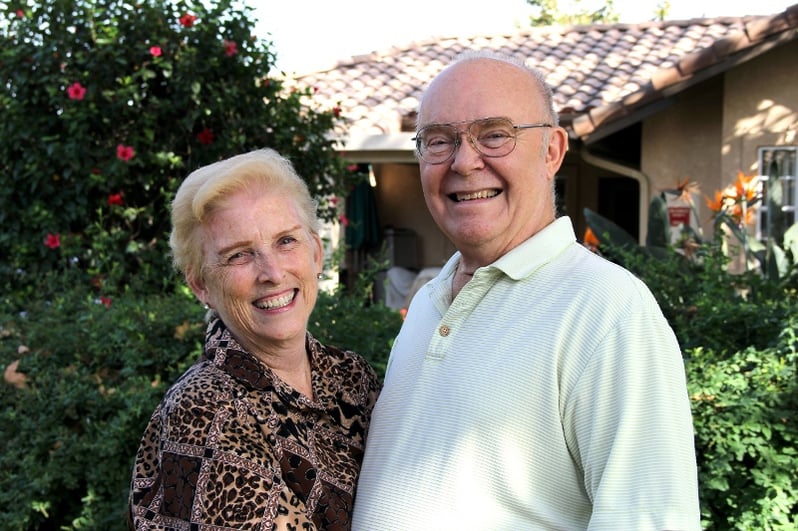 Chuck and Susan Johnson live active lives. They were barely unpacked from their sojourn to Dubai and South Africa and were already looking forward to the next adventure: a cruise to Taiwan and Singapore. They are members of the Kiwanis Club, a global volunteer organization. And, when they're in town, the couple teaches ballroom dancing.
The retirees were seeking low-stress, maintenance-free living when they decided to move to a Life Plan Community (also known as a continuing care retirement community or CCRC). They wanted someone else to do the yard work, someone else to manage the mail during their stretches at sea, and to know that their home was secure and safe while they're traveling. Like many others in search of the best senior living environment, convenience was on the Johnsons' mental checklist, as were a number of other factors: friendly people, tasty cuisine and scenic views.
Searching for vibrant community living can initially feel overwhelming. But knowing what you want, just like the Johnsons did, can help you make a confident decision you'll appreciate for years to come. The best senior living community for you might not be the best senior living community for someone else, and that's OK. One of the best aspects of community living is that each community is as unique as the people who live there.
Here are five key factors to consider as you begin your search for a senior living community.
1. Determine your ideal location.
When you are searching for any real estate, it's all about the location. Searching for senior living is no different.
When looking for the best senior living community for you, begin by narrowing down your location preferences. You might choose to look for a community that is in a favorite city or neighborhood or that is conveniently located so your loved ones can visit. You might also decide to search for a senior living community that makes walking or biking into town for a meal or for shopping easier.
Don't forget to look at the surrounding town as well, noting safety rankings, tax-friendliness, walkability and accessibility. Each of these variables can make a difference in your decision-making process.
2. Evaluate the benefits of community life.
When you choose community living, you are choosing to make connecting with others easier. Connection is important for everyone but has been recently shown to be the foundation of health as we get older. The Centers for Disease Control and Prevention reports that feeling lonely or being isolated can lead to increased anxiety and depression, higher rates of heart disease and stroke, more rapid cognitive decline and even premature death.
Community living makes connecting with neighbors and peers easier thanks to a small-town atmosphere, central meeting points throughout campus and friendly neighbors. When searching for the best senior living community, look for a community that is friendly, active and vibrant.
It's important to note that every senior living community is unique, with a culture and atmosphere that is actively shaped by those who live there. Think of choosing a senior living community as similar to the process you went through to choose a college. You spent time visiting each college to see if the atmosphere and culture there felt like home to you. When choosing a senior living community, you'll want to do a lot of visits as well to see if it feels like home. The best way to do this is to take multiple tours as well as schedule a time to enjoy a meal or event in the community so you can experience life there for yourself.
Find a place where neighbors wave to one another and save one another a seat at dinner. You can even ask to see a copy of the community's event calendar for the month, which is typically packed with opportunities ranging from volunteer groups to book club meetings to travel groups.
3. Find a price point that suits your budget.
You can't choose a senior living community without taking cost into consideration. Search for a community that you can realistically fit into your budget now and in the future.
Entrance fee communities are a viable option, especially if you are looking for a community that offers you the opportunity, if needed, to receive healthcare services. These communities typically offer contracts that bring greater predictability to future costs, but they aren't the only option.
As you determine which price point fits into your budget, it is important to be sure you are comparing apples to apples. For example, ask what the monthly fee includes. While most communities include meal plans, housekeeping services, home maintenance, utilities, fitness and other activities in the monthly fee, that is not always the case. When you take the time to break down the monthly fee costs, you can more accurately compare communities. Further, you will likely find that the monthly fee is quite comparable to (and sometimes less than) what you pay for the same services while living at home.
4. Determine your preferences for amenities and services.
Senior living communities offer a variety of amenities and services for residents to enjoy. Look for a community that makes life more convenient and maintenance-free and that makes overall health and wellness generally easier. Find the many unique ways that the community supports well-being through amenities, resources and opportunities.
For example, you might notice the gourmet dining program, complete with on-site restaurants and bistros that serve fresh, seasonal entrees. Or, you might take note of how much more likely you would be to get out on that morning walk when there's a system of nature trails right on the community's campus. You might also pay attention to how you never need to go too far to access a yoga class, personal gardening plot or tennis court. Each of these small details makes a big impact on enhancing your active and healthy lifestyle.
It's wise to tour multiple communities to see what amenities you believe would be most interesting and convenient for you now and in the future. Then, prioritize those amenities so you can see which community has the most of the top-rated items on your wish list.
5. Don't forget to accommodate for future planning.
Finally, don't forget to plan for your future needs as you search for a senior living community. Independent living communities, sometimes called 55+ communities, do not always offer the assistance you might need should you have an unexpected hospitalization or a planned surgery. If you would ever need additional support or assistance, you would need to find it at another community or pay for the services to be brought into your apartment.
In contrast, Life Plan Communities offer access to higher levels of care on one campus should you ever need them. Life Plan Communities have multiple senior living solutions all on one large campus, including independent living, assisted living, memory support, and even skilled nursing. This means that you have all the support and assistance you need, from a team and community you already trust, because you made a plan to be prepared for your future.
6. Consider the viability of the organization.
Planning for your future security and peace of mind involves not just having care options in place, but also ensuring financial peace of mind. Be sure you research the stability and longevity of the senior living organization you are considering.
Finally, consider if the senior living organization you are looking at is a for-profit or nonprofit. Typically, nonprofit Life Plan Communities, like HumanGood, make a commitment to their residents, ensuring that should they outlive their financial resources through no fault of their own, the community's benevolence fund will allow them to continue to live in what has become their home.
Learn more about Life Plan Communities, including their benefits and more details about costs by downloading our free resource, "The Complete Guide to Life Plan Communities."