Team members and residents across HumanGood are getting into the holiday spirit by spreading cheer to military families, children in need, and to seniors in the local surrounding areas. Check it out below!

Las Ventanas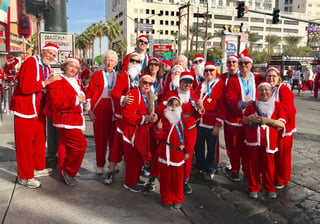 Over a dozen team members and residents kicked off the holiday season by joining thousands in the 13th annual Las Vegas Great Santa Run on Dec. 2.The run benefits the programs and services offered at Opportunity Village, a nonprofit that serves adults with intellectual disabilities. The team also visited children at Summerlin Hospital Medical Center carrying bags full of toys, bracelets and stuffed animals made by residents at the Lodge, our assisted living residence.
Regents Point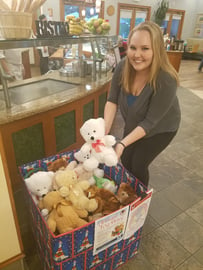 For a fifth year, Regents Point residents and team members collected toys and other gifts for local Marines and their families. The community's toy drive, which kicked off in November, is part of a citywide initiative to support the Irvine 2/11 Marine Adoption Committee. Team members also fulfilled holiday wishes for 40 seniors through the Smile Makers Guild event.
Valle Verde
Tucked away in the elaborate hobby shop at Valle Verde, six residents put the finishing touches on 30 custom-made toys that they hope will put a smile on the faces of local children in need this holiday. The toys—among them wooden tractor-trailers and children's stools—were be donated on Dec. 7 to the Unity Shoppe, a local nonprofit organization that serves low-income children, families and seniors.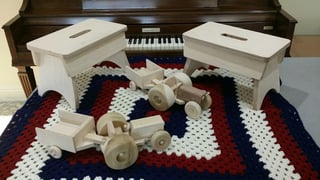 Resident Dan Cameron is the brainchild behind this project. Dan, a former engineer who serves as the hobby shop steward, designed the pieces and devised an intricate system to mass produce them at the community. His team has been hard at work on the endeavor since April.