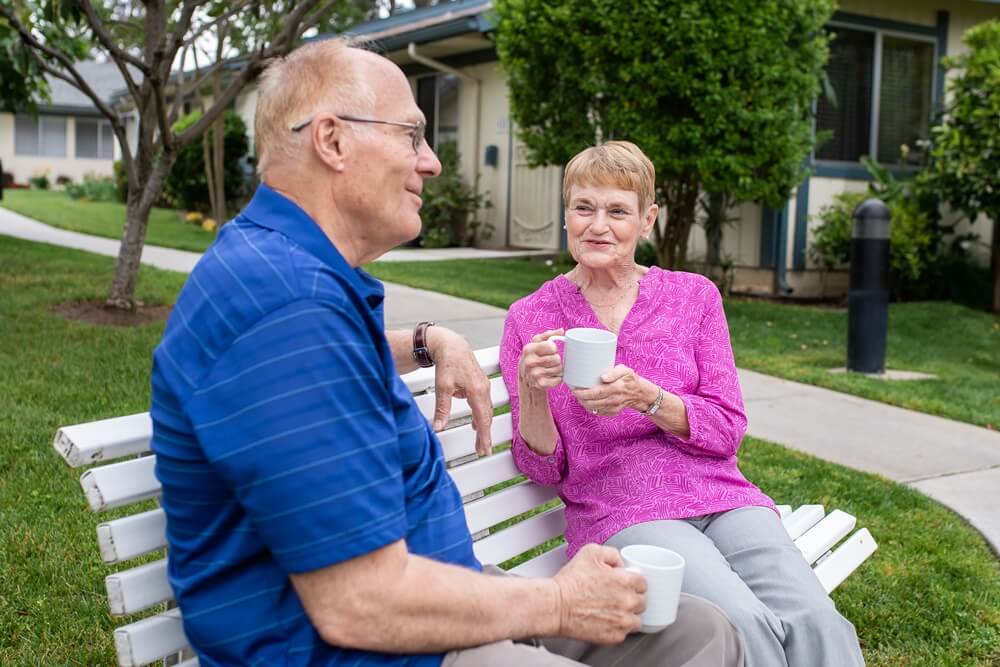 More than ever, you want to get out on the tennis court or grab a coffee with friends. But if you're struggling to find the time and energy while managing the hassle of daily tasks like grocery shopping and yard maintenance, then independent living at a senior living community might be the answer to having the active life you desire in Escondido, California.
What Is Independent Living?
Independent living at a Life Plan Community (also known as a continuing care retirement community or CCRC) offers many benefits, including a maintenance-free, low-stress lifestyle for seniors in an opportunity-rich environment. Additionally, Life Plan Communities take care of home maintenance, landscaping, housekeeping and more so you can do more of what you love every day. At the same time, Life Plan Communities provide peace of mind by offering priority access to more advanced levels of care—including assisted living, skilled nursing, rehabilitation and memory care options—should the need arise.
Stay Social and Live Longer
With your daily home upkeep taken care of—inside and out, from lightbulbs to landscaping—you'll have more time to spend with friends and family or to pursue your favorite hobbies and activities in Escondido. Whether you've usually got a packed social calendar but don't always make it out of the house or you struggle to find the right social activities for you, independent living communities make avoiding loneliness and isolation easy.
According to Susan Pinker, in The Village Effect: How Face-to-Face Contact Can Make Us Healthier and Happier, daily social interactions are vital to helping seniors fight loneliness, which can exacerbate health problems. Moreover, the amount of "naturally occurring social relationships" you have is a strong predictor of longevity, according to Brigham Young University researcher Julianne Holt-Lunstad—even more so than whether you lose weight, get the flu vaccine or stop smoking.
Pinker agrees with the importance of staying social as you age, finding in The Village Effect that daily interactions with people in close proximity boost resilience and immunity.
"Being involved in a local, face-to-face community gives people a sense of belonging and purpose, which are so vital to health, happiness and living a long life," says Pinker.
And The Age Well Study, a collaboration of Mather LifeWays Institute on Aging and Northwestern University, backs this up, finding that Life Plan Community residents not only have more positive perceptions of their social relationships, but they also report better overall health than older adults in the community at large. Additionally, the study found that—compared to older adults in the community at large—Life Plan Community residents are less lonely and report feeling more socially connected and integrated after moving to a Life Plan Community.
Enjoy an All-Inclusive Lifestyle
Independent living communities offer a range of amenities and wellness programs in an opportunity-rich environment to help seniors stay independent, healthy, engaged and active in mind, body and spirit. Be as active as you want to be by taking advantage of some of the amenities often found at independent living communities, including:
Wellness center, spa and/or pool.
Delicious and nutritious chef-prepared meals.
Dining room, bistro and/or cafe.
Community gardens, solariums, atriums, walking paths and other green spaces.
Activity centers and hobby centers.
Libraries and inviting indoor/outdoor meeting spaces.
Full-service salon and barbershop.
Transportation to and from appointments.
Housekeeping and laundry services.
Home and lawn maintenance.
With top-notch amenities and more time to do what you love, here are some ideas of what you might find yourself enjoying as an independent living resident:
Volunteering with local nonprofits, at schools or as a zoo docent.
Taking college-level courses offered on campus.
Going on day trips locally or participating in extended travel opportunities.
Taking a Zumba, water aerobics, yoga or meditation class.
Spending time with a certified personal trainer in the on-site gym.
Enjoying a delicious meal with family and friends in the community bistro.
Participating in a community club, religious gathering or advisory board.
Independent Living in Escondido
Independent living at Redwood Terrace in the heart of Escondido lets you say goodbye to many of the stresses and hassles of daily living so you can devote more energy to your hobbies and passions. Our warm, friendly residents are known for staying active with volunteerism—both on campus and in the surrounding community.
At Redwood Terrace, you can join a Zumba or aqua aerobics class, visit the beach with other residents, imbibe at wine night or stay close and enjoy live music. You'll also be close to unique arts and theater opportunities, delicious dining and a charming, historic downtown area.
At a Life Plan Community, you can live independently—surrounded by friendly neighbors and first-class amenities—with the peace of mind that comes with knowing a solid plan is in place if the need for future assistance arises. Our San Diego-area community features maintenance-free independent living cottages and apartments, as well as off-campus single-family homes.
Learn more about senior living in the San Diego area by visiting our resource section or download our Benefits of Senior Living guide today.