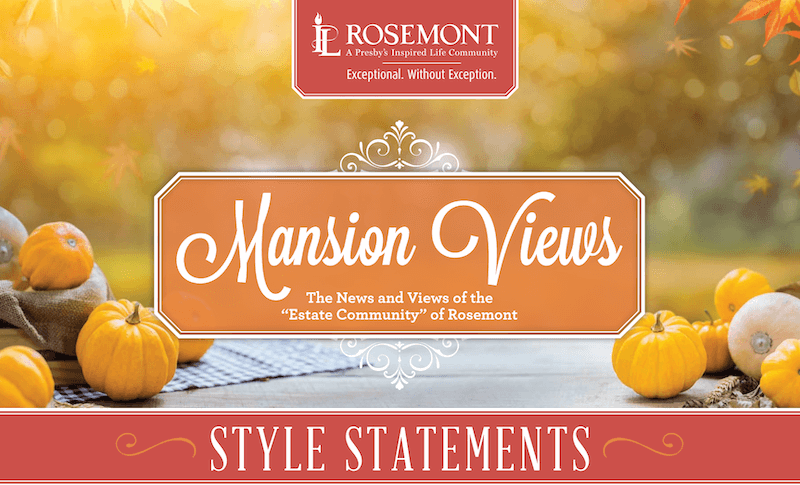 Whether intentionally formed or not, everyone has their distinctive style. For some, crafting a personal style is an active pursuit. For others, style happens almost by accident: an organic representation of preferences, interests and priorities. While Rosemont often projects "Estate Community" style — with its historic Mansion spaces, elegant grounds and Main Line setting — it's also a diverse neighborhood that's both richly textured and closely woven. Longtime Rosemont cottage residents Joe and Joan Staples have a Marine Corps flag flying in front of their cottage. It's a perfect introduction to Joe's straightforward personality, from his style of clothing — reminiscent of off-duty-military — to his no-nonsense style of conversation.
Joe enjoyed a long career in the business of style, managing Strawbridge & Clothier stores for more than 30 years, but despite his industry tenure, he downplays his interest in style and fashion. "My job was to make sure we were properly staffed, that the lights were on and that we sold the inventory they sent us," he says. Cozy but uncluttered, the Staples' living room comes to life with conversation pieces that speak to their many travels. Gazing down from the walls are some of Joan's ancestors, captured in striking oil
portraits. "We're saving those to pass down to the kids," Joe says. In front of the sofa, a glass-topped wooden boat reveals a map of the Chesapeake Bay. The boat, he explains, was built from a stitch-andglue kit originally designed to be a cradle. It was the perfect size for a custom coffee table, so Joe redesigned it. The Bay map glued to the deck is the finishing touch, hinting at another chapter from Joe's fascinating past. "We had a sailboat on the Eastern Shore," Joe says.
The miniature Bay boat isn't the only one-of-a-kind piece in the Staples' home. Looking every bit like a real (and exceptionally well-behaved) dog, the papier-mâché basset hound in the corner stands ready to prompt additional conversation. "I got that from a buddy," Joe says, explaining that his friend acquired the unique canine from a public sale following the closing of
Strawbridge & Clothier. The basset hound had been a retail display fixture for neckties. "What's really interesting," Joe says, "is how he gave it to me." That friend, Joe explains, is the same one who convinced him to take up flying in 1980. After completing flying lessons, they pitched in to buy a Cessna 140, which they piloted for more than 20 years. "After he bought that basset hound," Joe chuckles, "he stashed it in the grass just off the runway where he knew I'd see it!" Just a short stroll from the Staples' cottage is an entirely different Rosemont style story. Cottage residents Twining and Deanna Campbell, both retired medical professionals, each point to their backgrounds as major influences in their personal style. For Deanna, formative years in Catholic school and decades working as a nurse instilled a determination to dress well...and on her own terms. "I didn't have a lot of choices until late in life," she says, "so now, when I'm out somewhere, I'm there to look good! What the heck — I have the clothes, so I might as well wear them!" For her personal taste in fashion, Deanna describes clothing that's well-tailored but not overly fancy.
Her style shifts, however, when the Campbells spend time at their second home in Tucson, Arizona. Between the climate and the surroundings, that Western locale calls for a slightly different sensibility. "I finally gave in and got a squash blossom necklace," Deanna says, describing the popular Native American-style silver and turquoise design. "If you live out there, it's virtually a requirement to own one!" While that big, bold jewelry may be more of a statement than she tends to wear back East, Deanna says it's not too far out of her comfort zone. "I like to shimmer and sparkle," she says.
Like Deanna, Twining, a retired anesthetist, spent a long career dressing as his duties required. "It was either scrubs or suits," he affirms. "When he retired, he kept on wearing scrubs," Deanna adds, "but much more colorful ones!" For years, Twining was a passionate collector of minerals from the West. The large rocks and crystals — some the size of watermelons — once dominated their décor, but Twining has since donated most of his collection to Ursinus College. Nevertheless, specimens such as lace agate and iron pyrite still adorn their cottage, along with druzy quartz stones. Resident Glenda Merchant represents yet another facet of style in the Rosemont community, taking a very intentional approach to designing her style environment. "I love color, in my space and on me," she says. Her love of color and pattern — and fearless attitude toward combining them — comes
through in her wardrobe, as well as in her Mansion apartment. "There are rules to style," she says, "and I like to break them." Some conventional guidelines that Glenda likes to bend and break include the idea that florals and patterns don't mix, that jewelry should match (gold with gold, silver with silver), and that one's shoes and handbag should always coordinate. "Sometimes I go too far," she says with a mischievous grin, "even or me." But even her more experimental ensembles aren't meant to attract attention; rather, they're a creative pursuit. "I don't worry anymore about what other people think — I'm basically pleasing me," she says. "I put on what I like."
It was the study of interior design at Chicago's Harrington College of Design that gave Glenda a comfort level with understanding "the rules" and interesting ways to stretch and bend them. People tend to be hesitant to mix certain colors or combine patterns, in her experience, but that's where she finds the most interesting creative potential. "Mixing styles is really fun," Glenda says. "The more you play with color and pattern, the more comfortable you get with it." Her interest in remixing styles was piqued when she first saw the fourthfloor Mansion apartment at Rosemont that would, ultimately, become hers. "That really sealed the deal," she says. "It just felt right."

She mentions details such as the marble fireplace, 10-foot ceilings and crown molding as beautifully classic style cues: the perfect traditional jumping-off point to complement contemporary twists of chrome and glass furniture. "I mix modern and traditional, objects and paintings," she says. "I guess you could call it eclectic. If I like it, I don't worry if it will work together. It just does." The same can be said for the Rosemont community. Known for its
warm, welcoming atmosphere, this vibrant community combines people of all types: from adventurer-storytellers to scholar-collectors to artist-designers. It's eclectic, but it works together beautifully. "This place is made up of many different types of people," Glenda says. "That's what I like about it!"