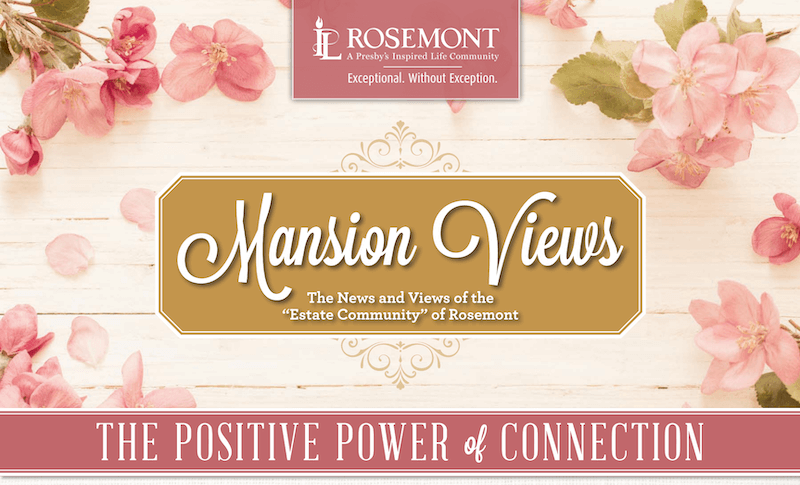 What's your idea of a social network? Facebook and Twitter? The watercooler gang at work? Church groups and book clubs? From Facebook to the family dinner table, most everyone is part of a network — often more than one — that keeps them connected to others.
Main Line native and Rosemont resident Peggy Barclay has friends and acquaintances from a number of networks and a variety of life experiences, from grade school and Girl Scouts to Junior League and ad agency work. Two of her close friends trace back to her time with the Friends of Independence National Historical Park, when they did the planning for the 1976 Bicentennial celebration. "We hosted a candlelit dinner on the second floor of Independence Hall," she recalls. "It was quite an experience."
She's also been in a number of book clubs, a pastime she continues to enjoy. "We just started another one here at Rosemont," she says. "It's nice to meet people who share the same interests." And while she's every bit the avid reader that her book club involvement would suggest, she admits hat only a portion of the conversations are actually about the books themselves. One of her book club networks dates back to the 1960s, having started as a church group of young mothers. Over time, it evolved into a book club and continues today — more than 50 years later — as a group of friends.
Rosemont resident Lois Mamourian also has a love of reading that's yielded a network of friends, particularly from her ongoing volunteer work at Tredyffrin Library in Wayne. But that's only one facet of Lois's wide range of interests. A former violist in the Main Line Symphony, she continues to serve on the board. In addition, she sings with the Surrey Chorus and plays in the chime ensemble. Combined with her career in education — 10 years of teaching grade school and another 10 teaching music — plus active involvement in two local churches, her network of friends reaches far and wide. And that's not counting her close-knit group of friends who were roommates during their undergraduate study at West Chester. "The four of us stayed roommates for three years," she says, "and we still keep in touch."
How does Lois do that — keep in touch with so many people from different social circles? In the internet age, you might think social media platforms like Facebook provide the perfect solution. But for Lois, it's not the case. "I do some emailing to keep in touch," she says with a laugh, "but I prefer talking." She also mails holiday cards to dozens of friends and family members. "I send around a hundred cards," she says. "I enjoy that time of year as an occasion to keep in touch."
Preferring face-to-face interaction over other modes of communication isn't necessarily a generational characteristic, as evidenced by Carla Berryman's point of view. A Narberth native and Rosemont team member, she says she's not on Facebook or other social media. "I don't use them," she says. "I just pick up the phone — or email or text — and set up a time to meet in person."
Carla's networks of friends include kindergarten classmates, college friends, fellow cyclists and former colleagues from the Children's Hospital of Philadelphia. But she's constantly adding new friends, thanks to her networking sidekick, Lord Digby, a 15-year-old Shih Tzu. From the halls of Rosemont to the sidewalks of Carla's neighborhood, Digby is the perfect icebreaker and conversation-starter. "Almost everyone connects with Digby," she says. "He helps keep me in touch with my neighborhood and with the community at Rosemont."
With a master's degree in social work from Temple University, Carla has good insight into the value of relationships, old and new. "Friends and acquaintances provide intellectual and emotional stimulation, not to mention the comfort of a support group. Interacting with others is a source of constant learning, discovery and connections. You never know who you're going to run into!"
It turns out that these intuitive observations about friends and relationships are increasingly confirmed by science. A study by researchers at the University of Michigan found that social relationships "have as much impact on physical health as blood pressure, smoking [and] physical activity."1 Taking it a step further, it could be that, in the case of social networks, more is better. Research has also shown that "Identification with social groups is positively associated with adult mental well-being, with multiple group identifications being particularly beneficial."2 But people don't need academic evidence to tell them what they've already learned through experience. Peggy can point to countless examples that prove the value of friendship. "I need people in my life," she says. "I can be in the depths of despair, but my friends brighten my life." Lois agrees. "It's important to get involved in different groups," she says. "You meet people, and you make friends."
So, how does a move to Rosemont affect lifestyle and
social interactions? For Peggy, the change was minimal. I've lived in this area since I was 4 years old," she says. "Since moving to Rosemont, I've continued doing the things I always enjoyed doing. I go to the same restaurants, the same shops and the same doctors." To balance out that
familiarity, Peggy chose Rosemont intentionally because she didn't already have friends living in the community. "It's one of the reasons I came here," she says. "I wanted to meet new people and grow new relationships."
Lois knew two Rosemont residents prior to moving herself and has quickly added to that group of friends and acquaintances in her eight months at the community. Nevertheless, her involvement with Main Line groups and activities hasn't missed a beat. With her membership in the Surrey Chorus,
two churches and the Main Line Symphony board, she has the happy challenge of having too much to do and too little time to do it. "I'm not ready to join any new clubs," she says. "I'm just too busy already!"

END NOTE:
1 https://www.asaging.org/blog/what-social-relationships-can-do-health
2 https://www.ncbi.nlm.nih.gov/pubmed/26163720