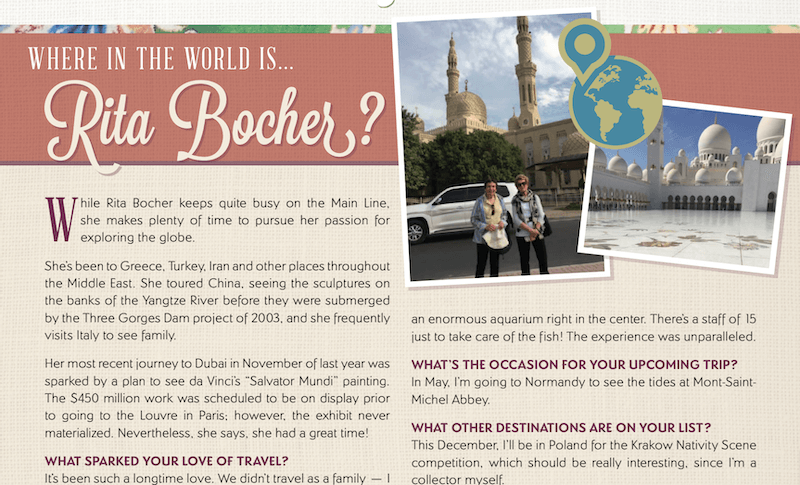 While Rita Bocher keeps quite busy on the Main Line, she makes plenty of time to pursue her passion for exploring the globe. She's been to Greece, Turkey, Iran and other places throughout the Middle East. She toured China, seeing the sculptures on the banks of the Yangtze River before they were submerged by the Three Gorges Dam project of 2003, and she frequently
visits Italy to see family.
Her most recent journey to Dubai in November of last year was sparked by a plan to see da Vinci's "Salvator Mundi" painting. The $450 million work was scheduled to be on display prior to going to the Louvre in Paris; however, the exhibit never materialized. Nevertheless, she says, she had a great time!
WHAT SPARKED YOUR LOVE OF TRAVEL?
It's been such a longtime love. We didn't travel as a family — I never even went to the seashore until high school. When I was first married, my husband and I traveled, and it felt like freedom. We were very lucky.
WHAT IS THE MOST IMPORTANT PART OF THE TRIP?
I like to have a focus, a reason for each trip — Iran for Persepolis, Greece for the Parthenon, Turkey for the Hagia Sophia — something you can't find anywhere else. In Dubai, we dined at the Burj Al Arab hotel. Hotel ratings go up to five stars; the Burj Al Arab has a reputation of seven stars. You take
an escalator into the restaurant, surrounded by aquariums on either side. In the restaurant itself, there's an enormous aquarium right in the center. There's a staff of 15 just to take care of the fish! The experience was unparalleled.
WHAT'S THE OCCASION FOR YOUR UPCOMING TRIP?
In May, I'm going to Normandy to see the tides at Mont-SaintMichel Abbey.
WHAT OTHER DESTINATIONS ARE ON YOUR LIST?
This December, I'll be in Poland for the Krakow Nativity Scene competition, which should be really interesting, since I'm a collector myself.
DO YOU HAVE ANY TRAVEL TIPS TO SHARE? WHAT IS THE SECRET TO A GREAT TRAVEL EXPERIENCE?
I learn just enough about the country to know what I want to see. The discovery is part of the experience. Don't be intimidated by a language barrier. Traveling to Bangkok or Bhutan, I had no idea of the language, but people are willing to help you. Hotels are really very savvy about what to do. If we went some place, the concierge would give you a card with the name of the hotel and a map, printed in the language. When I know the language, I'm more apt to explore public transportation. When I don't, I
take more taxis.
HOW DOES TRAVELING FROM ROSEMONT COMPARE WITH TRAVELING FROM YOUR PREVIOUS ADDRESS?
I don't come home to an empty house, and that's really nice.
There are people here who know me.