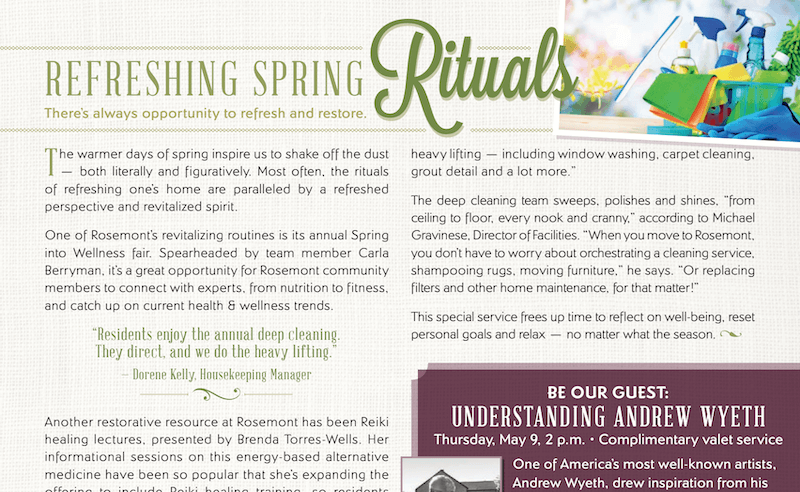 The warmer days of spring inspire us to shake off the dust — both literally and figuratively. Most often, the rituals of refreshing one's home are paralleled by a refreshed perspective and revitalized spirit.
One of Rosemont's revitalizing routines is its annual Spring into Wellness fair. Spearheaded by team member Carla Berryman, it's a great opportunity for Rosemont community members to connect with experts, from nutrition to fitness, and catch up on current health & wellness trends.
Another restorative resource at Rosemont has been Reiki healing lectures, presented by Brenda Torres-Wells. Her informational sessions on this energy-based alternative medicine have been so popular that she's expanding the offering to include Reiki healing training, so residents can learn the art.
Of course, no spring routine would be complete without a refreshing deep clean. That's why, in addition to weekly housekeeping ser vice, Rosemont offers an Annual Deep Cleaning, which begins in spring.
"Residents enjoy the annual deep cleaning," says Dorene Kelly, Housekeeping Manager. "They direct, and we do the heavy lifting — including window washing, carpet cleaning, grout detail and a lot more."
The deep cleaning team sweeps, polishes and shines, "from ceiling to floor, every nook and cranny," according to Michael Gravinese, Director of Facilities. "When you move to Rosemont, you don't have to worry about orchestrating a cleaning service, shampooing rugs, moving furniture," he says. "Or replacing filters and other home maintenance, for that matter!"
This special service frees up time to reflect on well-being, reset personal goals and relax — no matter what the season.