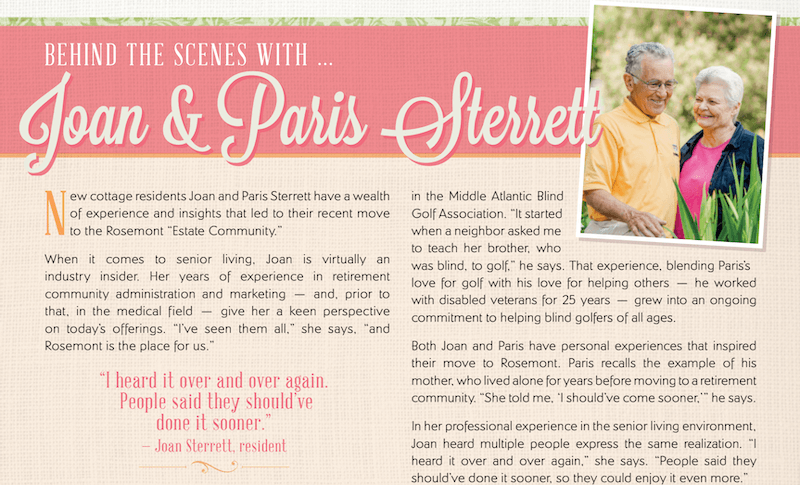 New cottage residents Joan and Paris Sterrett have a wealth
of experience and insights that led to their recent move to the Rosemont "Estate Community."
When it comes to senior living, Joan is virtually an
industry insider. Her years of experience in retirement community administration and marketing — and, prior to that, in the medical field — give her a keen perspective on today's offerings. "I've seen them all," she says, "and Rosemont is the place for us."
She describes herself as driven and impatient. "I like to get things done," she says. "I believe in doing things right, and I expect that from others." For Joan, those character traits have yielded a track record of productivity, from working with spinal cord injury patients to establishing an epilepsy center to improve treatment techniques to doing her current volunteer work at the Narberth Community Food Bank.
Joan's husband, Paris, is every bit as active. Nicknamed "The Energizer Bunny," his schedule is filled with landscaping, gardening and golf. "I
love to be outside," he says. But it should be noted that his time on the
green isn't all just for fun; Paris serves as Vice President and volunteers in the Middle Atlantic Blind Golf Association. "It started when a neighbor asked me
to teach her brother, who was blind, to golf," he says. That experience, blending Paris's love for golf with his love for helping others — he worked
with disabled veterans for 25 years — grew into an ongoing commitment to helping blind golfers of all ages.
Both Joan and Paris have personal experiences that inspired their move to Rosemont. Paris recalls the example of his mother, who lived alone for years before moving to a retirement community. "She told me, 'I should've come sooner,'" he says.
In her professional experience in the senior living environment, Joan heard multiple people express the same realization. "I heard it over and over again," she says. "People said they should've done it sooner, so they could enjoy it even more."
For Joan, the Rosemont lifestyle offers the appeal of an estate setting and a welcoming community that's just the right size. Paris enjoys meeting new neighbors and making new friends, plus experiencing single-level living.
Reflecting on their recent move, Paris says, "It's not as major a transition as you might think. The downsizing process takes some work, but that's it. The rest is easy." He puts it in perspective this way: "When you come to a place like this, you just continue doing the things you love —
and you add more!"