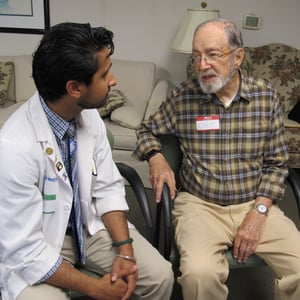 When it comes to understanding the health needs of older patients, students at University of California Irvine School of Medicine are turning to residents at Regents Point.
For nearly a decade, our community has had a unique partnership with the university that helps prepare future medical professionals for the challenges amid the health services landscape. Through a program called 'Educating Medical Students About Aging,' about 10 third-year medical students each month meet with our residents—considered 'medical educators'—for a class that covers various issues affecting older adults. That ranges from topics around aging well to touchy subjects around stereotypes of older adults.
The main focus is to help the students get a better grasp of the complexities that come with aging, says Dr. Johanna Shapiro, professor of family medicine and director of the Program in Medical Humanities and Arts at UCI's School of Medicine.
"The program is very educational for them, listening to the perspectives of seniors and having that person-to-person interaction," she says.
Each session begins with an informal meet-and-greet, where residents and students get to know each other and share positive and negative experiences they have had with physicians. The group then participates in and analyzes a play skit, a poem or a segment of a novel that addresses a particular aging issue that's often difficult to discuss, such as a dementia diagnosis or the need to stop driving.
"We find this an effective way of facilitating a conversation about some of the more difficult aspects of aging," Shapiro says.
She adds that while only a small percentage of students at this stage of their education are planning a career in geriatrics, Dr. Shapiro stresses shifting demographics mean most students, regardless of their specialty choice, will work with patients who are on average older.