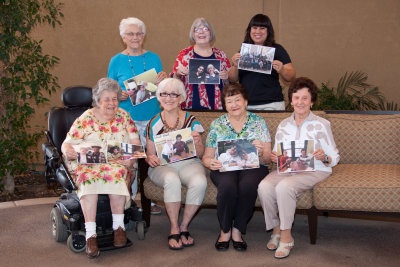 The classic poem "Desiderata" speaks of learning to be yourself and accepting "the counsel of the years." Mentors from a program at The Terraces of Phoenix are helping to bring that philosophy to a local school that shares the poem's name and spirit.
The program, which was the brainchild of Lead Lifestyle and Activities Coordinator Dani Lomas, pairs high school students from the Desiderata Alternative Program and mentors from the Terraces of Phoenix, a Certified Center for Active Aging.
Desiderata isn't a typical high school. Students there face challenges ranging from severe behavioral problems to homelessness. Some are enrolled as a last resort after being expelled from their home schools.
As a former teacher, Lomas knew she had to do her homework before launching this kind of program. She wanted residents to have a new opportunity after a tutoring program with elementary students ended. Lomas met with Desiderata's staff and students and carefully hand-picked mentors from The Terraces.
"I spent a long time searching for someone to partner with, because it's so important to have intergenerational programs with our seniors," she says. "I knew we had to completely change our format. Here we have teenagers who are a part of a last-chance program to get a real high-school education. We thought, let's not try to teach them. Let's be an older person who can work with them on life skills. Just be interested in them."
Resident Magda Willinger didn't set out to be a mentor. She volunteered to help set up meeting spaces and make reminder calls for gatherings. However, on occasions when mentors were absent, she stepped in. One student Willinger mentored spoke very little English, so their communication had to cross both a language barrier and a generation gap. Another student shared shocking stories about being in danger simply by walking into his neighborhood high school, where another student waited for him with a knife.
"What he told me made my hair stand out!" she says. "It was challenging, but whatever time we spent with these young people, it was worthwhile. To give them some self-confidence was the goal."
Lomas planned gatherings and outings to places the students might not otherwise get a chance to go, like the IMAX theater. The mentors provided meals and worked to widen the students' views of the world and make connections with the students.
"The kind of relationships that have grown out of those connections are phenomenal," Lomas says.
This year's program recently ended with a trip to Phoenix's Musical Instrument Museum, where students learned about Stradivarius violins and African thumb pianos.
"We all had a wonderful time and it gave the students the freedom to go one-on-one with their mentors," Lomas says.
The respect and camaraderie evident during the gathering are signs of the meaningful connections the mentor program has created for both the mentors and the students.
"The mentor program is awesome," says Lomas, "It not only bridges the gap between generations, but it allows the residents an opportunity to find purpose and meaning through creative play. To see that special bond between a struggling teenager and an older adult blossom into a mutual caring relationship is pure magic."