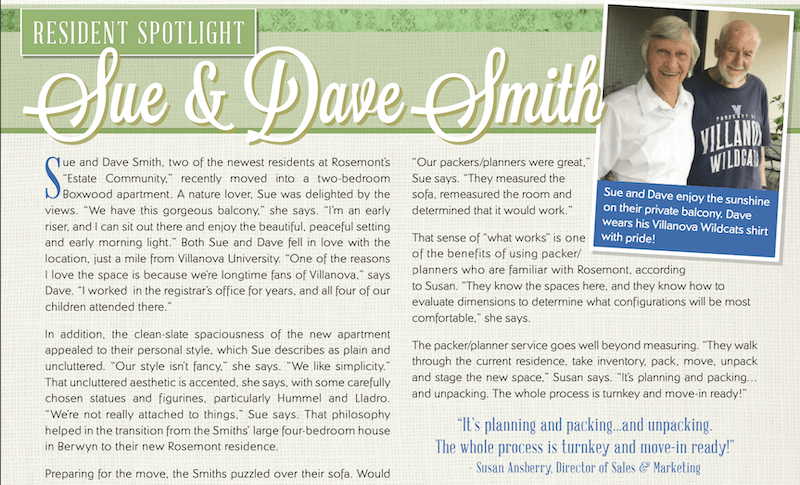 Sue and Dave Smith, two of the newest residents at Rosemont's "Estate Community," recently moved into a two-bedroom Boxwood apartment. A nature lover, Sue was delighted by the views. "We have this gorgeous balcony," she says. "I'm an early riser, and I can sit out there and enjoy the beautiful, peaceful setting and early morning light." Both Sue and Dave fell in love with the location, just a mile from Villanova University. "One of the reasons I love the space is because we're longtime fans of Villanova," says
Dave. "I worked in the registrar's office for years, and all four of our children attended there." In addition, the clean-slate spaciousness of the new apartment appealed to their personal style, which Sue describes as plain and uncluttered. "Our style isn't fancy," she says. "We like simplicity." That uncluttered aesthetic is accented, she says, with some carefully chosen statues and figurines, particularly Hummel and Lladro. "We're not really attached to things," Sue says. That philosophy helped in the transition from the Smiths' large four-bedroom house in Berwyn to their new Rosemont residence.
Preparing for the move, the Smiths puzzled over their sofa. Would it work, they wondered, in their new space? The dimensional fit, of course, would be a simple process of taking measurements. The livability, however, would be a more complex determination. That's where the Rosemont packer/planner program came in. "No one enjoys moving," says Susan Ansberry, Rosemont Director of Sales & Marketing, "especially when downsizing." That's why, Susan says, people love the results of using a packer/planner service.
"Our packers/planners were great," Sue says. "They measured the
sofa, remeasured the room and determined that it would work."
That sense of "what works" is one of the benefits of using packer/planners who are familiar with Rosemont, according to Susan. "They know the spaces here, and they know how to evaluate dimensions to determine what configurations will be most comfortable," she says. The packer/planner service goes well beyond measuring. "They walk through the current residence, take inventory, pack, move, unpack and stage the new space," Susan says. "It's planning and packing... and unpacking. The whole process is turnkey and move-in ready!" "It's planning and packing...and unpacking.
For the Smiths, the packer/planner experience included a meaningful personal touch. A lifelong horse lover, Sue describes how her packer/planner, Suzette, packed all of the paintings — including a beloved horse painting — to rehang in the new apartment. "During the packing process, Suzette found one of my old riding helmets in the garage," Sue says. "She hung it on the wall next to the horse painting. It was unexpected and really special." That experience resonated with the Smiths' first impression of Rosemont. "The atmosphere here was welcoming from the first
time we visited," Sue says. "Everyone is so friendly. There are smiles on faces. It's just always felt like a fit."