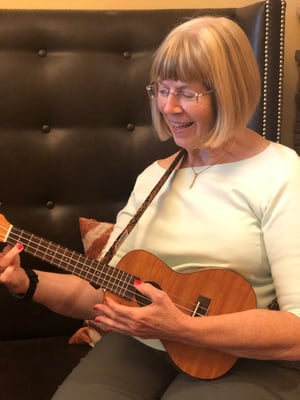 Resident Mary Kruzich discovered a love for ukulele music when visiting the Hawaiian Island of Kauai a few years ago. Now, sharing that passion has become a great way for her to have fun with her fellow neighbors at the Terraces of Boise.
"It's fun to learn a new skill, and making music together is satisfying and rewarding," says Mary, who has been enjoying independent living at the Terraces since October 2018. "It's a pretty simple instrument, and there are lots of familiar songs you can play with only two or three chords."
The mellow stringed instrument has been popular in Hawaii since it was embraced by royalty in the 1880s. It was adapted by Hawaiian musicians from the small, guitarlike machetes brought to the islands by Portuguese immigrants.
At first, Mary started playing by taking beginners' classes on trips to Kauai, and she also learned on her own by watching YouTube videos. Before moving to the Terraces, Mary found other uke beginners to play with and learn.
"I was lucky enough to play with experienced musicians who shared valuable tips," Mary says. "(With other uke beginners,) we taught ourselves some basic chords, picked out some easy songs, and got together to play and sing. Playing uke and singing with other people soon became so much fun."
The benefits of playing music
Getting hooked on the ukulele holds a lot of benefits for seniors. Scientific data shows that learning to play an instrument boosts your mood and memory function, and keeps you alert. Best of all, as Mary knows, it brings people together. Making mistakes and building new skills together gives you something special in common.
The first group that Mary played with dwindled down, but she didn't let that stop her. She found another group who pushed themselves to master their craft. She discovered that she liked that kind of challenge: "The more I practiced, the more fun it was," she says.
Some of Mary's favorite songs to play are "Crazy" by Willie Nelson, "Hallelujah" by Leonard Cohen, and "Edelweiss," written for The Sound of Music. Now, she's working on more advanced fingerpicking, plucking the strings on the uke individually instead of strumming it.
She doesn't let learning the technical aspects distract her from how much she enjoys playing the instrument with others.
"I'm sure neurologists and social scientists could describe the physiological and social benefits," Mary says. "What my fellow musicians and I can tell you is how much fun we have."
New connections at the Terraces
Mary knew she wanted to continue pursuing her newfound passion when she moved to the Terraces. Staff members helped her locate other residents who wanted to learn to play the ukulele too, and her enthusiasm for the instrument has become quite contagious.
The group meets twice a month and plans to start practicing more often. They haven't played for a crowd quite yet, but Mary says that they may one day.
"We're a fairly new group, but I think that would be fun, going forward," she muses. "We encourage people to join us or even to just sing along. It's all about having fun."