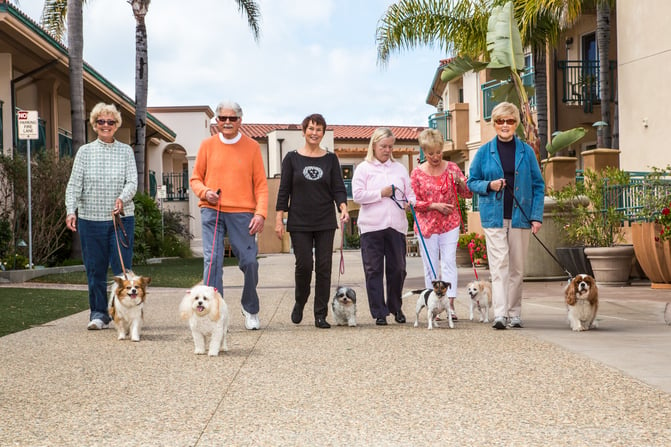 Learn the ins and outs of pet ownership in senior living communities.
Two years ago, retired schoolteacher and real estate agent Virginia Brunson got a puppy, an energetic terrier-Chihuahua mix she named Cupcake.
"I saw someone carrying a box of puppies in the hallway of my building," says Brunson, a resident at White Sands La Jolla. "They were so cute I asked for one right away. I'm a big dog lover and I missed having one in my life."
Medical experts have long touted the health benefits of dog ownership. Studies have shown that petting a dog releases oxytocin, a feel-good hormone that lowers blood pressure and calms anxiety. Some life insurance companies even take a favorable view on seniors with pets. As part of its medical screening, Midland Life Insurance asks its clients over age 75 if they have a pet, because they know that caring for an animal can be therapeutic.
At White Sands, Brunson now runs a weekly Puppy Playtime where seniors with pets convene outside to chat while their dogs frolic. In her case, having a dog has not only brought high spirits but also the chance to socialize with her neighbors.
"I tell you, they should write more prescriptions for dogs than for pharmaceutical drugs," says Brunson.
While not all senior living communities allow their residents to have pets, there are still options for those in communities to enjoy the company of animals. In this Q&A, experts Suni Cookson and Kathy Goblirsch answer questions about pet-friendly retirement communities and what you can do if your community doesn't allow you to bring your companion to your new home. Cookson is director at Love On 4 Paws, an animal-assisted therapy program in Los Angeles County. Goblirsch is assistant moving and relocation specialist at Gentle Transitions, a senior relocation services company in Manhattan Beach.
HumanGood: Are a lot of senior living communities pet-friendly?
Goblirsch: I think far more communities allow pets than don't allow pets. A lot of them will work with you if you have concerns. One community actually built a fence around a resident's backyard so her dog could safely go outside. Another community put a mesh net around a resident's balcony to keep his cat from escaping.
HumanGood: What are some of the key questions seniors should ask before relocating their pets?
Goblirsch: Am I in good health? Am I able-bodied? If not, is there a family member or a rescue group that can take my pet? Even if you're in good health, you should have a plan in place. If you're looking to move with a pet, do your homework. Find out what the community's pet policy states. Are there additional fees? Weight limits? A dog park? Does staff help with veterinarian visits, walking or grooming?
HumanGood: What should animal lovers do if they're not able to move with their pet?
Goblirsch: A lot of places have a community pet. Usually it's a cat or a dog. These animals can be great company. I was just at a community that has a resident beagle. You'll see it wandering from room to room. These on-site animals offer the best of both worlds. It's interaction without the added responsibility.
Cookson: A lot of administrators at senior living communities work with therapy dog organizations. Our organization has 84 dogs, two cats and about 80 volunteers. When we visit people in senior housing they almost immediately talk about dogs they've had in the past. Dogs have this magical ability to bring people out of their shells.
HumanGood: Are there organizations that help seniors find new homes for pets?
Goblirsch: There are plenty of no-kill shelters that will meet with you if you're unable to care for your pet. Cat Love, where I volunteer in Chino Hills, has an orphanage to house cats until they're adopted. Some of them are fostered in volunteer homes.
HumanGood: Is it a good idea to get a new dog after moving into a retirement community?
Goblirsch: My mom is 83 and she definitely didn't want a dog. She didn't want the responsibility. Now she has a 9-year-old dachshund that she acquired from my niece. The dog has become her best buddy.
Cookson: Seniors, if they're able, make great pet owners because they have plenty of time to devote to an animal. In many ways it's an ideal relationship. Friends and family come and go, but a pet is always there.