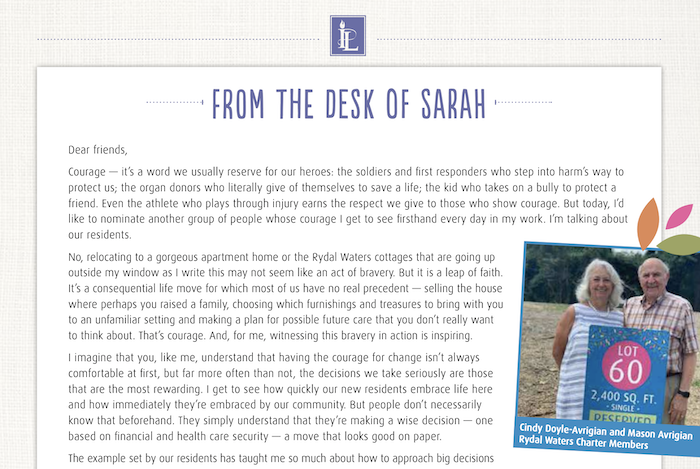 Dear friends,
Courage — it's a word we usually reserve for our heroes: the soldiers and first responders who step into harm's way to protect us; the organ donors who literally give of themselves to save a life; the kid who takes on a bully to protect a friend. Even the athlete who plays through injury earns the respect we give to those who show courage. But today, I'd like to nominate another group of people whose courage I get to see firsthand every day in my work. I'm talking about our residents.
No, relocating to a gorgeous apartment home or the Rydal Waters cottages that are going up outside my window as I write this may not seem like an act of bravery. But it is a leap of faith. It's a consequential life move for which most of us have no real precedent — selling the house where perhaps you raised a family, choosing which furnishings and treasures to bring with you to an unfamiliar setting and making a plan for possible future care that you don't really want to think about. That's courage. And, for me, witnessing this bravery in action is inspiring.
I imagine that you, like me, understand that having the courage for change isn't always comfortable at first, but far more often than not, the decisions we take seriously are those that are the most rewarding. I get to see how quickly our new residents embrace life here and how immediately they're embraced by our community. But people don't necessarily know that beforehand. They simply understand that they're making a wise decision — one based on financial and health care security — a move that looks good on paper.
The example set by our residents has taught me so much about how to approach big decisions with grace and courage. For every "I'm not ready yet," what made those who have chosen Rydal Park "ready"? They found the courage to follow their instincts. They made a decision to shape their own future rather than leave that decision to chance. And they knew that doing something now would save those who love them from incredible stress later.
So, the next time you come to tour our campus here at Rydal Park or to preview the remarkable progress of our Rydal Waters expansion, I hope you'll have time to stop and shake the hands of a few of my heroes. And maybe, before too long, you'll be one of them.
With all of my best,
Sarah Jolles
Executive Director of Sales & Marketing