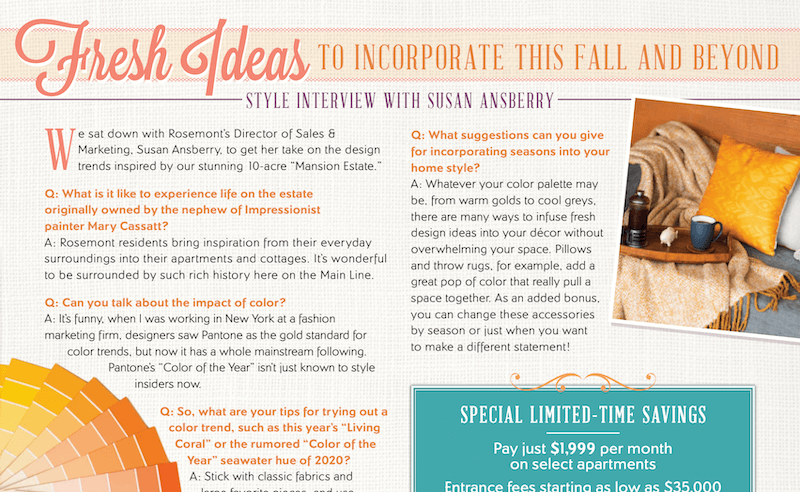 Style Interview with Susan Ansberry
We sat down with Rosemont's Director of Sales & Marketing, Susan Ansberry, to get her take on the design trends inspired by our stunning 10-acre "Mansion Estate."
Q: What is it like to experience life on the estate originally owned by the nephew of Impressionist painter Mary Cassatt?
A: Rosemont residents bring inspiration from their everyday surroundings into their apartments and cottages. It's wonderful to be surrounded by such rich history here on the Main Line.
Q: Can you talk about the impact of color?
A: It's funny, when I was working in New York at a fashion marketing firm, designers saw Pantone as the gold standard for color trends, but now it has a whole mainstream following. Pantone's "Color of the Year" isn't just known to style insiders now.
Q: So, what are your tips for trying out a color trend, such as this year's "Living Coral" or the rumored "Color of the Year" seawater hue of 2020?
A: Stick with classic fabrics and large favorite pieces, and use color trends as accents. Small accessories, like a picture frame, coffee-table tray or planters, can really make the mark here.
Q: What suggestions can you give for incorporating seasons into your home style?
A: Whatever your color palette may be, from warm golds to cool greys, there are many ways to infuse fresh design ideas into your décor without overwhelming your space. Pillows and throw rugs, for example, add a great pop of color that really pull a space together. As an added bonus, you can change these accessories by season or just when you want to make a different statement!