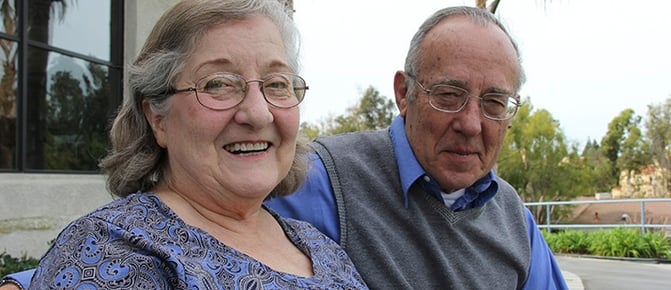 After touring multiple California senior living communities, couples choose HumanGood for convenience, accessibility to care and community.
Chuck and Susan Johnson live active lives.
Barely unpacked from their sojourn to Dubai and South Africa, they look forward to the next adventure: a cruise to Taiwan and Singapore. This marks their 80th cruise.
They are members of the Kiwanis Club, a global volunteer organization. And, when they're in town, they teach ballroom dancing.
When the retirees decided to transition to a senior community, they looked for low-maintenance living. They wanted someone else to do the yard work, someone else to manage the mail during their stretches at sea.
Like many others in search of the best senior living environment, convenience was on the Johnsons' mental checklist, as were a number of other factors: friendly people, tasty cuisine and scenic views.
They visited five other communities before moving to Westminster Gardens, a senior living community in Duarte, California, in October 2014.
The Johnsons wanted a home, but other communities mimicked high-rises with stairwells and people huddled in hallways waiting for the elevator.
"We had seen so many of them that looked like a hotel or something," said Susan.
Assisted living and memory care options at Westminster also added a sense of security. The couple, who have no children, don't need those services now but realize that someday they might.
Oliver and Sandra Cope were also seeking the assurance that care would be available if their needs change in the future. The couple moved to Regents Point, a HumanGood senior living community in Irvine, California, from Wisconsin in June 2014.
"We wanted to pick a place where we only had to move once," Oliver said.
Another plus: two growing granddaughters who live nearby. "They're a big part of the draw," he said.
The move was definitely a process. Like the Johnsons, the Copes did their research. They started online and eventually toured three other locations before settling on their two-bedroom villa.
HumanGood connected them with companies that helped them sell their Wisconsin home and pack up for the move.
The couple has become very active in their new community. Oliver, a retired college professor of religion, is a bingo caller as well as the guy who cleans up the woodshop area where residents can repair and refinish furniture. Woodworking is a longtime hobby of his.
While he enjoys the woodshop, Sandra, a retired librarian, spends time in the country store on the community campus. She sells to her fellow residents and keeps the place tidy.
A highlight from this past holiday season was the Christmas Eve brunch they hosted for their daughter, son and granddaughters—the first in their new home. Oliver lent his baritone to the Regents Point chorale. Sandra sang alto. They're considering singing for the spring chorale, as well.
"People here are very nice, friendly," Sandra said. "It's just really been good."
Forty-five miles away in Duarte, the Johnsons also believe they made the right decision with HumanGood. They spent the last four decades living in in Pasadena and are happily settled in at Westminster Gardens.
"We decided we were only going to move every 40 years," Susan joked.
And why would they want to move sooner? They walk out their back door each day where a huge oak tree greets them. In the distance, they see the gentle slopes of the San Gabriel Mountains.
"We've adjusted very well," Susan said. "We feel comfortable here. This is home."