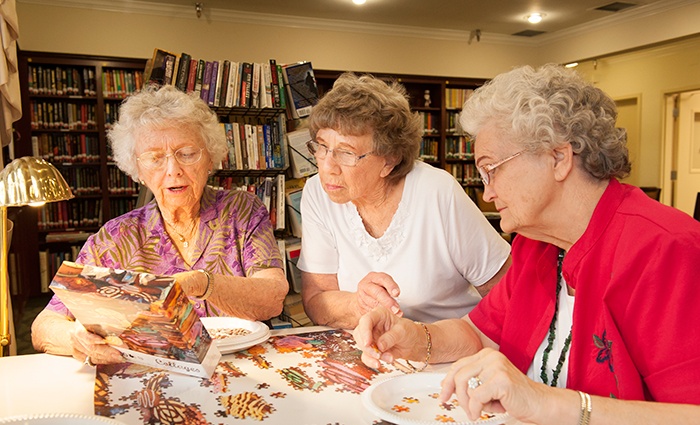 If you've been considering independent living at a Life Plan Community as your next step, you're likely wondering about the people, the opportunities, the costs, the food and more.
Life Plan Communities (also known as continuing care retirement communities or CCRCs) offer older adults like you a maintenance-free, low-stress lifestyle with plenty of amenities and opportunities to grow in mind, body and spirit. Life Plan Communities take care of home maintenance, landscaping, housekeeping and more so you can spend more time with friends and family or devote your energy to your favorite hobbies or traveling.
And, when you make the move early to independent living at a Life Plan Community, you'll also gain peace of mind knowing you have access to more advanced levels of care—including assisted living, skilled nursing, rehabilitation and memory care options—if and when the need arises.
In fact, according to The Age Well Study, a collaboration between the Mather LifeWays Institute on Aging and Northwestern University, "The differences in social wellness between residents of Life Plan Communities and older adults in the community at large may increase over time, particularly for people who experience decreases in mobility."
Here are the top five questions (along with answers!) that you should ask about your independent living in Escondido, California.
1. Is independent living at a retirement community right for me?
Independent living might be right for you if you've got any of the following on your mind:
Passing off the hassle of daily home upkeep and maintenance.

Avoiding feeling isolated or lonely in your current home.
Spending more time doing the things you love every day.
Planning for the potential of more advanced care services.
Building new friendships and meaningful relationships.
Learn more about how a retirement community could be right for you >>
2. How do seniors pay for independent living in Escondido?
Would you believe that if you've owned a home in Escondido, then living in a retirement community with an entrance fee will likely be affordable for you? On top of that, the all-inclusive monthly fees you'll pay at a Life Plan Community may actually compare quite favorably to the costs of staying in your current home.
Learn more about financing the move to an independent living community >>
3. As an active adult, what does an independent living community have to offer me?
With your home maintenance, meals, housekeeping and more taken care of, you'll be able to devote more time to the hobbies, sports and activities you love. In fact, here are some ideas of what you might find yourself enjoying as an independent living resident:
Participating in water aerobics or a personal-training session.
Exploring local shops, theaters, restaurants and more.
Enjoying chef-prepared meals with neighbors at the community bistro.
Joining an advisory board or community club.
Learn more about active, independent living in Escondido >>
4. What happens if I experience a health event or need advanced care services?
Independent living at a Life Plan Community offers you priority access to multiple levels of advanced care services—all on one campus—should the need ever arise, including:
Long-term skilled nursing care.
Additionally, with so many levels of care on one campus, if your spouse requires a different level of care, you can continue along life's path together.
Learn more about the benefits of independent living >>
5. What do I need to know about touring a senior living community?
The answer to this question comes with more questions! In addition to speaking with staff members and current residents, there are many questions you should be prepared to ask when you visit a senior living community, such as:
Are staff members happy and eager to assist residents?
What kind of health, wellness and fitness opportunities are there?
Are there classes and other activities for the mind and spirit?
Are the residents friendly, happy and genuine?
Do the community's residents share my values?
Learn more about touring an independent living community >>
Choosing an Independent Living Community in Escondido
If you're considering making the move to independent living in North County, we think you're going to like it here at Redwood Terrace. Located in the heart of Escondido, our community offers cottages, apartments and off-campus single-family homes for an intimate, neighborhood environment and family-oriented atmosphere.
Contact us today to set up a personalized tour and learn more about the type of home you could afford in Escondido.