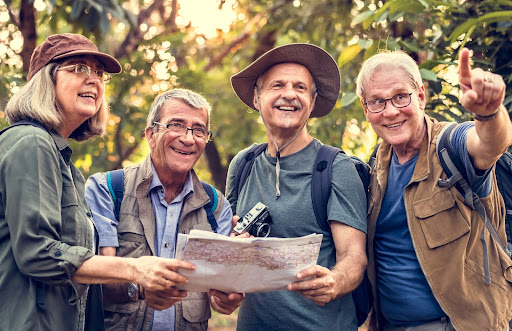 Living in Southern California means having the opportunity to explore bustling cities in the morning, hike quiet mountain trails in the afternoon and have a glass of wine outdoors in the evening. No matter if you have lived in the area your whole life or are arriving as a tourist-turned-resident, retiring in Southern California is full of endless possibilities.
At Royal Oaks, you have instant access to wellness, connection and security in our mountainside community. Amid oak trees, lush landscaping and tranquil hiking trails, every day abounds with possibility. This beautiful community offers the perfect balance between a peaceful sanctuary from city life when you want it as well as easy access to the San Gabriel Valley when you're ready to explore.
Dick Canzoneri, a resident at Royal Oaks, said it was the beautiful landscaping and charming environment that made his decision to move to the community easier. "It's like a big college campus, not a lot of buildings like a hotel," he said. "Other places just felt like big buildings with long hallways, not the tranquil setting like we have here."
But it's the residents that make this mountainside retreat extraordinary. The richly diverse population and unique life stories make up a tapestry that's just as colorful and inspiring as the stunning viewsout your window.
Here's what you need to know about this best-of-both-worlds community located in the Pasadena area.
Life at Royal Oaks
Royal Oaks is a Life Plan Community (also known as a continuing care retirement community or CCRC). This means that residents enjoy independent living with life-enriching amenities and a secure plan for future health care if ever needed.
Our beautifully designed, maintenance-free residences come in a variety of floor plan options to meet your style and preferences. Many of our apartment homes and cottages feature mountain views, and all feature lovely finishes and modern appliances.
However, most of Royal Oaks life is spent exploring our lively campus or any of the nearby cities. You're just 15 minutes from the cosmopolitan charm of downtown Pasadena and everything the San Gabriel Valley has to offer. The only question is, what will you do first? After all, you'll have more time to pursue the things you want to do when you don't have to worry about typical household chores and tasks.
Wellness
Royal Oaks was designed to make it more convenient to get active and pursue your personal definition of overall wellness. You will have access to all of our campus amenities, such as a putting green and heated outdoor pool as well as programs ranging from group fitness classes to lifelong learning lectures.
However, overall wellness isn't just about your last mountainside hike or tai chi class — though that's a great start! It's also about having access to delicious and nutritious foods. Dining options at Royal Oaks include a traditional full-service restaurant and the brand-new The Oaks Bistro and Lounge, which serves as a coffee bar by day and a cocktail lounge in the evening.
Our talented culinary team delights in creating a menu that is the perfect balance of nutritious, seasonal and comforting. Even better, you don't have to chop, sautee or serve. You simply get to enjoy. Of course, you can eat as little or as much as you like, and our flexible dining plan options allow you to choose what works best for you.
Looking to enjoy local dining options? Our residents enjoy walks and other trips to area restaurants regularly on their own or together to take advantage of the area's culinary offerings.
Connection
Perhaps the biggest benefit of life at Royal Oaks is living it with neighbors. Recent research about isolation and loneliness in older adults has pointed to social connections as an indicator of longevity.
At Royal Oaks, the opportunity to connect with neighbors and team members comes naturally. Meet up with your neighbor to feed the ducks in the pond or invite the grandkids to cool off in the pool. Challenge a friend to a friendly game of pool in the billiards room or meet up with your book club in the library to discuss this month's selection.
Of course, you can always entertain neighbors and friends in your home, pouring a glass of wine or setting out dessert for your guests that you purchased on your latest trip to town.
Life at Royal Oaks is what you make it. It's our job to ensure you have plenty of opportunities to choose from and create new ways for you to share experiences or create memories with new friends.
Security
As a Life Plan Community, Royal Oaks offers more than vibrant independent living on our expansive campus. Residents can also access higher levels of care should they ever need them. This means residents have access to emergency response by trained team members as well as the option of assisted living and 24-hour skilled nursing care on the Royal Oaks campus and memory support just a mile down the road at our sister community, Westminster Gardens. We offer our residents the peace of mind that if their health needs change, they will have priority access to assisted living, skilled nursing or memory support services, all in a homelike setting.
Residents of Royal Oaks are typically planners, making the proactive decision to create that peace of mind for themselves and their families while continuing to live the independent lifestyle they enjoy.
Learn More
If you are ready to get a glimpse of what life at a vibrant senior living community is like, the team at Royal Oakswould be happy to show you what makes our community one of a kind. Learn more about what to look for and questions to ask in order to make the most of your time with our free resource, "Guide to Touring a Senior Living Community."
Then, when you are ready, schedule your personalized tour at Royal Oaks. We are happy to answer any of your questions.