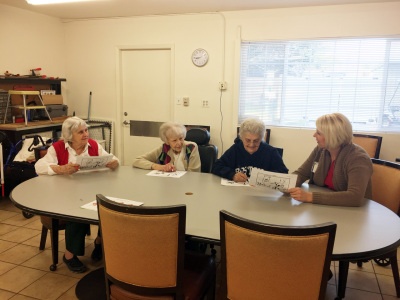 The Rosewood community in Bakersfield, California, was named a Center for Successful Aging in 2014 by Masterpiece Living, a multi-specialty group that partners with organizations to maximize the potential of older adults.
As a result of this impressive designation, Masterpiece Living provided Rosewood with the unique opportunity to conduct regular community lifestyle reviews, allowing its team members the ability to determine the levels at which residents are being intellectually stimulated and to ensure high levels are maintained.
Upon reviewing the results for the first time three years ago, Lifestyle Enrichment Coordinator Wendy Burnett was happy to learn the residents at Rosewood were socially, spiritually, physically and intellectually engaged. There was opportunity for intellectual stimulation, so she set out to develop a program that would help residents feel an even greater sense of purpose.
Burnett used the Masterpiece Living portal, which is filled with resources that can challenge people in a fun way, and pulled the best intellectually-stimulating games and activities she could find and she started giving them to residents on a regular basis to help them stay sharp. She then transformed these regular activities into a 6-week program and called it Brain Fit. The program would be open to residents as well as people outside the Rosewood community.
Zada Mitchell, Wilma Regehr and Cora Scranton (left to right) in a Brain Fit class led by Wendy Burnett
The way the program works is participants first take a brief "trail making test," which measures a person's concentration, focus, hand-eye coordination and flexibility. This test can be tweaked according to a person's level of aging, meaning the level is based upon an individual's residential lifestyle, such as assisted living, skilled nursing, residential living or memory care. Based upon test results, Burnett can determine a person's cognitive function, which allows her to split participants up into groups of 4 to 5 people; once divided up, the 6-week course begins.
There are two classes per week that are 45 minutes long, in which participants can partake in activities including playing Sudoku, completing jigsaw puzzles, learning the parts of the brain, watching TED Talks, engaging in logic games or playing brain games.
To improve memory, Burnett will tell a person a fun fact they are to memorize and see if they can recall it later during the class period, the next day or throughout the 6 week program. Residents even have homework they have the option to complete for further practice and there also are brain exercises readily available in the dining room as well as the monthly newsletter.
At the end of the 6 weeks, they retake the same test they took at the beginning to determine if there has been any improvement. The latest class just completed a course last month and are very excited to incorporate IPads into Brain Fit.
"Lots of residents feel as they get older, it's natural to decline cognitively," explains Burnett. "However, this is incorrect; it just tends to happen because people do not stay active intellectually as much as they should as they age. It's my job to motivate residents to stay intellectually active and show them the multitude of benefits."
To date, more than 60 Rosewood residents have completed the Brain Fit program, along with a handful of other people from neighboring towns and communities who have learned about the program through friends and word of mouth. Participants love playing the games and challenging themselves to stay active.
To learn more about Rosewood's Brain Fit program, call Burnett at 661.835.2524.