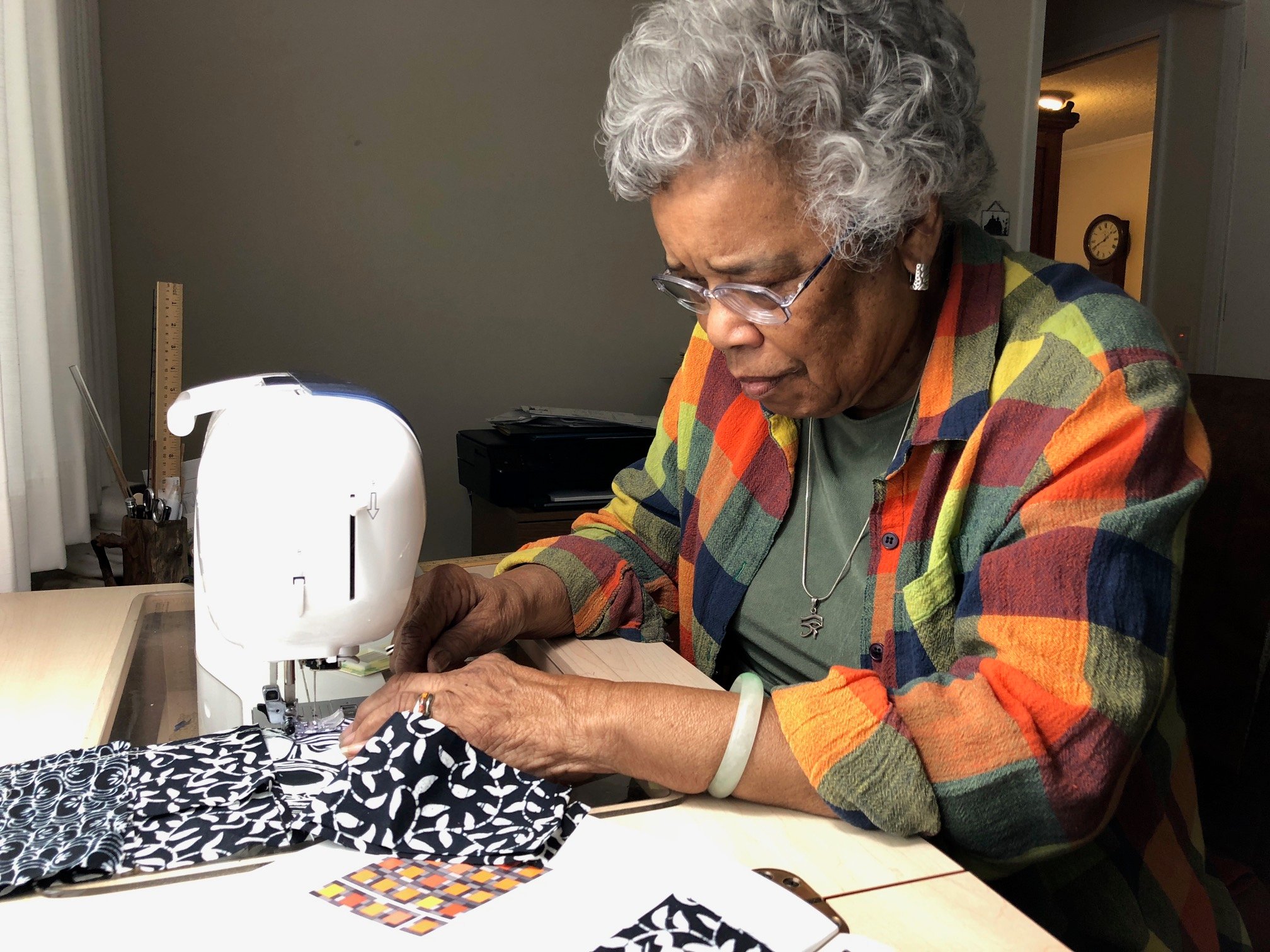 For resident Julia Vitero, the idea for a quilt begins with the color—often bold shades of reds and golds. She also may throw in some earth tones and black followed with a pattern. When sewn altogether, Vitero says a story unfolds in her quilt design.
"I always want to tell a story in my quilts," says Vitero who refers to her quilts as "wall hangings."
Her stories have centered on many themes like family, cultural history and seasonal holidays. On Fathers' Day, she celebrated fatherhood by creating a design of men's button-down shirts. She tapped into both her quilting and origami skills for that piece. She once made a quilt all by hand using a pattern found in a 1936 newspaper publication that she purchased at an antique store, which she titled "Old is Still New."
"This was a challenge, but I get a lot of inspiration from my quilts," says Vitero. "Once I have my fabric chosen and a design in mind, I start to layer with other embellishments. You can come up with some amazing designs. When I quilt I look at the piece, and I'm not sure it's finished. I may enhance it with beads and further embellishments."
Vitero learned how to sew from her grandmother whom Vitero honored with a quilt titled 'Grandma's Apron,' that hangs in her kitchen. Quilting started as a hobby for her in the early 1970s, when she lived in Washington D.C. Through classes at the local YMCA, she learned the art of quilting by hand, which she considered "the hard way," and she created quilts when she had the time.
It wasn't until she retired in 1996, that she really delved into making the elaborate designs and began telling a story through her work. Her work has been shown in a range of exhibits in the Bay Area, New York and Colorado. In 2006, she was an artist in residence at the Kimball Education Gallery at the deYoung Museum in San Francisco; and as part of a creative work fund grant, she collaborated with her fellow quilters to make pieces relating to health issues in the African-American community.
She's currently a charter member of the African American Quilt Guild of Oakland and a member of the East Bay Heritage Quilters. With her fellow guild members, she volunteers in local elementary schools and senior centers teaching all how to sew and create their own quilt designs.
"Quilting keeps me busy but I make and share the craft of quilting because it satisfies my own creativity."
Making room for creativity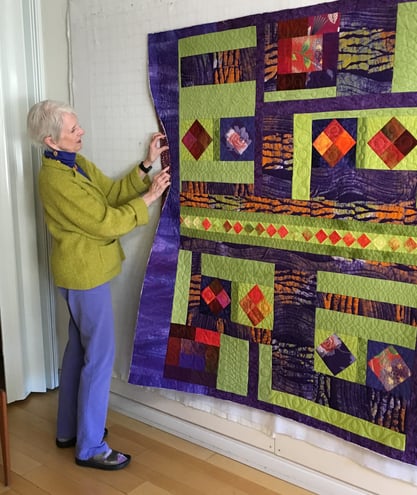 Vitero isn't alone. Her fellow Grand Lake Gardens neighbor Sally Houston has been quilting since the late 1980s. Also by hand, she would pass the time working on various quilt patterns during long work meetings as a librarian in the Bay Area. "But I was never satisfied with the quality of the work," she said about her first efforts. "The concept was good, the fabrics and colors were good but the work was sloppy."
Because of that and a slight tremor in her hands, Houston says she actually stopped quilting until late 1991. Her husband had passed away that year. Close friends invited her to several events that they thought she would enjoy. Houston accepted all invitations because she "didn't want to sit home and feel sorry for myself."
She was invited by a work colleague to a quilting class offering the latest tools that made the craft a lot easier to do than when she first started. She was soon on her way to perfect her skills; and now, her work has been shown in the Voice in Cloth Show for the East Bay Heritage Quilters Guild. She also makes about a half dozen twin-sized quilts a year for kids who've aged out of the foster care system through the nonprofit First Place for Youth. "I've been making those quilts since 2000, and I believe the kids appreciate them," she says.
And when Houston moved into Grand Lake Gardens in 2007, she made sure to have her two-bedroom apartment remodeled to incorporate a design room dedicated for quilting including a foam core wall, storage for materials and her sewing machines. "This is the best decision I've ever made," she says. "It's so perfect I hate to open the door and go out."
Like Vitero, Houston says she works from a gut feeling, playing around with an array of fabric pieces "until something happens."
The art of quilting comes down to color choice and the texture within the patterns; and she often creates her own freeform geometric shapes. "I don't like quilts that you can look at once and know everything," she says. "I want you to look at my quilts and see various ways that the colors are working with or against each other."