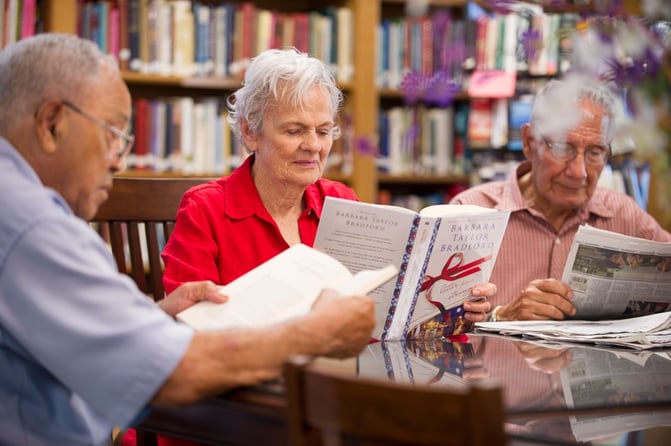 At Westminster Gardens, memory care is more than just 24-hour dementia care; it's round-the-clock warmth, dignity, comfort and companionship.
Memory care is a long-term care setting specifically designed to address the needs of people with dementia. Memory care populations are often intentionally small to maximize staff-to-resident ratios and ensure residents receive highly dedicated care. Caregivers often guide residents through every step of their day and provide ample opportunities for residents to engage with each other, staff, family and friends.
Due to the debilitating nature of dementia, comfort and continuity are essential to quality of life for memory care residents. Therefore, the physical setting is often similar to a typical family home, and includes many community spaces, both inside and outdoors. Schedules are structured around dementia-specific therapeutic activities.
Amenities also include extensive security measures, community dining, housekeeping services, wellness programs, coordinated activities and social events. Care services include customized care plans and the full spectrum of skilled nursing care offerings.
What does memory care look like at Westminster Gardens?
When you step into the memory care community, you'll likely find its residents painting on the patio, enjoying a piano recital or relaxing in front of the TV.
Set within the tree-lined campus of Westminster Gardens, a HumanGood senior living community in Duarte, California, is a memory care residence for people living with mild to moderate dementia.
The building is warm and welcoming, and offers a soothing interior décor, quiet places to read and communal places to chat. But the heart of community is the people, made clear by the buzz of friendly conversation that carries from the dining room table and living room sofas to the sun-laced patio.
It feels intimate, much like a family home. Indeed, the staff, affectionately known as guias, the Spanish word for guides, and residents of this memory care community truly feel like kin.
"Since we're here everyday, we know each of our residents very well," says Memory Care Program Director Ofelia Muett. "By treating our residents like we would our own parents or spouses, they can still be independent—just with support."
The population here is intentionally small, with a maximum of 10 residents at any given time. In this way, Muett and her staff offer a wealth of personal attention to the residents.
Routine is important and healthy for those with dementia, which is why each day follows a similar format. Mornings start with the guias helping residents prepare for the day by assisting with tasks like making the bed, bathing, grooming and getting dressed. At 8 a.m., residents and staff gather at the long table in the dining room for breakfast together, a morning ritual that almost always ends in nostalgic discussions, storytelling or sing-alongs. After breakfast, the guias help residents get ready for the morning's activities, which vary and often center around art or music.
The memory care community is part of the larger senior living community at Westminster Gardens, which also offers independent living and assisted living options. Joining other residents at Westminster Gardens' dining hall or larger, community-wide activities like bible study and hymnal singing is a favorite pastime of memory care residents. Another favorite activity is the monthly bus ride, which takes the group on trip through local neighborhoods. Often, this activity sparks fond discussions as residents recall stories from their pasts.
Lunch is followed by a few hours of free time, during which residents can enjoy a nap, lounge around the living room or take a walk amongst the plants and lush greenery of the community's backyard garden. Then, another activity brings the residents and guias back together for two hours of bonding and entertainment before dinner.
Throughout the day, guias are on-hand to offer residents help with everyday activities, medication dispensing, hourly check-ins and anything else the resident may need. But they are also there to provide companionship, comforting words and a gentle, reassuring touch that helps residents feel safe and confident. The idea is to give residents the autonomy to go about their days as they choose, while providing the opportunity to engage in stimulating activities.
"With time and patience, we can retrain residents to do what they were doing in their daily lives before they came here," Muett says. "We give them the chance to do what they can on their own."
Memory loss is a difficult, often painful, journey for residents and their families. But at Westminster Gardens—a sanctuary and a home where the days are filled with smiling faces, engaging conversation and a lasting sense of respect—there is some relief.