Singing helps keep this group of seniors happy, healthy and active.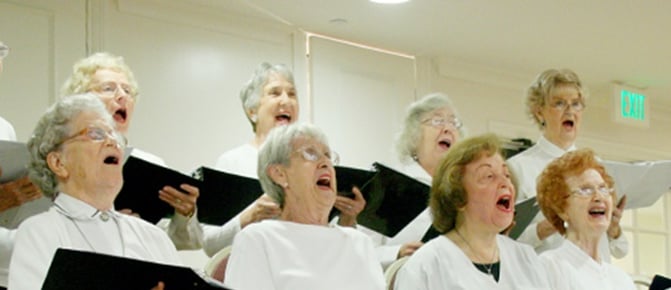 Transcript
Choir: "...to hold it in my arms and keep it company."
Director: I need that high note up there.
Narrator: Every Tuesday afternoon at 3 o'clock, more than a dozen women at Windsor gather for a single purpose: To sing.
But the benefits they each find to their collective voices are varied—from spiritual and emotional boosts, to physical and mental stimulation.
They call themselves the Windsor Warblers, and several times a year—on holidays—the choral group performs a program of themed music for neighbors in the community.
One member, Nancy Fischer, says the group has really come into its own over time.
Nancy Fischer: I don't know who came up with the name of Warblers, but that really brought us together. We are the Warblers!
And we're popular. People like the Warblers. We always have a good audience in our main lounge whenever we sing. People think we're good for a bunch of amateur old ladies, huh? (laughter)
Warblers: "…and I think to myself, what w wonderful world."
Narrator: It was Carole Malinowski who put the group together after moving to Windsor in 2012. The group has met weekly ever since.
Carole Malinowski: After I had been there a few months, I realized how many women used to sing in church choirs.
Narrator: Mary Mildred Knudson was one.
Mary Mildred (MaryMil) Knudson: Well, I used to sing in a church choir.
Narrator: And Nancy another.
Nancy: I'm 87—well, next week— and I started when I was just a 5-year-old. My father was a Baptist minister and I sang in the choir. I couldn't read but I knew all the hymns by heart.
Carole: I approached each one and they were just more than anxious to get started again. The first meeting, we didn't really have a piano player yet nor a director, so I kind of did both. I played the piano and kind of directed with my left hand.
Warblers: "Heal or land, Father, heal our land. Hear our cry and turn our nation back to you… "
Nancy: Early rehearsals are, I'd say, a few women, unstructured, talking and singing a little bit.
Narrator: Since then, Malinowski found the Warblers a director and accompanist, and the group has nearly doubled in size.
Carole: Our piano player is 91 years old. And our director, she's a graduate of L.A. State College with a degree in music.
Nancy: Now there's not so much chit-chatting in between songs. We're serious.
Narrator: Much of the group's repertoire is comprised of familiar folk and church music, bringing back cherished memories of their youth, or helping to tap into other emotions.
Nancy: "He's Got the Whole World In His Hands." "Let There Be Peace on Earth." "I'd Like to Teach the World to Sing (In Perfect Harmony)." (Singing). Very upbeat, positive, happy songs.
We have the music, but basically I've known all of those songs. "I like the sound of America." I have to warm up a little. (laughter)
Carole: Almost everyone has sung "Amazing Grace" and "How Great Thou Art." And one of the most favorite old ones from their church music was "I Come to the Garden Alone." Oh, there were tears brought up. In fact, that was sung at my mother's funeral, and I shed a few tears when we sang that one.
It releases a lot of emotions that we probably held in for many years. Even now, when we sing some patriotic songs, different ones say, "Oh, get my Kleenex for me, I'm going to cry."
Nancy: We have people in the health department. They brought them out on both sides of a corridor, and we went down the corridor singing Christmas carols, and they sang back with us and that was a very beautiful, emotional time.
Carole: Some have to drop out for a short while due to illness, but they all come back.
Narrator: Singing with the Warblers is itself an incentive to—and perhaps even a means of— getting well. Members always look forward to their Tuesday rehearsals, the singers agree. As much as their performances touch one another's hearts, their work also helps to strengthen their bodies, minds and spirits.
Carole: It demands a lot of focus and attention. When a director says "Look up here, look at me," for the cut off signs and starting signs, they have to have memorized the music in order to take their eyes off the music and look at the director.
We have to be very kind to each other and help each other out, whoever is sitting beside us because many have forgotten.
They have to learn to refocus and pay attention, and some of us have our hearing impaired, and it requires special attention.
Director: We're going to take it the start of the first page, the last time through. Go down to the third line, where it says coda, turn the page and take the last line.
Carole: It's helped us sit up straight, and helped our breathing—we have to hold out the notes so breath control is important.
MaryMil: It's hard to read the words and everything and watch her, too.
It's not that hard, though. "I'd Like to Teach the World to Sing"—there are some tricky things in that. We're getting it down pretty well now.
Nancy: You know, when you're singing "This Land is Your Land," you really put into it. It's voluntary so everybody there wants to sing, everybody there chooses to be there, and puts forth.
MaryMil: There are certain things about the music that appeal to me and that makes me feel good. Also, when you're performing and you see the response from the audience, that's really heartwarming. It usually goes over very well, and all the things I've worried about probably I shouldn't worry about.
Carole: It gives a real sense of satisfaction that we can still do some things that we used to could do. That brings a real smile on our faces. Everybody turns out to hear us. Makes us feel pretty darn good that we can still do it.
Warblers: "This and is your land, this land is my land. From California to the New York island. From the redwood Forest to the gulf stream waters…"