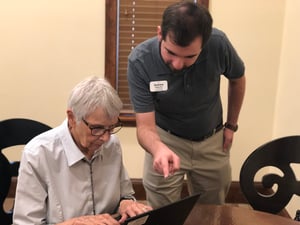 The residents at the Terraces of Boise are like most people in today's world: they love their technology. From their Macbooks and Chromebooks to their iPhones and Androids, no matter what type of tech residents rely on, there's one expert they can trust for fast assistance: Zach Dalessandro, the community's IT systems administrator.
Our residents have access to a host of tech that lends itself to a more enjoyable retirement. How? Things like smart televisions, Kindles, and digital printers all make their lives a little easier and more fun. That's why community-wide Wi-Fi and satellite TV are among the services that every resident enjoys.
Dalessandro's job is to keep it all working. He's the one to call when anyone in the community—be it a team member or resident—needs help with software issues, upgrades, hardware installations, or just answers to questions related to computers and other tech gadgets.
A true passion for tech
In the year he's been at the Terraces, Dalessandro has made a name for himself for the level of support he provides. His enthusiasm is contagious. "Residents have access to so many powerful tools that let them stay in close contact with not only family and friends, but things like the world, stocks, and even leisurely hobbies like reading and writing poetry," Dalessandro said. "It's all in their pockets, at the touch of their fingers."
The Terraces attracts IT professionals such as Dalessandro because Internet and computer access adds dimension to everybody's lives. And he takes his job seriously, knowing that helping residents with their technology issues goes beyond helping them stay entertained. "More than a few times when I've resolved Wi-Fi connectivity issues for residents, they would comment on how they felt surprisingly isolated without Internet access," he said.
Going above and beyond for Terraces residents
Dalessandro doesn't just fix the problem and mark it off his list. He goes the extra mile to help our residents have a greater level of comfort with technology.
"As I'm working, I answer any questions residents have and explain my process as I go. I want to help people understand," he said. "Generally, I try to impart a bit of knowledge with each stop I make, hopefully, contributing to the resident having a greater knowledge base about the issue, should it happen to them again."
Dalessandro is proactive with his support efforts, too. He recently started running an open "resident support hour" once a month for general questions. He also plans to start running monthly educational courses on various common topics, free of charge.
Dedicated to the Terraces family
Dalessandro is definitely a tech expert: he worked for Apple after graduating from college. But it's his heart for the individuals who reside here that really sets him apart.
"The Terraces is a community not only in name, but in living and breathing motion," he said. "We are one close-knit family, and our interactions are very genuine."