Rydal Waters Charter Members Dick and Bobbi Weiss are currently preparing for the move to their new cottage, slated to be built next year in the maintenance-free expansion of Rydal Park. They're no strangers to this type of planning, as their philosophy of style is all about change. "Times change, tastes change, and fashions change," Bobbi says. "We like to pay attention to what's happening and stay in step with what's current."
"I like to be contemporary with the current styles, but in a way that reflects who I am." – Bobbi Weiss, Charter Member
Dick mentions some favorite examples of "timeless style," including the Ivy League look from his high school days, and Robert Redford ("He's my twin!" Dick says with a laugh), but acknowledges that style evolves with the times. "I like to dress well…not trendy, but fashionable." Bobbi has a similar point of view. "I like to be contemporary with the current styles," she says, "but in a way that reflects who I am." For inspiration, she pays attention to cues in friends' homes, on TV and in magazines. "I enjoy watching trends in fashion and design," she says. "I like to see what's happening."
Just as their wardrobes have evolved with the passage of time, the Weisses' style of interior design has evolved with their changes of place. "In 1976, we bought a Tudor-style house," Dick explains. "That called for a French style, with heavier, darker wood tones." Years later, Dick and Bobbi bought a shore house on Long Beach Island. "The shore setting inspires a more contemporary design," Bobbi says, "lighter, both in color and in overall feel."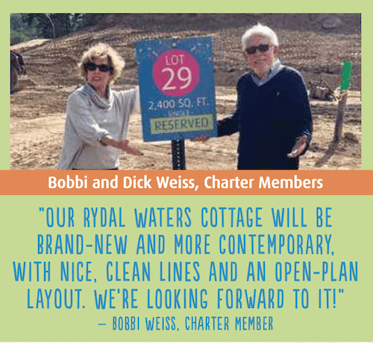 Since then, the Weisses say their tastes have evolved toward that lighter, simpler aesthetic. It's one of the things that attracted them to Rydal Waters. "Our Rydal Waters cottage will be brand-new and more contemporary, with nice, clean lines and an open-plan layout," Bobbi says. "We're looking forward to it!"
"Times change, tastes change, and fashions change." – Bobbi Weiss, Charter Member
While Dick and Bobbi's surroundings have influenced their style toward the contemporary, Rydal Park resident Barbara Heiman's style has been influenced by handcraft, nature and creativity.
Her clothing is neat and tailored: a sensibility shaped by early years of sewing her own clothing. "We made our own things," she says, "even our prom dresses." Her sewing work expanded to include making clothing for her children and doing a steady flow of mending for family and neighbors. Ten years into her nearly 50-year nursing career — the last 20 of which were spent teaching nursing at Gwynedd Mercy University — her sewing skills found a new outlet. "I always loved quilts," she says, remembering a childhood trip to a quilt barn in Lancaster County. "As an adult, I rediscovered them. It became therapy at the end of a hard day," she explains. What started as a relaxing hobby has become an evolving expression of her aesthetic. While many of the quilts she's created have gone to family and friends, a number of them adorn her apartment décor, from small, framed pieces to medium-sized quilted pillows to large works of art hanging on the wall. "The large ones take me about three years," she says. "Quilting takes a long time, but at the end, you have something to show for it."
"I've always loved quilts. As an adult, I rediscovered them. It became therapy at the end of a hard day." – Barbara Heiman, resident
Quilts, of course, are a traditional art and craft, and Barbara likes the traditional style — a taste that she traces back to her Midwest upbringing in Muskegon, Michigan. "I'm a country girl at heart," she says.
"I like making people happy. Why wouldn't you want to make people happy?" – Barbara Heiman, resident
Nevertheless, each of the quilts in her Rydal Park apartment reflects her own creative touch. "I like geometric," she says, "and hearts." Those themes play through her work, intermingled with representations of birds and the outdoors. Barbara's love of nature is reflected throughout her apartment, from details in her quilt work to other artwork to her large picture window that looks directly out onto the lush canopy of the grand oak tree outside. "It's like I'm living in the tree with all the birds," she says. She describes how that treetop view, her natureinspired artwork and a backdrop of classical music create an uplifting atmosphere for herself and her guests. "I like making people happy," she says with a smile. "Why wouldn't you want to make people happy?"