With the recent groundbreaking on the eagerly anticipated Rydal Waters cottage neighborhood, it's the perfect time to explore how this project has taken shape and what goes into creating such a unique community.
The result of more than two decades of planning and design, this exciting, maintenance-free expansion of our Life Plan Community, Rydal Park, features single-family, one-story living that offers an exceptional spectrum of options and amenities, demonstrating the thought that has gone into this remarkable neighborhood from its initial conception.
Architect Jeff Mullen of Stewart & Conners Architects has worked on the Rydal Waters design since its original master planning in 2006. "From the beginning, there was a consistent vision of independent living in a beautiful setting," he says. "An existing figure-eight-shaped flow gave us an ideal opportunity to arrange cottages with a balance of privacy and proximity. Every detail of the 33-acre Rydal Waters campus has been thoughtfully planned."
Of course, many things have evolved over the course of the project. Thoughtful revisions of the community layout reduced the number of cottages to 84, creating more open space and better views. Another shift was offering more open floor plan options to meet individual preferences.
That attention to individual tastes is evident throughout the Rydal Waters project. Dino Cesarini of Warfel Construction, the builder handling the construction of the neighborhood, has been involved in many retirement communities. This one, he says, is different. "These aren't cookie-cutter places," he says. "Rydal Waters is highly individualized. It offers considerably more options than you typically find in cottage communities." Those choices include a generous range of layouts, material finishes (including flooring, cabinets, countertops and much more) at both standard and upgrade levels, as well as custom options. To understand their vision and help them navigate all the choices, Jeff offers to meet with each incoming Rydal Waters Charter Member personally. "Everyone is really pleased with the options and flexibility of design."
"We're excited to be founding members of a brand-new community." - Doug Callantine, Charter Member
Charter Members Doug and Pam Callantine appreciated that high level of involvement in the design of their new cottage and the ability to choose their own fits, finishes and selections. "We like the idea of our own brand-new, private cottage, with all the features of our previous place — plus new ones," Doug says. "We're excited to be founding members of a brand-new community." While many of their neighbors will be new acquaintances, Doug and Pam will be living near old friends. "It's a new neighborhood within our old neighborhood," Pam says. In fact, their friends, the Fonners, are moving in right across the street.
Bill and Alexis Fonner, like the Callantines, say they're looking forward to the best of both worlds: staying in the same area and socializing with longtime friends while gaining new friends, neighbors and activities. For Bill, the upcoming move to Rydal Waters simply frees up more time to enjoy his usual routine. With a more right-sized home, and no maintenance to worry about, he'll find it even easier to enjoy his passions: golfing and spending time with family and friends.
Another soon-to-be Rydal Waters resident, Terri Lewis, was initially drawn by the proximity to Philadelphia. "Most communities I looked at seemed so far away from the city," she says. She also loved the cottage architecture at Rydal Waters. "Similar to my previous place," she says, "but no cleaning and maintenance. Rydal Waters checked all the boxes!"
Terri says the social aspect of Rydal Waters was secondary in her decision-making, but she has been impressed with the community that's already taking shape. "They're purposefully encouraging connection between future residents, which gets people engaged and involved," she says. "I've already made good friends — and we aren't even living there yet!"
Other Charter Members have similar motivations for making the move. The Callantines mention recent experiences in which they had to make decisions for their own parents. "We're pleased to be making this move to Rydal Waters ourselves, on our own terms, rather than having our kids forced into it later."
"We're most excited that we've made a plan for the Future." - Stan Singer, Charter Member
Stan and Lois Singer, also Charter Members, point to that same satisfaction and relief at making a proactive choice. "We're most excited that we've made a plan for the future," he says.
Incoming Rydal Waters residents Hal Taussig and Susan Cole had a proactive plan with a predetermined timeline for moving to a community. "It had nothing to do with how we felt," Susan says. "We're healthy and excited and will continue to be" but will "now be in a place where we don't need to worry about the next phase."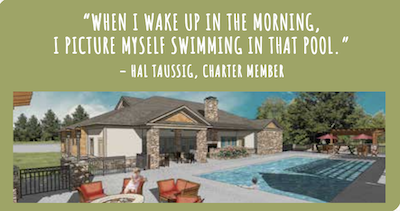 Hal is enthusiastic about embracing the couple's new Rydal Waters lifestyle. "I'm a Baby Boomer," he says. "We've been in charge of things for a long time. I think it's time to step aside and enjoy retirement. I'm looking forward to learning new ways to be myself."
As he anticipates the completion of their new cottage, he has a clear vision of life at Rydal Waters: "When I wake up in the morning, I picture myself swimming in that pool."
The pool, according to Jeff, will be accompanied by an outdoor kitchen area and a fire pit. "The back wall of the Clubhouse is almost entirely windows," he says, "so the pool area will provide a beautiful view."
As excited as he is to see the project completed, Jeff says that the most exciting aspect of the entire experience is meeting the future Rydal Waters residents themselves. "After living with it for so long on paper," he says, "the best part is meeting the people who get to live there and enjoy it."