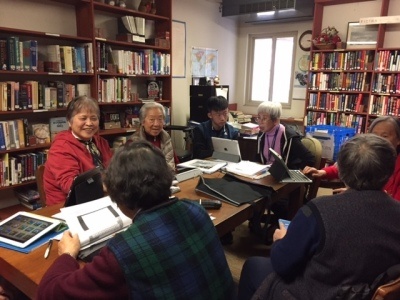 Life's Garden in Sunnyvale, California, is an independent, non-profit senior living community that is managed by HumanGood. Since 1976, it has been a culturally diverse community, providing affordable housing in Santa Clara County. Its programs and activities are nothing short of amazing.
One program is the brainchild of Resident Activity Director Nina Tan. In the summer of 2016, Tan was approached by a resident who had recently discovered an organization whose mission was to teach seniors about technology. After taking a closer look at the organization, called Teaching Seniors Technology, Tan thought it would be great to create a program like this at Life's Garden.
Teaching Seniors Technology is a non-profit organization based in California. Founded in 2013, the organization, which is run by mostly high-school volunteers, seeks to educate seniors about all things technology—from social networking to basic computer operations. After its introduction to the community, it wasn't long before Life's Garden became an additional teaching location for Teaching Seniors Tech, with classes offered in both English and Chinese.
"We have a large and ever-growing population of Chinese residents here at Life's Garden, so it was important to take into account their language needs," says Tan. "We've been simply ecstatic that we can offer these services to our diverse group of residents."
While Life's Garden already offered a computer class program, Teaching Seniors Tech was introduced as more of a one-on-one educational model for residents. William Chen, a junior at Lynbook High School in Sunnyvale, California, is Life's Garden chapter head and functions as the main volunteer for Life's Garden group. Chen helps with groups of more than 30 seniors every week and instructs four volunteers to help residents with their individual needs.
"Some residents are more interested in learning about iPads over mobile phones," explains Tan. "It's amazing to have someone like Chen available to formally meet with residents and help them navigate through the technology that's appealing to them."
Teaching Seniors Tech at Life's Garden has been operating for six months, and even though it's only been around for a short time, the response from residents has been incredible. According to Tan, the program has helped a lot of residents grow, not only by learning new skills and concepts, but also through interacting with the volunteers. "It's great to see our residents interact with high school students," says Tan. "This group transcends generational boundaries and it's great that the residents as well as the volunteers learn from each other."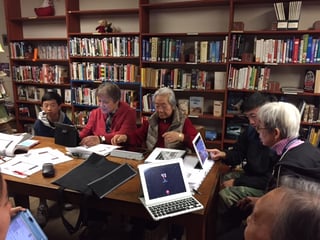 Not regularly being able to connect with far-away family and friends is a big hurdle that many residents face. Back in the day, phone cards were essential for communicating with family overseas. Now, with the use of iPads and mobile phones, residents, through Teaching Seniors Tech at Life's Garden, can learn how to Facebook message their family with the simple swipe of a button. "Residents also are impressed with how easily they can manage their day-to-day activities," mentioned Tan. "Anywhere from managing their doctor's appointments to using Google Maps for navigation around town, residents are thrilled with how useful technology has become in their lives."
Teaching Seniors Tech classes takes place every Sunday at 2 p.m. in Life's Garden library. In June 2017, Life's Garden will have a remodeled activity room where Tan hopes to move the classes. "While residents might be intimated at first, once they experience the program, a spark is lit and they keep coming back."
For more information about Life's Garden's Teaching Seniors Tech program, please contact resident activity coordinator, Nina Tan, at Nina.Tan@HumanGood.org.