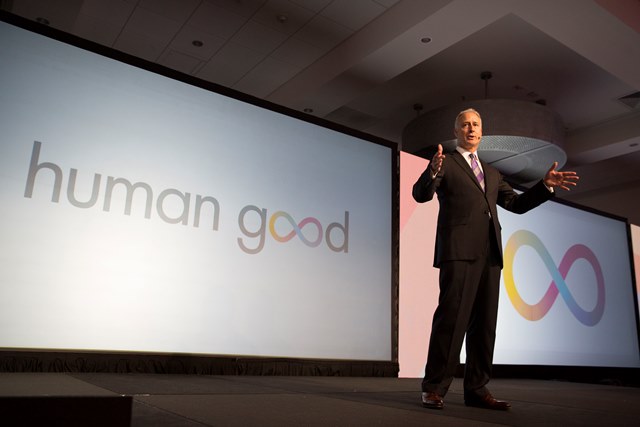 When ABHOW and be.group successfully closed their affiliation to create one unified company in May last year, we knew that eventually we would be adopting a new brand identity. At our 2017 Annual Meeting in Santa Clara last week, that new brand was unveiled.
Beginning in July 2017, say hello to HumanGood.
HumanGood represents the coming together of two organizations with rich histories of serving older adults and their families, President and CEO John Cochrane told an audience of more than 200 team members. The name is a fitting representation of our aspiration to be the leading innovator in delivering enriched and engaged experiences with optimal health and measurable life fulfillment.
"Our brand positioning is to the leading innovator in designing what it means to age well," he said. "That's a bold aspiration. We're asking a lot, and I think we've found a brand that truly embodies all that and more."
Redefining the meaning of aging well
Developing the new brand identity took into account our mission to redefine the meaning of aging well for adults 55 and older. Everyone desires to live a life with enthusiasm, confidence and security, regardless of their circumstances, said John. The products and services we offer are designed to better support the residents we serve, their families and our team members in their pursuit of an engaged, purposeful life.
Living into this brand aspiration will involve a focus in three areas:
Reimagining and redesigning the CCRC experience
Developing more innovative and scalable solutions that meet the overwhelming demand for affordable housing
Creating new products and services that deliver purposeful, engaged living
Our beliefs and values
A name change is only one small part of becoming HumanGood, John said. A brand is a powerful touchpoint that helps guide us in our actions, but it is only a vessel. It is up to us to fill it with the beliefs and behaviors that bring it to life.
"We will build the HumanGood brand on the foundation fo our beliefs as an organization," said John. "Our beliefs will drive how we behave—toward our residents, their families and one another."
Please visit HumanGood.org to learn more and to download the HumanGood manifesto.