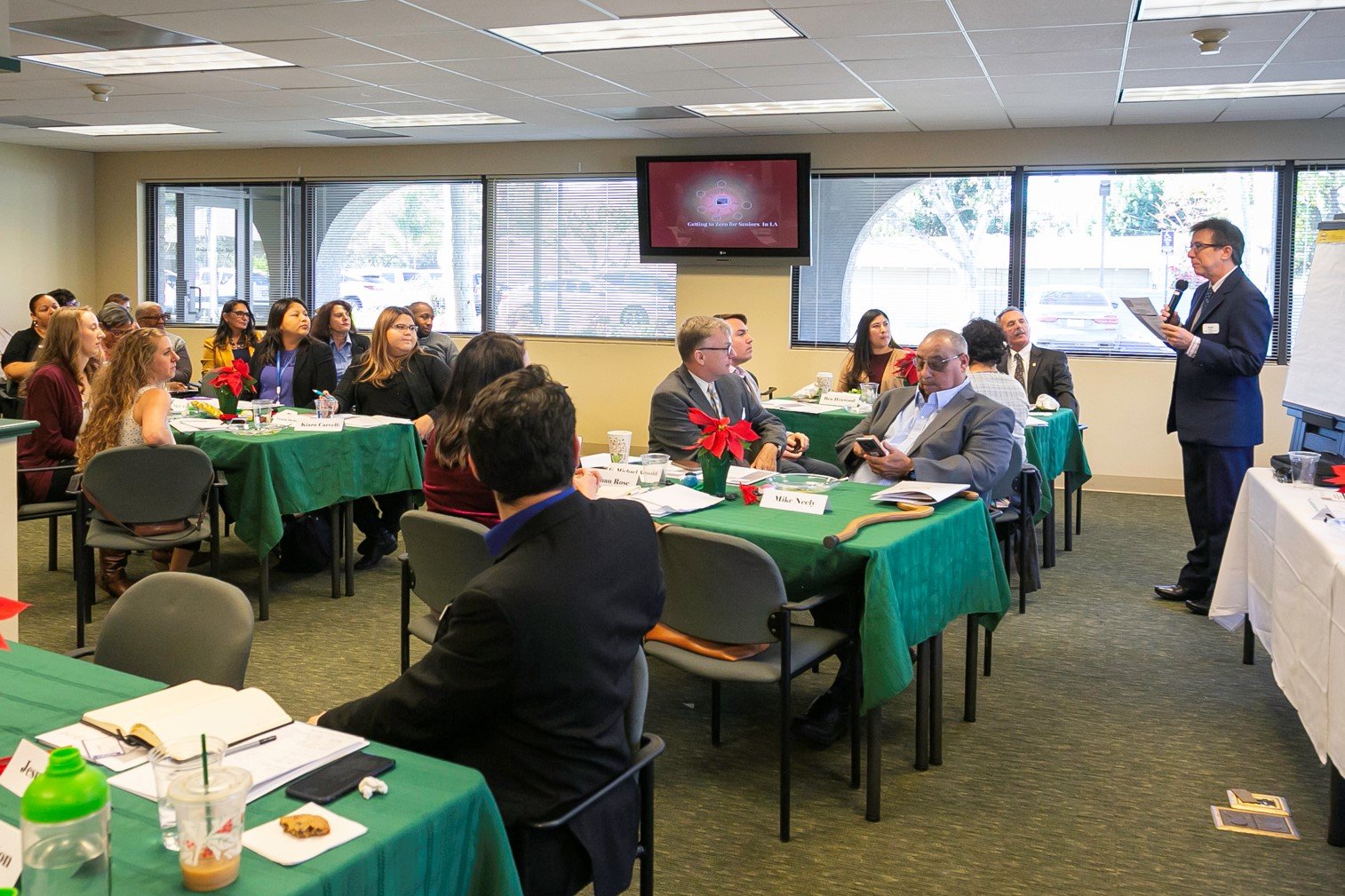 HumanGood affordable housing hosted Los Angeles County-based policy makers and homeless advocates for its first symposium addressing the challenges of delivering affordable housing and services that meet the needs of low-income older adults.
The symposium, "Homeward Bound: Finding Solutions to Elder Homelessness," was borne out of HumanGood's ongoing mission to meet the growing demands and needs for housing and supportive services among low-income older adults. The demand for housing outstrips the current supply, and the supportive services provided are limited as health care needs for older adults continue to evolve.
"Our symposium is where we take our mission to the next step, which is we know we have a problem that is solvable. We have the brain power, the talent and the resources at this symposium that can help us find solutions to ending homelessness among older adults," said John Cochrane, HumanGood president and CEO. "Today we are taking the first steps in this symposium to talk about what needs to happen concretely to move that mission forward and to get it done."
Ancel Romero, president of HumanGood affordable housing, echoed those remarks: "We're coming together to think about building the beginnings of a roadmap to get a seemingly unsolvable problem solved, and if there is anyone who can do it, it is us."
Dr. Joshua Bamberger, director of health and housing initiatives at the Non-Profit Housing Association of Northern California, moderated the discussions and offered insights on the current state of homelessness in Los Angeles County. Dr. Bamberger said that half of the people who are homeless were not homeless for the first time until they were after the age of 50; and half of the entire homeless population is chronically homeless.
"No one who's over the age of 50 should spend their nights on the streets," said Dr. Bamberger. "Our goal is to come up with a plan so that there are fewer older adults who are living on the streets. With crisis comes opportunity, and I hear and see so much opportunity in California right now to address this crisis."
Other guests included: G. Michael Arnold, president and CEO of The Midnight Mission; Angie Aramayo, central area representative for Los Angeles Mayor's office of public engagement; Mike Neely, commissioner of the Los Angeles County Commission for Older Adults, as well as other leading experts and policy makers. The group tackled an array of discussion topics around the issues of homelessness among low-income seniors such as:
What type of housing and supportive services is missing from the array of options available to older adults in Los Angeles County?
How can the new voter-approved funding streams and state funding be best used to expand affordable and supportive housing for older adults?
What would be the best metrics to highlight success in addressing the growing needs?
How can the Assisted Living Waiver be used to expand enriched supportive housing?
What legislative opportunities do we have in the coming legislative cycle that will help to expand housing options for homeless seniors?
HumanGood Affordable Housing offers affordable, rent-controlled housing designed to serve more than 5,500 low-income older adults who meet the qualification guidelines. Our 59 affordable housing communities are located in California and Washington State.