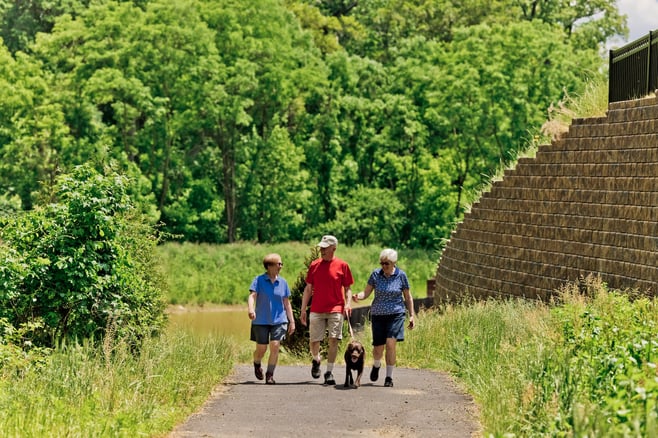 Older adults are living longer than ever, and our longevity is considered one of the most significant social achievements in modern history. In fact, it's estimated that by the 2030s, adults ages 65 and older will number 78 million and account for one out of every five Americans.
Longevity is a gift, but with longer life comes new and different challenges for living healthily, such as finding a community where you can stay active and thrive while surrounded by like-minded neighbors or easily manage chronic or acute illnesses.
This is where Life Plan Communities, also known as continuing care retirement communities (CCRCs) shine. Life Plan Communities offer top-notch amenities and life-enriching opportunities along with a full range of living options, including independent living, assisted living, skilled nursing and memory support. At a Life Plan Community, you have priority access to advanced living options if and when the need arises—and it all happens conveniently on one campus.
Although the appeal of moving into an all-inclusive senior living community may be obvious, you may feel uncertain about financing the move. You may be asking yourself some of these questions:
How do Life Plan Community rates differ from those of other kinds of senior living options, such as assisted living communities?
What does a monthly fee cover?
Why do I need to pay an entrance fee, and what happens to that money if I leave the community or die?
Here are three pieces of advice that should answer your Life Care Community financing questions:
1. Take advantage of the financial benefits of senior living.
It might come as a surprise, but if you've owned a home in the state of California, living in a retirement community with an entrance fee will likely be affordable for you. Additionally, the all-inclusive monthly fees of a Life Plan Community may compare quite favorably to the costs of staying in your current home.
"If you move at an appropriate age, then amortize what you'd pay over, say, a period of 20 years," says Dan Ogus, executive vice president and chief operating officer of senior living and housing services provider HumanGood, "it's often cheaper over the long term."
This is especially true when you consider the many costs associated with homeownership, including:
Mortgage or rent.
Homeowners or renters insurance.
Property taxes.
HOA fees.
Utilities.
Regular home upkeep, inside and out.
Unexpected repairs (e.g., roof, appliances, HVAC).
Additionally, as a Life Plan Community resident, you'll have access to assisted living, skilled nursing and memory support for the rest of your life—even if you outlive your financial resources.
"Certainty is important to people," says Ogus. "If someone outlives their assets, then he or she is taken care of for the rest of their lives through our benevolence funds. So it's a form of insurance."
As for entrance fees, these typically fund long-term capital improvements within a community, which means you're investing in your own future. This differs from the more traditional assisted living model in which the care and condition of the community and amenities can wax and wane with the economy and market demand.
Another advantage of Life Plan Community living is that, typically, entrance fees make it possible for the community to offer a reduced monthly service fee—so you save monthly compared to charges at other types of retirement communities.
2. Protect yourself, your heirs and your investment.
Once you've decided to make the move to a senior living community, you'll have to sign a contract detailing the types and costs of the services you'd like to receive both now and in the future.
"There are three contract models," says Ogus. "There's the extensive life-care model, where, if you move to a more advanced living options, your fees don't go up. That's the classic Life Plan Community model. There are also modified month-to-month and pay-as-you-go models."
Make sure to look at the contract closely and ensure that it includes clauses about refundability or how much of the entrance fee will be reimbursed to you and/or your loved ones if you leave the Life Plan Community or pass away. Typically, the amount of the entrance fee returned to the individual or the person's estate depends on how long they lived at the Life Plan Community.
According to Ogus, one of the additional benefits of refundable entrance fees is that "refundable plans are there if you want to make sure there's something left for your heirs."
3. Consider the many ways that you can afford a Life Plan Community.
From selling your home to making use of long-term care insurance, there are several ways to pay for a Life Plan Community—but your strategy will likely depend on your individual preferences, assets and insurance.
Some residents who choose to sell their home to finance the move use bridge financing to pay their entrance fee. Bridge financing is a type of short-term lending that helps seniors close the financial gap between the sale of a house and moving into a senior living community.
But not everyone has a home to sell—and not every home sale will fully fund the move, either. Luckily, there are many other ways that seniors finance the move to a senior living community, including:
Pension.
Investment income.
Savings.
Medicare and/or Medicaid.
Be sure to ask each Life Plan Community you're considering for its audited financial statements and ask a financial adviser for help evaluating costs versus assets.
Financing Senior Living
If you're ready to make the move to a senior living community, HumanGood communities offer a full range of living options, a variety of floor plans and a range of entrance fees to suit many budgets. Explore our Complete Guide to the Costs of Senior Living today to learn more about paying for community living. You may be surprised to learn that it's more affordable than you think.