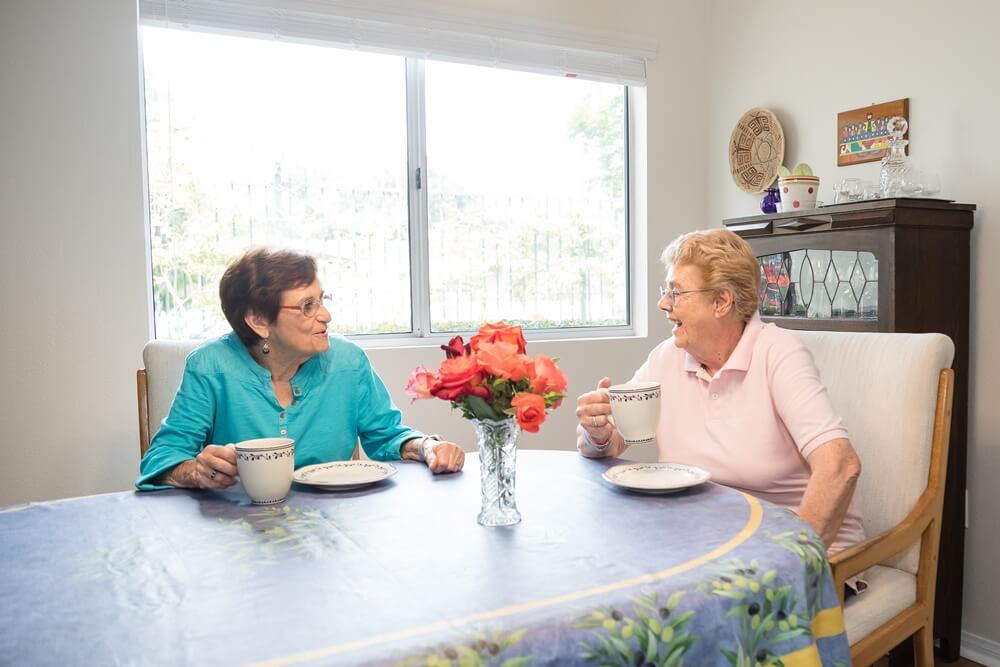 If you have no plans of slowing down in retirement, you're in good company. Today's seniors are living longer than ever before, with the population of older adults set to outpace that of young people in the coming years.
By 2035, the U.S. Census Bureau reports that seniors ages 65 and older will number 78 million. By 2060, the bureau reports, nearly 25 percent of Americans will be aged 65 and older, the U.S. will add a half-million centenarians, and the number of people 85 and older will triple.
As you plan to continue living the active, engaged life you love, finding a senior living community is likely at the top of your list of things to do. But does an all-inclusive independent living community with an array of life-enriching opportunities and activities for the mind, body and soul seem financially out of reach?
Then it might surprise you to know that, if you've owned a home in Escondido, California, independent living at a Life Plan Community with an entrance fee will likely be affordable for you. On top of that, the all-inclusive monthly fees may actually compare quite favorably to the costs of staying in your current home. This is all the more true when you consider the many costs—both fixed and unpredictable—associated with owning a home, including:
Mortgage.
Homeowners insurance.
Property taxes.
HOA fees.
Utilities.
Regular home upkeep, inside and out.
Unexpected repairs (e.g., roof, appliances, sewer lines, HVAC).
"If you move at an appropriate age, then amortize what you'd pay over, say, a period of 20 years, it's often cheaper over the long term," says Dan Ogus, executive vice president and chief operating officer of senior living and housing services provider HumanGood.
Then, of course, there are the social and emotional costs of staying in your current home, which can result in isolation and loneliness—two things that Life Plan Community living can help you avoid, according to The Age Well Study, a collaboration between the Mather LifeWays Institute on Aging and Northwestern University.
"Among Life Plan Community residents, researchers found that social connectedness and perceptions of being socially integrated increased after moving to a Life Plan Community," the study found. "Residents of Life Plan Communities tend to experience high levels of social wellness, which is consistent with perceptions that greater social opportunities are an advantage of living in a Life Plan Community."
The Benefit of an Entrance Fee
The one-time entrance fee you'll pay for independent living at a Life Plan Community is a meaningful investment in your future as it typically funds long-term capital improvements within a community. At communities that follow the more traditional assisted living model, the care and conditions of the community—not to mention the available amenities—can change drastically based on the economy and market demand. The entrance fee can also play a major role in lowering your monthly fees.
The Benefit of All-Inclusive Monthly Fees
Life Plan Communities offer top-notch amenities and services for independent living residents that are covered through your monthly fees, including:
Housekeeping and laundry services.
Home and lawn maintenance.
Transportation services.
Security services.
Art and culture classes.
Volunteer opportunities.
College-level lecture series.
Musical performances.
Special events.
Fitness and wellness classes.
Travel and outings.
On top of the opportunities for engagement, as a Life Plan Community independent living resident, you'll also gain peace of mind and security knowing you have priority access to more advanced levels of care at a predictable price should the need arise, including:
Memory care.
Short-term, post-acute rehabilitation services.
Long-term hospice and respite care.
Additionally, many Life Plan Communities offer the benefit of benevolent care, so even if you outlive your financial resources, you'll continue receiving the care you need when you need it.
"Certainty is important to people," says Ogus. "If someone outlives their assets, then he or she is taken care of for the rest of their lives through our benevolence funds. So it's a form of insurance."
The Many Ways to Afford a Life Plan Community
Whether you have a home to sell or you've invested in long-term care insurance, there are many ways to pay for independent living in North County.
Some seniors cover their entrance fee by leveraging bridge financing, which is a type of short-term lending that helps you pay the entrance fee and secure your spot in a senior living community while you wait for the sale on your house to be finalized. However, if you don't have a home to sell—or you know the sale of your home won't fully fund the move—there are many other options for affording senior living, including:
Pension.
Investment income.
Savings.
Medicare and/or Medicaid.
When reviewing Life Plan Communities, be sure to ask the sales team for the community's audited financial statements. Then, speak with a trusted financial adviser for help in evaluating costs versus assets.
Redwood Terrace: Independent Living You Can Afford
If you're ready to make the move to independent living in North County, our community features maintenance-free independent living cottages and apartments with a variety of floor plans and a range of entrance fees to suit many budgets. With an intimate size, our community has a neighborhood feel and friendly, family-oriented atmosphere. At Redwood Terrace, community happens naturally.
If you'd like to learn more about how you can afford senior living in Escondido, browse our useful articles. You'll also learn more about the benefits of senior living, paying for a senior living community, useful websites for seniors and much more.