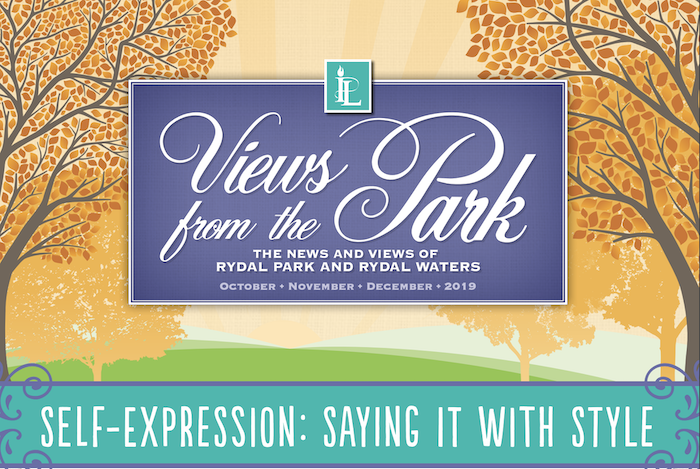 Everyone has their distinctive style. For some, it's an active pursuit. For others, style happens almost by accident — an organic representation of preferences, interests and priorities. Either way, one's style says something important about who he or she is.
Rydal Park resident Dwight Bechtel worked for Cigna for 30 years, in a classic white-collar environment. "It was suit and tie every day," he says. Now, he's making up for lost time by dressing for comfort: polos and golf shirts.
"The key to style is learning who you are, which takes years. It's about self-expression and, above all, attitude." – Iris Apfel, Businesswoman, Interior designer, Fashion icon
While Dwight's embrace of the casual dress code is largely a reaction to his former workday uniform, it also has roots in his love of bicycling. When he lived in Society Hill, he went virtually everywhere via bike."For 17 years, I didn't have a car," he says. In a way, clothing that's easy to move in keeps Dwight bike-ready.
"Sometimes I think I might want to change my style, but then I think…change to what?" – Dwight Bechtel, Resident
Describing his approach to clothes shopping — shirts are easy to browse and buy online, but pants and shoes, not so much — Dwight reflects on his casual sensibilities. "Sometimes I think I might want to change my style," he says, "but then I think…change to what?"
His casual style carries into the interior design of his apartment. He tends to describe it in terms of what it's not. "My place is not formal, not contemporary, not rustic… it's traditional, I guess you could say." Like many individual styles and home interiors, Dwight's is an evolution. "I had an interior designer from Wanamaker's decorate my city apartment in the early '90s," he says. "I've sort of continued with that style and added to it."
To prepare for his move from that apartment to his Rydal Park residence, he used an app to determine what furniture would fit and how. That tech-enabled planning is now even more convenient, with interactive floor plans on the Rydal Park website, ExploreRydalPark.org.
Since moving to Rydal Park, Dwight's space has continued to reflect his likes and interests. His walls are decorated with paintings by an artist friend, along with travel prints. His love for travel is also apparent in the traditional Norwegian trolls and Australian wildlife carvings that accent his décor.
Stepping back to survey the big picture, what does Dwight's apartment say about him? "Single guy...not a lot of frilly things," he observes. "I'd say it comes across like a bachelor's place."
While Dwight's overall aesthetic can be summed up as "casual," resident Joan Cramp's is decidedly colorful. From the bright, welcoming colors, plants and florals of her décor to her colorful wardrobe, her style expresses exuberant, extroverted energy. "My sister always said I make a grand entrance," Joan admits.
Her history at Rydal Park goes well beyond her three years as a resident. "I started working here in 1978," she says. Although she started in an administrative role as secretary to the director of nursing, Joan soon found a way to express her creative energy — and her love of fashion and fun — by starting "the shows." These themed events ranged from fashion shows and cruise nights to formals and Roaring Twenties parties. Other favorites included a "Tell Us About Your Senior Prom" event (complete with prom attire) and the "April Showers" musical revue.
"Style inspiration can come from anywhere. But most of all, I like to create my own!" – Joan cramp, Resident
"It was such a fun way for everyone to get involved," Joan says, listing the many people who shared their talents, from music to cooking to decorating. Whether it was a formal dance or a whimsical theme, "everyone dressed up," she says. "People looked forward to it!" Rydal Park team members appreciated it, too, and recognized Joan with the Distinguished Service Award, naming her "Innovator of the Year" during her tenure on the team.
While Joan has handed off her Rydal Park duties, she hasn't lost her love of fashion — especially vibrant colors, florals and beaded and shell jewelry: influences that evoke her affinity for seaside settings. The bright turquoise blue that's a recurring tone in her wardrobe, "reminds me of blue beach skies," she says, mentioning Ocean City and Hawaii as favorite destinations
"Style is a way to say who you are without having to speak." – Rachel Zoe, Businesswoman and Fashion Designer
Almost as a finishing touch, to her outfits and to her commentary on personal style, she names two indispensable fashion flourishes: "boas and hats…always boas and hats!" According to Joan, creativity and originality are what personal style is all about. "Style inspiration can come from anywhere," she says with a twinkle in her eye. "But most of all, I like to create my own!"
That individualism is one of the aspects people find so appealing about the Rydal Park community. The welcoming atmosphere invites a treasury of backgrounds, personalities and perspectives — and a wonderful spectrum of styles. Come by and feel what we mean.